The Conservative Trans Woman Who Went Undercover With Antifa in Portland
Erin Smith was at a GOP election watch party at Twitter headquarters in San Francisco on November 8, 2016. For the one-time deputy vice chair of communications for the city Republication Party, it should have been a time of jubilation.
"As soon as they announced Trump the presumptive winner, we're told, 'Hey, there's a mob of protestors out front,'" says Smith, who stepped outside to find the San Francisco cops being pushed back by a crowd, some in head-to-toe black: clothes, helmets, face masks. 
A trans woman, conservative, and former tugboat captain who says she's "a weird activist/analyst-type person right now," Smith soon became galvanized to find out more about a group that dressed as revolutionaries and took their fight to the streets. What was animating them? Trump animus? The romance of revolution? The boredom and frustration of COVID sequestration? An unfocused desire to fuck shit up?
It takes a special moral blindness to see setting fires, breaking windows, and threatening journalists as the road to justice. I've seen this moral blindness rise along with the violence in Portland. Young activists have told me frankly that they don't give a shit if someone working in the basement of the police station burns to death because, hey, she chose to work there. I've seen activists cheer the murder of a member of the conservative group Patriot Prayer. You cannot employ the violence of your perceived enemies and expect your revolution to end in peace.
What Smith has experienced has not been peaceful. She's had friends beaten up by antifa. She's been threatened herself. It made her curious. This summer, she decided to find out more by going undercover with the black bloc anarchists in Portland.
I went out with Smith several nights, and while I could not follow her directly—black bloc avoids having those outside its ranks interview or photograph them—I was able to watch her, wearing all black and carrying a shield bearing an anarchist "A," slip into the group. I saw that she was present at the same locations where black bloc attacked buildings and set fires.
After one such night, Smith and I sat over a couple of hard seltzers and discussed why she decided to infiltrate the black bloc and what she found.
What did you know about antifa when you first encountered them in San Francisco?
I had a vague idea of what antifa was, but it wasn't nearly as big a deal as it is now, outside of maybe Berkeley or Seattle. I'd had friends that got attacked at the Trump rally they tried to hold in San Jose [in April 2016]. I'd had a year of watching that happen, and basically, I don't like bullies, so I started showing up at these things, at rallies and protests and places where my friends were getting beaten up. It felt like in 2016, everything really changed in the Bay Area. It stopped being so carefree, in a sense Everything started kind of feeling like it was for keeps.
April 27, 2017, was the first rally I went to, in Berkeley. This was a Trump MAGA rally. I started livestreaming in June and I got to be pretty good at talking to people from the other side. The first time I ever actually dressed in black and put on a mask on and tried to slip into the bloc was last weekend. It is a little scary, because I've faced them down so much. I'm like, "I'm going to dress in black and slip in?"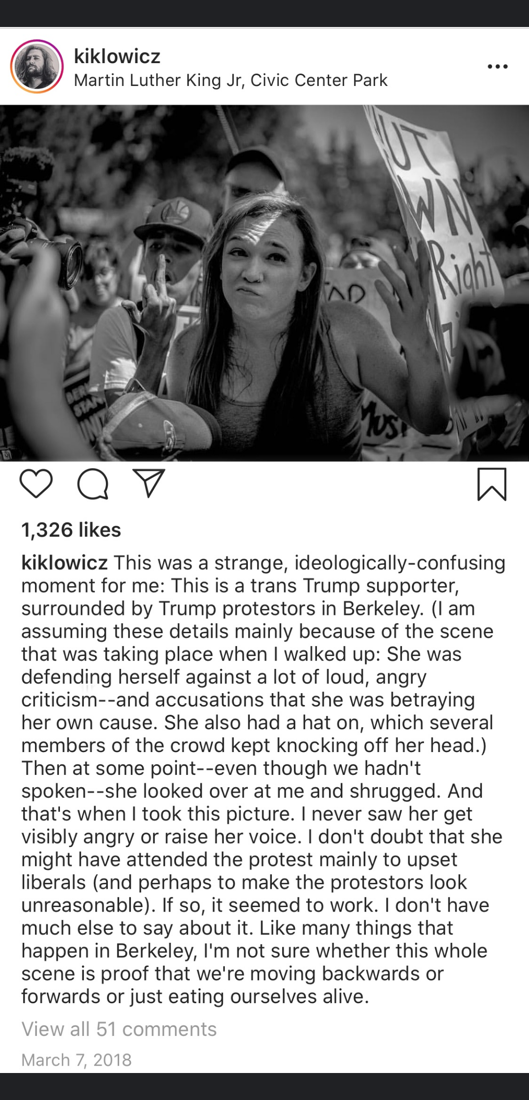 I've studied them for a bit, watching videos and stuff. I wrote a piece on antifa tactics for a monograph that's coming out next month, for the Center for Security Policy. And I have an advantage, having gone to the rallies. But they know who I am. When antifa hates you and know who you are, the best way to hide is right in the middle of their black bloc. That's the last place they think to look. It's one of the advantages of dressing in black and wearing your mask. 
You had a shield tonight. Did you make it?
Actually, I acquired it at the riot. Someone set it down, and I'm like, "That's cool. It's communism, no property. This is mine."
How organized are things on the inside?
There are different types of bloc organization styles. The building block of antifa is what's called an affinity group, people you live and work with and trust and know in real life. All the planning is done within that closed bloc, and they don't let everyone know [what they're going to do]. I didn't know that they were going to burn the Portland Police Association when I joined. What they did was put a call out that said, "Anyone show up in black that night at this place, and you can join the action."
That's called a semi-open bloc. The planning is done within the closed group, but anyone who's dressed in black can come join the action. If you know what you're looking for, you can spot affinity groups that are working together. One thing they'll do sometimes is have written agreements with other protest organizations that aren't in black bloc. I know of one from Berkeley that illustrates this: "We agree that to not take pictures of anyone in antifa." It will say
Article from Latest – Reason.com
Comments
comments