The Government Should Stop Telling Facebook To Suppress COVID-19 'Misinformation'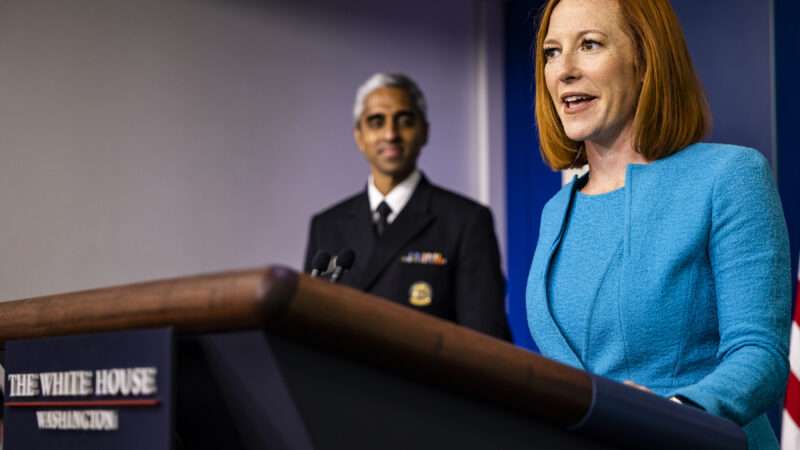 The federal government is stepping up its effort to purge the internet of COVID-19 "misinformation." On Thursday, White House Press Secretary Jen Psaki singled out a dozen specific anti-vaccine Facebook accounts and called on the platform to ban them.
"There's about 12 people who are producing 65 percent of vaccine misinformation on social media platforms," said Psaki. "All of them remain active on Facebook, despite some even being banned on other platforms, including ones that Facebook owns."
She was discussing a Department of Health and Human Services (HHS) report on "confronting health misinformation." It instructs social media platforms to redesign their algorithms so that false information about COVID-19 is deprioritized, to shield journalists and medical professionals from harassment, and even to address misinformation during livestreams, a task that the report admits is "difficult" given the streams' "temporary nature and use of audio and video."
"We all have the power and responsibility to confront health misinformation," tweeted Surgeon General Vivek Murthy. "That's why we included recommendations for individuals, educators, researchers, health professionals, tech companies, and more."
The federal government is not explicitly ordering tech platforms to take down content. These dictates are essentially strongly-worded suggestions. But you're forgiven if you think Psaki's summary of the report sounded like command.
"Facebook needs to move more quickly to remove harmful, violative posts," she said. "Posts that would be within their policy for removal often remain up for days, and that's too long. The information spreads too quickly."
Psaki was alluding to anti-vaccine content, though the report itself impugns "medical misinformat
Article from Latest – Reason.com
Comments
comments