The Trade Embargo Allows Cuba's Regime To Blame the U.S. for Communism's Failings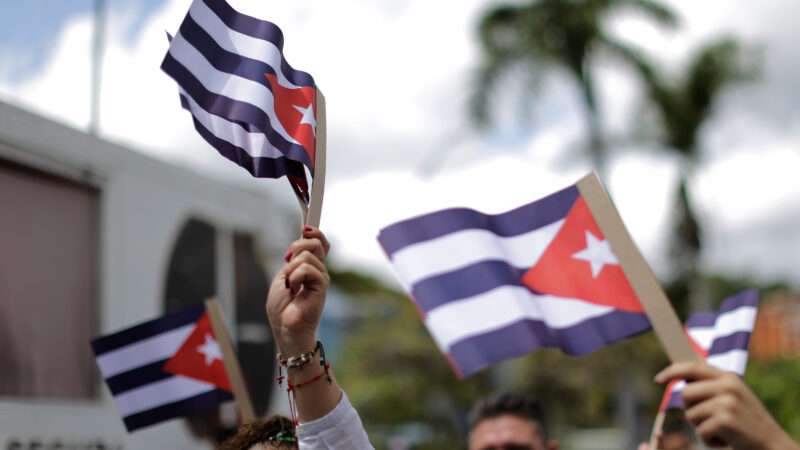 After thousands of Cubans poured into the streets over the weekend to protest the island nation's communist government, President Joe Biden on Monday said America "stands firmly" with the people of Cuba.
The words of support for the anti-communist protesters—some of whom waved American flags as they demanded "freedom"—are good, but actions would be better. Biden should call on Congress to lift the United States' decadesold trade embargo with Cuba.
Despite being in place since 1962, the trade embargo has plainly failed to accomplish its primary goal of toppling Cuba's regime. If anything, the policy has likely bolstered the regime by allowing the communist government to blame the U.S. for its own economic problems, as Cuban President Miguel Díaz-Canel did on Sunday. The trade embargo has contributed to the Cuban government's impoverishing of millions of Cubans while limiting Americans' economic freedom, too. That it remains in place nearly three decades after the fall of the Soviet Union shows that America's foreign policy towards Cuba has failed to learn the primary lesson of the end of the Cold War: Economic freedom is the best weapon to aim at communism.
The protests against the Cuban government were prompted by shortages of food and COVID-19 vaccines. In a statement, the White House said the protests that broke out over the weekend were a "clarion call for freedom and relief from the tragic grip of the pandemic and from the decades of repression and economic suffering to which they have been subjected by Cuba's authoritarian regime."
Yes, Cuba's government is authoritarian, but there should be no mincing of words about this. Communism is what broke Cuba. The authoritarianism on display is merely the natural evolution of communist regimes—a pattern of economic and political repression that has been tragically repeated in too many corners of the world during the past century.
Biden's statement is right to conflate the lack of economic freedom with long-running political repression in Cuba. That's exactly why America's trade embargo is such a backward strategy, one that assumes
Article from Latest – Reason.com
Comments
comments