Utah Woman Charged With Hate Crime for Stomping on 'Back the Blue' Sign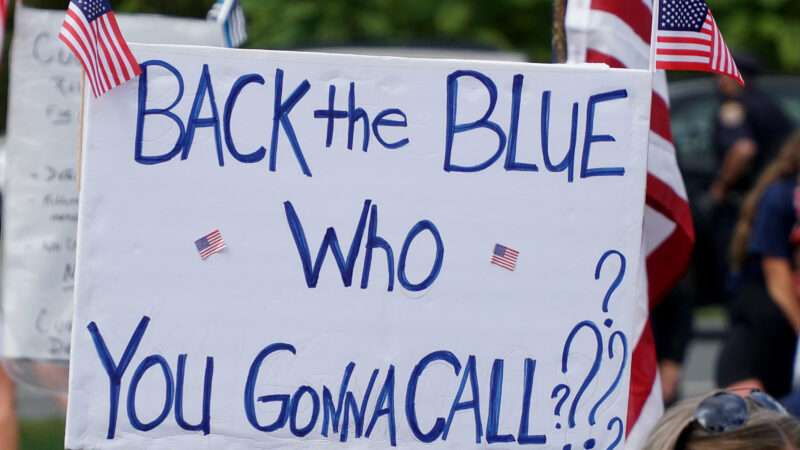 A 19-year-old Utah woman has been charged with a hate crime for allegedly stomping on a "Back the Blue" sign in front of a police officer, the Salt Lake Tribune reports.
According to an affidavit obtained by the Tribune, a Garfield County Sheriff's deputy was conducting a traffic stop at a gas station in Panguitch, Utah, on Wednesday when he saw the woman "stomping on a 'Back the Blue' sign next to where the traffic stop was conducted, crumble it up in a destructive manner and throw it into a trash can all while smirking in an intimidating manner towards me."
The Tribune reports:
"Due to [the woman] destroying property that did not belong to her in a manner to attempt to intimidate law enforcement, I placed her under arrest," the affidavit says.

According to the affidavit, the allegations are being treated as a "hate crime enhanced allegation" due to "the demeanor displayed by [the woman] in attempts to intimidate law enforcement while destroying a 'Pro Law Enforcement' sign."
Local news outlet KSL.com reports that the woman has been charged with criminal mischief with a hate crime enhancement, as well as disorderly conduct.
The incident is just the latest in a string of instances of police using hate crime statutes to retaliate against citizens for criticizing or disparaging them.
Louisiana became the first state in the U.S. to make police a protected class under hate-crime laws when the governor signed the legislation into law in 2016. A New Orleans man was the first person to be charged under the law for allegedly shouting racial and sexist slurs at police.
In 2018, police officers in Crafton, Pennsylvania charged a black man with "ethnic intimidation" for calling them Nazis while he was being arrested. The Appeal reported that Pennsylvania law enforcement had charged at least three other residents with hate crimes for making offensive statements to police.
As Reason's Robby Soave wrote, such prosecutions are "good evidence that we ought to be skeptical of hate crime laws. Although intended to
Article from Latest – Reason.com
Comments
comments