Can Peru's Constitution Survive a Marxist Onslaught?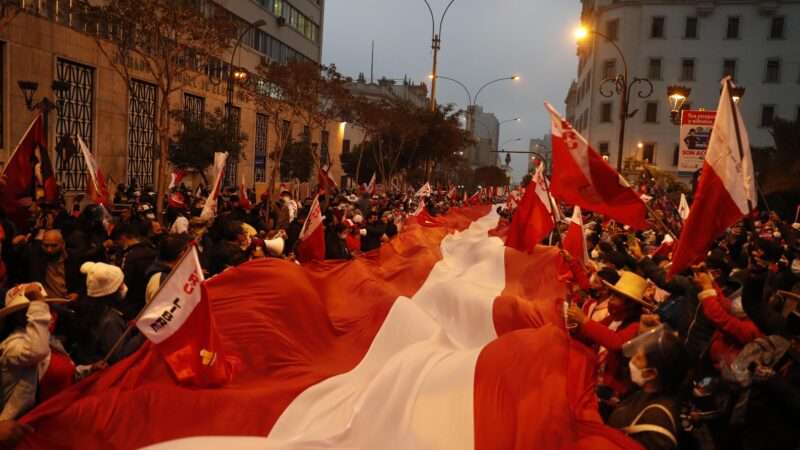 On June 6, Peruvians voted in a presidential runoff between Pedro Castillo, a previously obscure teachers union leader with a neo-Marxist agenda, and Keiko Fujimori, a former congresswoman and daughter of former-president-turned-dictator Alberto Fujimori.
Although Castillo won the official count with 50.1 percent of the total—by a margin of just 44,000 votes—Fujimori has tried to have around 200,000 ballots invalidated. Her efforts to overturn the election's result, however, are likely to fail. If anything, Fujimori's desperate tactics, which have elicited comparisons to former President Donald Trump's claims of voter fraud to justify his 2020 electoral defeat, have lent credence to Castillo's claims that he faces a political establishment that is not only corrupt—Keiko Fujimori spent time in jail due to a notorious corruption scandal—but also clings to power by any means necessary.
The battle in Peru is no longer about who won the election; it's about preserving the country's constitution. Drafted in 1993, the current constitution underpins the free market policies that helped the country reduce its poverty rate by roughly one-half, nearly triple its per capita income, and even slash inequality (as measured by a 12-percentage-point reduction in the Gini coefficient between 1998 and 2019). As Ian Vásquez and Ivan Alonso write for the Cato Institute, during the last decades, "Peruvians have experienced dramatic and widely shared improvements in well-being."
Peru's economic success is a rather new development. As recently as August 1990, the country experienced a 397 percent monthly inflation rate. Previously, dictator Juan Velasco Alvarado, a military officer who led a coup d'état in 1968, had nationalized key industries, creating state monopolies in oil and mining, fisheries, and food production, among other key sectors. He also expropriated large tracts of land and severely restricted imports, all according to a five-year plan of national production. Economists César Martinelli and Marco Vega argue that Velasco Alvarado's statist program cost Peru "sizable losses" in economic growth during two decades, leading to the hyperstagflation of the late 1980s.
Once in power, Alberto Fujimori, who won the presidential election in 1990, took drastic measures to stabilize prices, mainly by restricting the money supply and government deficits. Meanwhile, he deregulated markets and shrank the state's size by privatizing state-owned companies.
The 1993 constitution strengthened Fujimori's free market reforms, but it was approved a year after the infamous self-coup or "fujimorazo," when the strongman dissolved the legislative branch, where opposition parties held a majority, and ruled by decree until he had a new, pro-government Congress elected. Nevertheless, since Fujimori's resignation and subsequent impeachment in 2000, a series of democratically elected governments have upheld the constitution. In fact, Peru's Supreme Court tried and sentenced Fujimori for human rights abuses during the war against the Shining Path, a communist guerrilla group, under
Article from Latest – Reason.com
Comments
comments