GB News Stands Up to UK Cancel Culture and Wins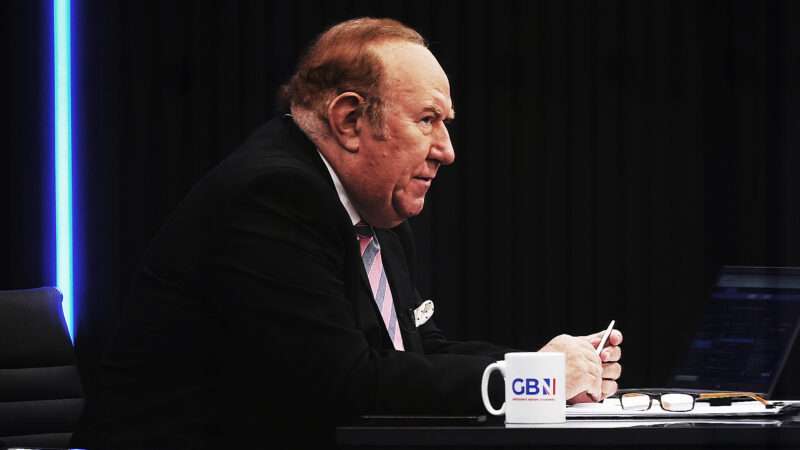 It's a familiar story by now: somebody says something, or even hints that they might say something, that self-appointed thought police find offensive. Those hypersensitive types, who often aren't even part of the speaker's audience, then set out to intimidate third parties into cutting off funding so that the targeted speakers face financial ruin for voicing their thoughts. But this time, an up-start British TV news channel appears to be turning the table on its tormenters, converting an attempted cancelation into a marketing triumph.
"We will puncture the pomposity of our elites in politics, business, media, and academia, and expose their growing promotion of cancel culture for the threat to free speech and democracy that it is," Andrew Neil, formerly of the BBC and The Sunday Times and now chairman of GB News, announced in his opening monologue on the upstart TV channel earlier this month. "We will be more concerned with what will raise prosperity and create jobs in our left-behind towns than what some overprivileged and ahistoric students decide to hang on their walls in Oxford. Social mobility and a fair chance in life for all will matter more to us than the wasteland to nowhere that is identity politics."
That mission statement was like waving a red flag in front of a bull. As a media outfit explicitly founded to oppose cancel culture, it was inevitable that GB News would be targeted for immediate cancelation by the usual suspects.
"#StopFundingHate supporters began taking action in February, urging advertisers not to fund 'Fox News style' media in Britain," Richard Wilson, director of Stop Funding Hate, wrote in March before GB News even launched. "By engaging with advertisers in the run-up to the launch of GB News, Stop Funding Hate supporters have been working to reach as many brands as we can before final decisions have been made and advertising contracts agreed. We also hope to make companies aware of the scale of popular opposition to 'Fox News style' media – and the risk to their brand of aligning with any outlet that goes down that road."
Stop Funding Hate, a pressure group that boasts "We're making hate unprofitable by persuading advertisers to pull their support from publications that spread hate and division," published a list of companies that advertise on GB News for its supporters to pressure and threaten with boycotts. Many companies, averse to alienating their customers, complied.
"GB News, the television channel that launched th
Article from Latest – Reason.com
Comments
comments