OU Anti-Racist Seminar: 'In the Classroom, Free Speech Does Not Apply'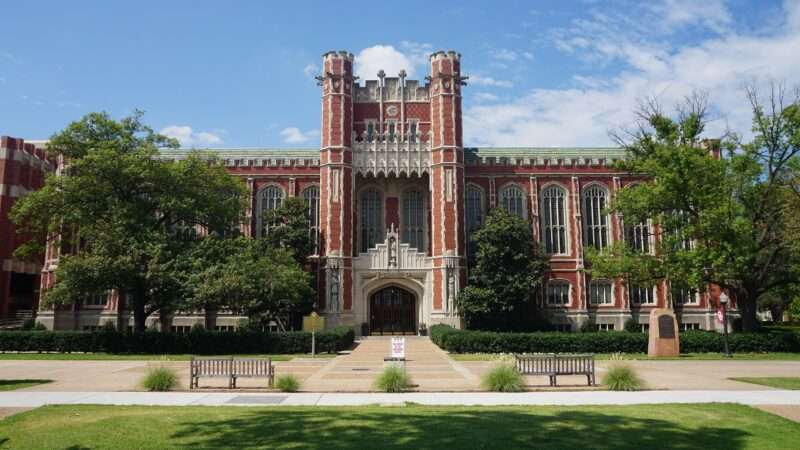 During an online training seminar for graduate students at the University of Oklahoma (OU), two presenters urged English instructors to purge all problematic speech from their classrooms. They even asserted—incorrectly—that the Supreme Court had empowered university employees to prohibit students from engaging in hate speech.
The Foundation for Individual Rights in Education (FIRE) obtained a recording of the seminar, which was titled "Anti-Racist Rhetoric and Pedagogies." The hour-long video is worth watching in full, and contains a variety of unbelievable statements from presenters Kelli Pyron Alvarez and Kasey Woody.
During her remarks, Alvarez asserted that students in the English 1213 course—Principles of English Composition—sometimes come to class "emboldened to be racist, like overtly racist." The way to deal with this is to explicitly prevent them from making statements that might offend others. If any graduate students are worried about getting in trouble for silencing wrong-thinking students, never fear: Teachers have all the power they need to do so, according to Alvarez.
"If it continues to happen, report them for violating the student code of conduct," said Alvarez. "In the classroom, free speech does not apply."
She later clarified that she believes the Supreme Court "has actually upheld that hate speech, derogatory speech, any of the -isms, do not apply in the classroom because they do not foster a productive learning environment."
"As instructors, we can tell our students no, you don't have the right to say that, stop talking right now," she said.
This proclamation is stunningly wrong. The Supreme Court has never issued a ruling that prohibits "hate speech" on college campuses or anywhere else. Hate speech, in fact, is a subjective term: What someone finds hateful might nevertheless be objective
Article from Latest – Reason.com
Comments
comments