Why Did YouTube Remove This Reason Video?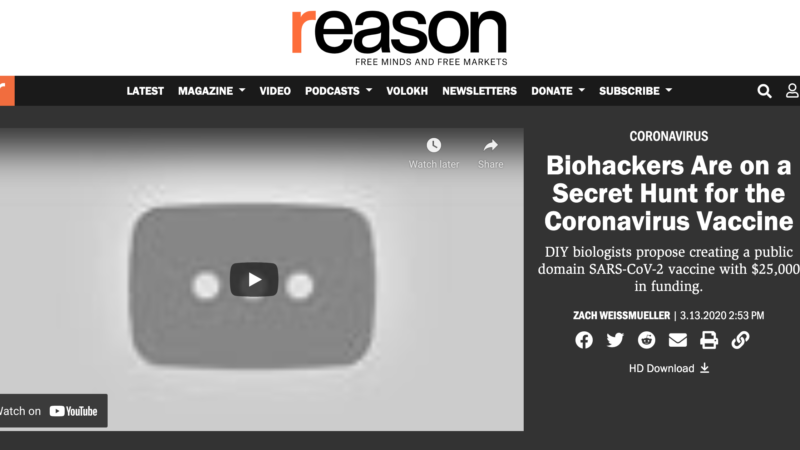 On Monday, YouTube sent Reason an automated takedown notification for a March 13, 2020, video titled "Biohackers Are on a Secret Hunt for the Coronavirus Vaccine." The message said our video violated the company's spam, deceptive practices, and scams policy.
YouTube denied Reason's appeal, informing us that the video violates the company's "medical misinformation policy."
Did this 16-month-old video really promote "medical misinformation"?
Speaking as the journalist who produced it: absolutely not. While YouTube, as a private company, is within its rights to decide what to carry, the decision to remove this video illustrates a disturbing, censorious trend that has accelerated in the age of COVID.
For years, I have covered biotechnology's potential to improve our well-being and to liberate us from the constraints of our own biology. My reports have explored everything from lab-grown meat that could profoundly improve the global food supply to mail-order CRISPR kits that hand the keys to the genome to any biohacker bold enough to grab them.
The latter project introduced me to the world of biohackers: a grassroots movement of professional scientists, students, and hobbyists who contend that cutting-edge biology can occur outside large government and corporate laboratories.
"Are people dying and suffering needlessly because of all these committees and all these rules?" Josiah Zayner, founder of the biotech company The Odin, explained to Reason in 2016. "And what if people just say, 'Fuck you, I'm going to do it anyway'? And what if people start getting cured?"
My interest in this defiant subculture led me to the story of a rogue biologist raising money to create a "knock-off" version of one of the various mRNA or DNA coronavirus vaccines in development in early March 2020. I contacted this individual, whose credentials and initial seed funding I was able to verify, and Reason agreed to his condition of anonymity because of his fear of retribution from the Food and Drug Administration (FDA).
"If someone is trying to develop and distribute an unapproved medicine, [the FDA] will come down hard, and they have," he told Reason in March 2020. "It's a severe risk to our livelihoods outside of this project if we were to be deanonymized."
The result was my video, which points out that synthetic DNA and mRNA vaccines were, at the time, brand new territory—technologies that most Americans had never heard of, much less considered a possible solution to a pandemic. As I reported, my biohacker source "acknowledges that most people won't be willing to inject a non-FDA-approved vaccine but believes