Amy Coney Barrett Testifies on the ACA Severability Case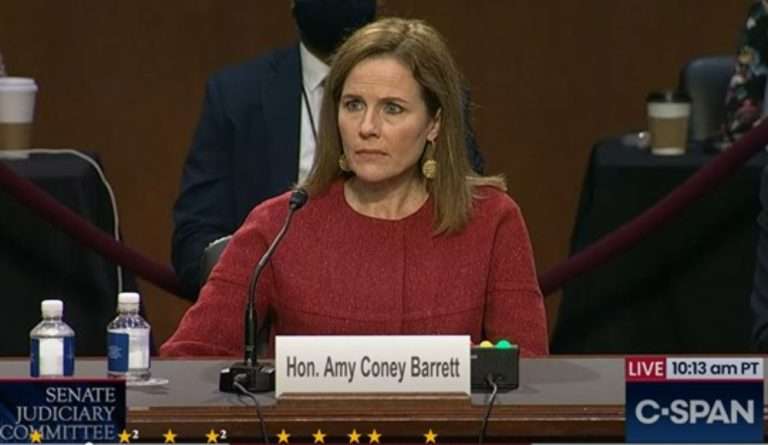 In a post published yesterday, I explained why Amy Coney Barrett is unlikely to vote to strike down the entire Affordable Care Act in Texas v. California, the case on that subject currently before the Supreme Court. In that post, I also described the background of the case and the issues at stake, in some detail.
Yesterday and today, Judge Barrett answered a number of questions about the ACA at her confirmation hearings. What she said doesn't definitively tip her hand on how she might vote. But it does further reinforce my impression that she is unlikely to give the plaintiff Republican states and the Trump administration what they want. Most notably, she confirmed that she had voted to strike down the residual individual mandate but also sever it from the rest of the ACA in a recent moot court on the subject:
Supreme Court nominee Amy Coney Barrett said she did not strike down the Affordable Care Act (ACA) but did find its individual mandate unconstitutional in a recent moot court case, while stressing her actions in the moot court case did not actually reflect how she might rule on ObamaCare if confirmed to the high court….

"The vote was, in the panel, the majority said that the mandate was now a penalty and was unconstitutional but severable," Coney testified in front of the Senate Judiciary Committee, referencing a moot court case she participated in at William & Mary Law School. "I voted to say that it was unconstitutional but severable."
Barrett stressed that the moot court was just a hypothetical exercise and does not necessarily reflect her actual views of the case. But it is still at least somewhat indicative.
In addition, Barrett repeatedly stressed that the case currently before the Supreme Court comes down to severability, which is a different issue from the constitutionality of the individual health insurance mandate (a question on which she had been critical of Chief Justice Roberts' 2012 ruling that the mandate should be upheld because it could be interpreted as a tax). This distinction is a crucial one, and Barrett's emphasis on it further reinforces the view that she is unlikely to strike down the ACA as a whole.
I am far from the only commentator to reach this co
Article from Latest – Reason.com
Comments
comments