Can Fire Insurance Manage Wildfire Risks in California?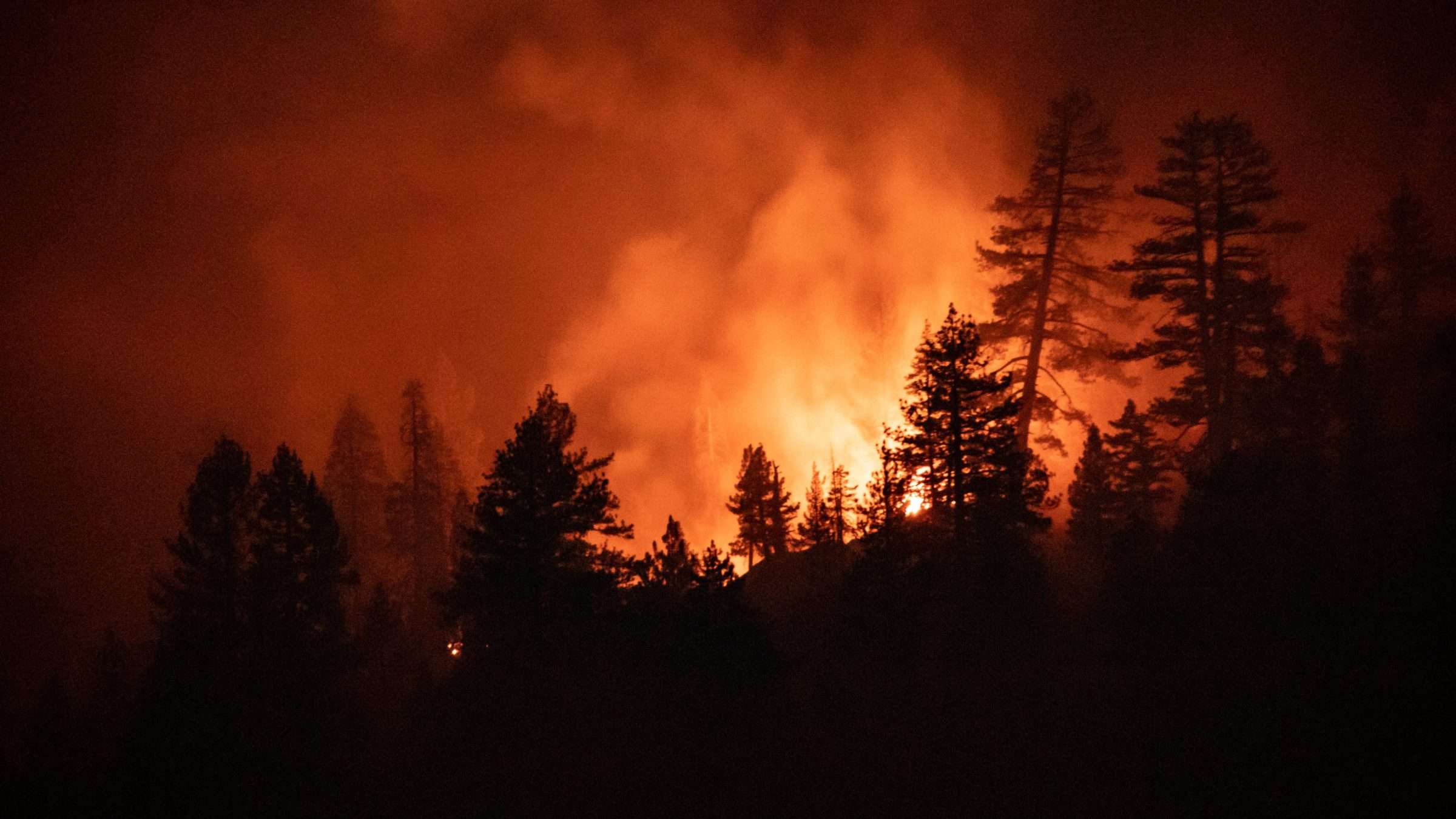 In California, wildfires have burned more than 3.2 million acres—an area larger than the state of Connecticut—since January. Since August 15, the state's fires have killed at least 24 people and destroyed more than 4,200 structures. The amount of the state's forestland that has burned this year is has been described as "unprecedented" and "record-breaking."
The area annually burned by wildfires has been zig-zagging upward since 1950. The chart below displays data through 2017; subsequently, Cal Fire reports, the wildfires consumed 1.6 million acres in 2018 and 260,000 in 2019 respectively.
The latest area burned may not be as unprecedented on a longer time scale. For example, a 2007 study in Forest Ecology and Management suggests that the area in California burned by Native Americans to manage landscapes, as well as those sparked by lightning before the era of European settlement and active fire suppression, may have fallen between 4.5 and 12 million acres annually. "The idea that US wildfire area of approximately two million hectares (about 5 million acres) annually is extreme is certainly a 20th or 21st century perspective," wrote the researchers. "Skies were likely smoky much of the summer and fall in California during the prehistoric period."
In the 20th century, the National Interagency Fire Center reports that the area annually burned by wild land fires in U.S. (not just California) may have exceeded 50 million acres in 1930 and 1931. But the agency cautions that the less rigorous methods for collecting and compiling these early 20th century data means that "figures prior to 1983 should not be compared to later data." For example, the data from the 1930s may well include fires intentionally set in the Southeast to clear agricultural land.
A 2009 study in Ecological Applications (data updated here) identified a U-shaped trend in 11 western U.S. states, in which fires burned more space at the beginning of the last century, less in the middle decades, and more again recently:
What is causing the upward trend in the area burned by wildfires in the western U.S.? During a visit to California this week, President Donald Trump suggested that bad forest management is the chief cause. During the briefing, California Gov. Gavin Newsom gingerly suggested that "the science is in and observed evidence is self-evident that climate change is real, and that is exacerbating this." In fact, both have played a role, as has the complicating circumstance that millions of Californians have moved to fire-prone wildlands.
A 2009 report from researchers associated with California Polytechnic State University observed that bad forest management, including active fire suppression and restrictions on timber harvests, have "resulted in an unnatural accumulation of fuels on many California forestlands." The report further noted: "Where 50–70 trees per acre stood before the Gold Rush, California forests now average over 400 trees per acre. When fire enters these ecosystems the resulting high-intensity wildfires are as unnatural as the accumulated fuels that they consume."
Meanwhile, California's climate has been heating up and periods of drought have been deepening and lengthening. Using surface temperature data, a team led by University of Maryland atmospheric chemist Clark Weaver calculates that California, since 1895, has been growing warmer at a rate of about 2.1° Fahrenheit per century. The warming sped up over that time: From 1960 to today, the rate is 4.8° per century.
An August 2020 study in Environmental Research Letters finds that since 1979, a combination of rising temperatures and falling average precipitation has increased the likelihood of extreme autumn wildfire conditions across California. The researchers report trends for the months of September, October, and November (SON) in both temperatures (up about 1° Celsius) and precipitation (down an average of 30 percent), making fire weather conditions about twice as worse statewide.
The researchers find that from 1984 to 2018, the trends toward a hotter and drier California temperature correlate with a increase of about 40 percent per decade in the size of the statewide autumn-burned area.
As all this was happening, more people were heading into the woods, that is, making their homes in the "wildland-urban interface" (WUI) areas where houses and wildland vegetation meet and intermingle. Some go there because they can't afford to live in pricey urban areas with strict restrictions on new building, while other, more fortunate people move to the woods to enjoy the scenery, wildlife, and outdoor activities.
A 2007 report in the International Journal of Wildland Fire found by 2000, some 3.5 million California housing units were located in WUI areas, with another 1.5 million intermixed within and surrounded by wild landscapes. On top of that, 62 percent of net California housing growth from 1990 to 2000 occurred in WUI zones. A 2018 study in the Proceedings of the National Academy of Sciences reported that America's wildland-urban interface "grew rapidly from 1990 to 2010 in terms of both number of new houses (from 30.8 to 43.4 million; 41% growth) and land area (from 581,000 to 770,000 km2; 33% growth), making it the fastest-growing land use type in the conterminous United States."
In other words, more and more Americans have moved into areas where the wildfire risk is higher:
The measure that could make a big difference with respect to California wildfire risk is, as the president advised, better and more proactive forest management. As it happens, the federal government, which the president oversees, owns 57 percent of California's forests, whereas state and local governments own around 3 percent. (The rest is in private hands.)
Better forest management to reduce wildfire risk chiefly involves reducing the fuel load in overgrown fire-suppressed forests using mechanical harvesting and prescribed burns. A 2019 Government Accountability Office report found that federal agencies spent around $5 billion on reducing wildland fuels from 2009 to 2018:
The Forest Service and the Bureau of Land Management estimate that more than 100 million acres of federal lands are at high risk from wildfire, but in 2018 the agencies managed to treat only about 3 million acres.
An intriguing 2019 study in Fire notes that 70 percent of all prescribed fire between 1998 and 2018 was completed by non-federal entities in the Southeastern U.S. In other words, private owners and state agencies in the Southeast have completed more than twice as much prescribed fire as the entire remainder of the country. "This may be one of many reasons why the Southeastern states have experienced far fewer wildfire disasters relative to the Western U.S. in recent years," the researcher observes. It is worth noting that the federal government owns just a small percentage of the land in most Southeastern states.
A 2020 study in Nature Sustainability estimated that 20 million acres of California forestland—about 20 percent of the state's land area—would benefit from prescribed burning to c
Article from Latest – Reason.com
Comments
comments