Federal Court Rules Takings Clause May Require Compensation when Police Destroy an Innocent Person's Home in Process of Pursuing a Suspect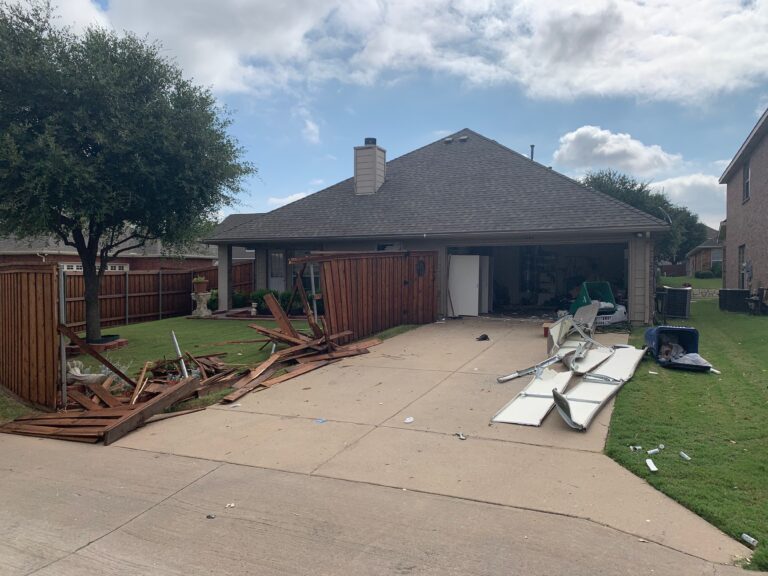 On November 18, a federal district court issued a ruling indicating that the Takings Clause of the Fifth Amendment may require the government to pay compensation in a case where a police SWAT team destroyed an innocent person's home in the process of pursuing a criminal suspect. As Judge Amos Mazzant recognizes in his opinion in Baker v. McKinney, this ruling is at odds with decisions in similar cases by some other federal courts, which hold that there cannot be takings liability in such cases because of the "police power" exception to the Takings Clause. The issue here is an extremely important one, one on which existing jurisprudence is far from a model of clarity. As the case goes forward, it might end up setting a significant precedent.
Reason's Bill Binion has a helpful summary of the disturbing facts of the case:
In July 2020, Wesley Little—who Vicki Baker had terminated as her handyman about a year and a half prior—arrived at Baker's home in McKinney, Texas. Baker's daughter answered. Recognizing him from news reports that he was wanted for the abduction of a 15-year-old girl, she left the premises and called the police.

SWAT agents soon arrived. They set off explosives to open the garage entryway, detonated tear gas grenades inside the building, ran over Baker's fence with an armored vehicle, and ripped off her front door, despite being given a garage door opener, a code to the back gate, and a key to the home. The house was unlivable when they were through….

"In its pursuit of the fugitive and pursuant to its police powers, Baker alleges the City caused significant economic damage—over $50,000—to her home. Then, the City refused to compensate her for the damage," writes Judge Amos L. Mazzant III of the U.S. District Court for the Eastern District of Texas…..

Baker will likely still have to overcome an appeal from the city. But if her suit meets a more fortunate fate, she may recuperate some of the financial costs incurred as she battles stage 3 cancer and tries to leave the state for retirement. Yet some things will not be replaceable. An antique doll collection was damaged by tear gas, for example. Worse yet, her daughter's dog was left deaf and blind.

"I've lost everything," Baker told Reason last March. "I've lost my chance to sell my house. I've lost my chance to retire without fear of how I'm going to make my regular bills."
Some of these aggressive tactics may have been understandable, given that Little was holding a 15-year-old girl against her will, and that he was believed to be armed. But, as Judge Mazzant recounts in his ruling, by the time the SWAT team  "forcefully entered
the home by breaking down both the front and garage door and running over the backyard fence with a tank-like vehicle known as a BearCat," Little had already released the girl unharmed. When the police entered the house, they found he had taken his own life.
The Fifth Amendment says  the government must pay "just compensation" whenever it takes private property for public use. Courts have long held that deliberate destruction of private property by government officials counts as a taking. As far back as 1872, the Supreme Court ruled that "where real estate is actually invaded by superinduced additions of water, earth, sand, or other material . . . so as to effectually destroy or impair its usefulness, it is a taking, within the meaning of the Constitution." You don't have to be a takings scholar to see that Vicki Baker's house was "effectually destroy[ed] or impair[ed] [in] its usefulness," and that the police deliberately caused the damage.
However, courts have also long held that at least some exercises of the "police power" (government's authority to protect public health and safety) are exempt from takings liability. In the 2019 case of Lech v. Jackson, the US Court of Appeals for the Tenth Circuit used the police power theory to deny takings liability in a situation remarkably similar to this one. There, too, the police essentially destroyed an innocent family's house in the process of trying to apprehend a suspect (in that i
Article from Latest – Reason.com
Comments
comments