Burning Man Without the Man
The week before Labor Day, 15,000 people gathered on the normally featureless, utterly barren Black Rock Desert playa 100 miles north of Reno, Nevada. They indulged in communal desert survival camping many miles away from any services. They created playful environments known as theme camps, often freely giving art, food, drink, performance, or just conversational whimsy. They danced to mostly electronic music from DJs both unknown and world-class, who were often operating astride giant mobile tricked-out conveyances (mutant vehicles in their communal argot, or sound buses, or music trucks—call them what you will).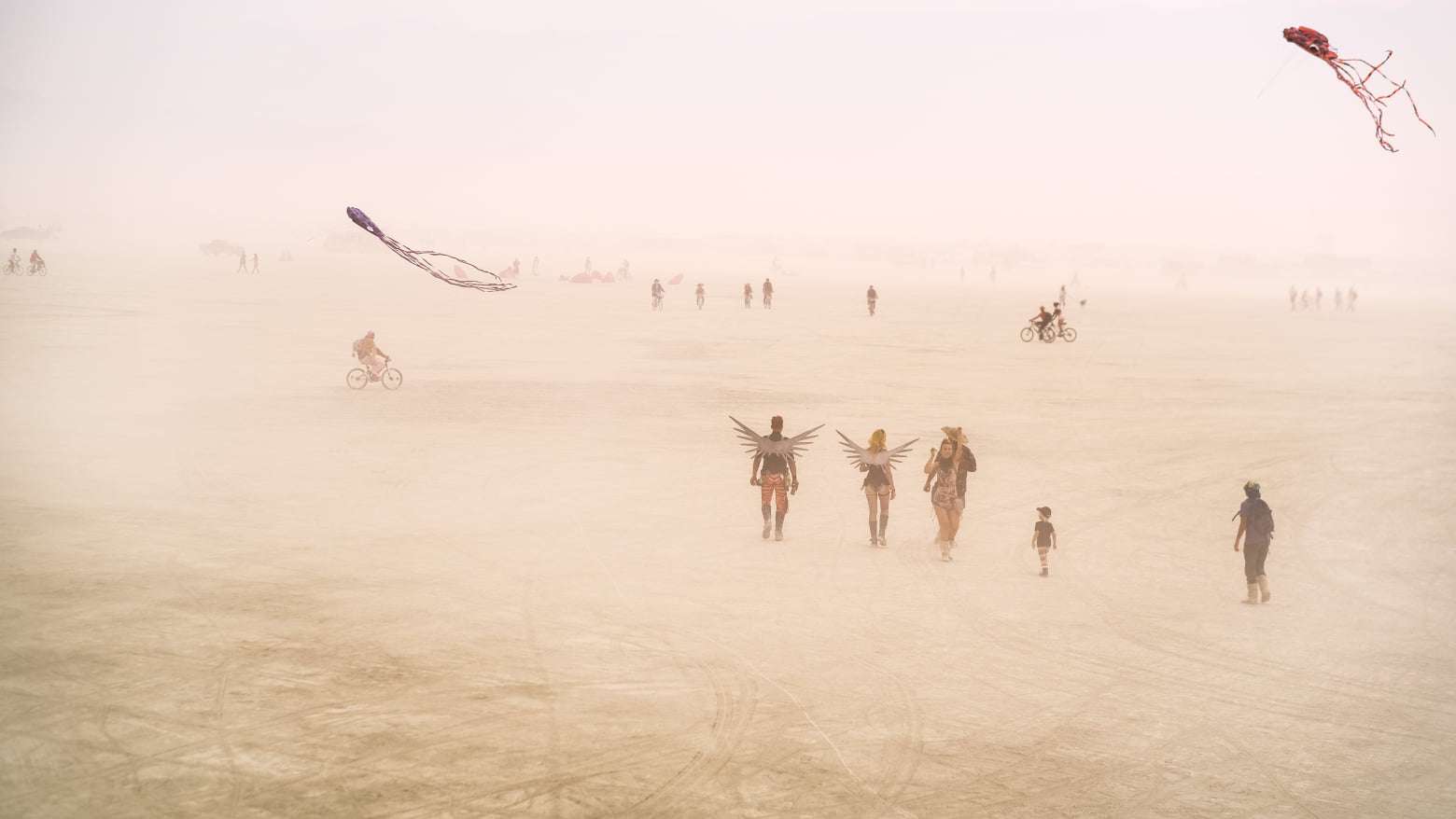 On Saturday night of the holiday weekend, the crowd of campers gathered en masse in a vast empty space circled by their camps to contemplate the image of a giant wooden man appearing in the sky above them, and watched that image turn fiery red, and seem to crumble to the ground.
That image was not an actual wooden statue, though. It was a squad of programmed aerial drones forming images with dots of light, an artwork brought out at great technical, personal, and financial effort as a pure gift to the community. Despite all the obvious similarities, this gathering was not actually another iteration of Burning Man, America's largest annual temporary community and desert art party.
Not officially, that is. This nonevent was in the eyes of authorities best seen as a random collection of 15,000 or so strangers who happened to be camping on this particular piece of public land just a few playa miles from where Burning Man's Black Rock City (BRC) encampment would normally appear, at the same time Burning Man customarily happens, behaving (mostly) like they were at Burning Man. Attendees and detractors alike on the internet called it various names: Renegade Burning Man, Rogue Burning Man, Fake Burning Man, or, as per the name of a highly-trafficked Facebook group with over 16,000 members where plans and discussions about the gathering were hashed out in a legally unorganized way, Plan B.
For the second year in a row, Burning Man itself was canceled because of COVID-19 concerns. (An impromptu Burning Man–like gathering happened in 2020 during the event's usual week before Labor Day as well, but that one attracted only around 3,500 attendees.)
The Burning Man organization that runs the event, and the Bureau of Land Management (BLM), the federal agency responsible for the Black Rock Desert playa, have a long, often contentious relationship and are now embroiled in a lawsuit, though the event has been held on the playa nearly every year since 1990. Many in the Burner community assumed neither event organizers nor federal permitters would be delighted to see a spontaneous re-creation of the experience without the complicated set of legal demands, imposed costs, planned-and-paid-for law enforcement and medical care, masses of port-a-potties, and the other infrastructure (much of it supporting breathtaking, bigger-than-any-museum-could-handle interactive sculptural and fire art) the ticketed, permitted Burning Man brings.
Talking before the gathering with Mark Hall, field manager of the BLM's Winnemucca district with authority over this playa, and Burning Man's CEO Marian Goodell, both were winningly unconcerned about letting the people have their fun. Neither one openly discouraged camping on public land that is, when not blocked off for permitted events such as Burning Man, meant for public recreational use.
Burning Man itself could have taken a more parental approach and tried to discourage its community from promulgating a potential big mess out on the playa. Some worried that if this crowd left a cleanup disaster or suffered many colorful injuries that it could harm the actual event's future, but Hall said pre-event, "None of this involved Burning Man. They might have put the idea of playa camping into people's brains, but just because someone puts an idea in someone's brain the Bureau cannot fault them for that."
Some in the Burner community darkly suspected the event's operators didn't want their customers to learn how much the people united could do themselves without the benefits (and rules and bureaucracy) that came with the nearly-$500 tickets for the 80,000 or so who attended Burning Man when it last happened (maxing out the number of bodies the federal government will allow).
Instead, Burning Man openly provided helpful advice for those who chose to go while maintaining a necessary hands-off approach to be clear it was not running, or managing, or responsible for, this gathering.
The BLM was a little discouraging, imposing rules that seemed designed to make many seeking a full-on free Burning Man experience think twice about coming out to this hard-to-get-to and hard-to-stay-in spot. By early summer, organized camps of Burners were itching to do Burning Man–style partying on the playa even without the event, and began seeking their own permits. The BLM decided it wouldn't issue any special recreation permits for large organized groups on the Black Rock Desert playa this summer. Rather, it came up with a set of special regulations to enforce on those who chose to gather there anyway.
The BLM barred commercial services of any sort from this nonevent, including such playa-important ones as water delivery or drainage of port-a-potties and recreational vehicles. It barred building any structure not intended for sleeping, cooking, or shade (goodbye, giant art in the form of dancing statues, re-created fantasy fishing villages, twisted big rigs reaching for the sky, or giant gramophones), any fireworks or explosives or lasers or flame effects (fuck your burn!), and planes landing on the playa (supermodels hardest hit), among other things. One thing Burning Man prohibits but this nonevent's stipulations did not: guns. I heard no gunshots, and heard no complaints about any, and saw only one person reporting online they found the sight of a strapped dancer in a crowd disconcerting.
Before the gathering happened, the public discussion in the Burning Man community was full of fear and loathing: of COVID-19, of dangerously bad air quality from the Western fires, of how such a large group without organizationally provided port-a-potties would avoid drowning in its own excrement (the word shitshow was bandied about often), of how dozens, perhaps hundreds, of injured Burners would strain already overtaxed area hospitals.
On Friday morning of the gathering, Burning Man regular pirate radio station Radio Electra warned that our good times were likely ending as ravenous hordes of thieving locals from Reno and Fernley, Nevada, were likely descending on us for a three-day weekend of yeehawing plunder with no tickets or gates to worry about.
Gary Taylor, a Radio Electra lead and DJ, admits that "I was dead wrong on" the fear that locals not acclimated to Burning Man principles of decent communal behavior would be "party-crashers, partying at our expense. I don't think that really happened."
The Direct Experience
What did happen, as obviously intended by all these people not-planning this nonevent, was an awful lot like Burning Man. Theme Camps. Mutant Vehicles. Small bits of public art. Lots of lovely people in captain's hats festooned with blinky lights and dancing to electronic music. Lots of friendliness and giving, from grilled cheeses to champagne slushies to bike repairs. Propane fire pits around which people gathered all night to banter, joke, educate, and speculate on their own technical skill sets, and talk about Burning Man. (What do people do at Burning Man? Talk about Burning Man.) People in cow suits in the distance playfully butting at passing humans. (I think it was not an actual cow, b
Article from Latest – Reason.com
Comments
comments