Migrant Children Languished in Filthy Conditions Under Eye of Untrained Contractors, Whistleblowers Say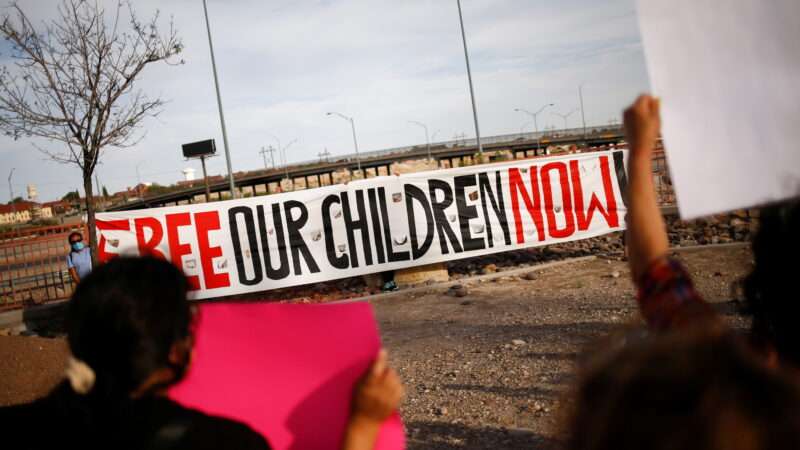 Children inside the Biden administration's largest shelter for unaccompanied migrant youth were subjected to filthy living conditions and medical neglect under the watch of unqualified government contractors, two federal whistleblowers said in a complaint filed Wednesday.
Laurie Elkin and Justin Mulaire, two federal employees who were detailed to the Fort Bliss emergency intake shelter near El Paso, Texas, filed a whistleblower complaint to Congress alleging they witnessed intolerable noise, filth, and odors inside the large tents where children are housed; contractors who were unqualified to work with youths; and hostility, indifference, and resistance to providing medical treatment to sick kids.
The Government Accountability Project, which is representing the two whistleblowers, said that "the conditions they witnessed caused physical, mental and emotional harm affecting dozens of children."
Elkin and Mulaire say they were repeatedly ignored or discouraged by Department of Health and Human Services (HHS) superiors when they tried to report the substandard conditions and care children were living under.
The allegations track closely with reporting from Reason and other outlets from earlier this year describing unsanitary conditions and poor care for children housed in the shelter.
The shelter, inside the Fort Bliss Army base, is the largest in a network of emergency shelters the Biden administration set up earlier this year to move unaccompanied migrant children out of Customs and Border Protection (CBP) detention centers. In theory, these shelters are a way station for kids who are waiting to be reunited with relatives or other connections in the United States. In fact, staffing problems and other issues left many kids stuck in limbo for up to a month or more.
The Fort Bliss shelter is staffed by a mix of contractors and federal employees detailed to HHS. At its peak, the shelter held roughly 4,500 young children and teenagers, mostly boys, in huge tents. As of late June, that number had dwindled to fewer than 800, NBC News reported.
In the complaint, Elkin recounts three instances where she discovered girls in distress, only to encounter resistance from contractors when she tried to get them medical care.
In one instance, Elkin says she came across a girl in a bottom bunk who was "ghostly pale."

"The girl told Ms. Elkin that she had not had her period for months but was now bleeding profusely and did not feel well. Clearly, the girl needed medi
Article from Latest – Reason.com
Comments
comments