The CDC Rightly Contradicts the WHO's Absurdly Cautious Mask Advice for Vaccinated People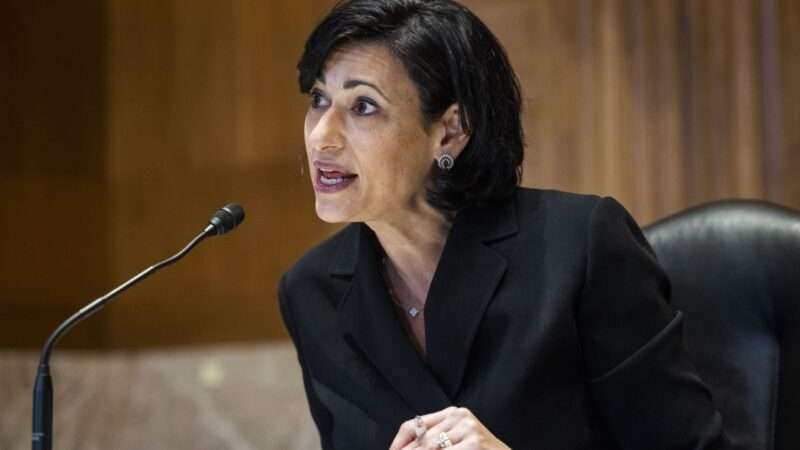 Rochelle Walensky, director of the Centers for Disease Control and Prevention (CDC), this week rightly defended the CDC's advice that fully vaccinated people do not need to wear face masks as a safeguard against COVID-19 in most situations. The World Health Organization (WHO), by contrast, says people should continue to cover their faces in public, regardless of whether they have been vaccinated.
"People cannot feel safe just because they had the two doses," Mariangela Simao, the WHO's assistant director-general for access to medicines and health products, told reporters last Friday. "Vaccine alone won't stop community transmission. People need to continue to use masks consistently."
The WHO's position is that any risk of infection, no matter how tiny, justifies continued mask use. But as Walensky notes, vaccines are highly effective at preventing mild cases and asymptomatic infection as well as severe cases and deaths. In the rare cases where vaccinated people are infected, the viral load tends to be low, meaning they are less likely to transmit COVID-19. And the evidence indicates that vaccines provide similar protection against newer, more contagious variants of the virus.
Vaccinated people are "really quite protected from the variants that we have circulating here in the United States," Walensky said on NBC's Today show. "We know that the WHO has to make guidelines and provide information to the world. Right now, we know as we look across the globe that less than 15 percent of people around the world have been vaccinated, and many of those people have only received one dose of a two-dose vaccine. There are places around the world that are surging, and so as the WHO makes those recommendations, they do so in that context."
In the United States, by comparison, two-thirds of the adult population is at least partly vaccinated, and 58 percent is fully vaccinated, according to data collected by The New York Times. The seven-day average of daily new cases, per Worldometer's numbers, has fallen by 95 percent since mid-January, from more than 255,000 to fewer than 14,000. The seven-day average of daily deaths, 254 as of yesterday, is down 93 percent.
The Los Angeles County Department of Public Health is nevertheless aping the WHO's advice. "To be extra safe," it says, "it is strongly recommended that you wear masks indoors in public places when you don't know everyone's vaccination status regardless of your vaccination status." In a press release on Monday, the department cited "increase[d] circulation of the highly transmissible Delta variant" as the reason it "strongly recommends everyone, regardless of vaccination status, wear masks indoors in public places as a precautionary measure."
The health department concedes that "fully vacci
Article from Latest – Reason.com
Comments
comments