The Tomorrow War Is a Tortured Global Warming Metaphor Disguised as a Dull Action Movie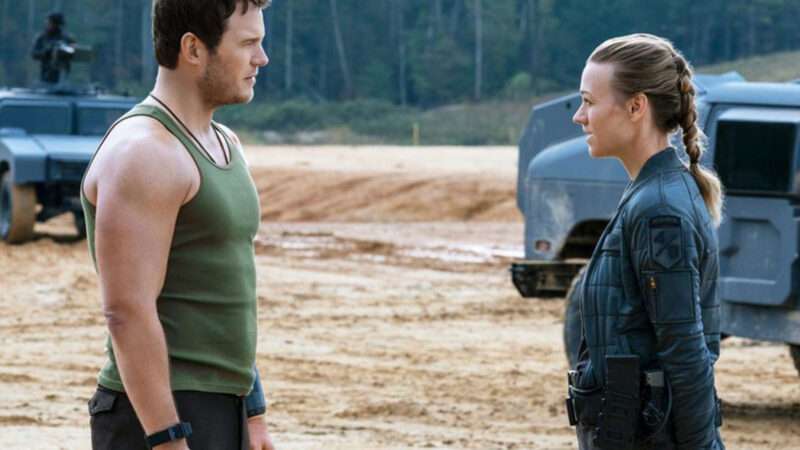 Murderous alien monsters might be taking over the world and literally eating all but a few hundred thousand sad souls, but the real threat, it turns out, is global warming. That's the gist of The Tomorrow War, a ho-hum, straight-to-streaming summer blockbuster that wants to be the next Terminator 2, but gets bogged down by metaphor service and a by-the-numbers screenplay that can't deliver on its central promise.
Like Terminator 2, The Tomorrow War is a time-travel story about a hero sent from one year to another in order to stop a global threat. The twist this time around is that The Tomorrow War is about a hero sent forward in time from the present, rather than backward from a post-apocalyptic landscape.
Three decades from now, it turns out, humans are fighting a losing war against a horde of alien monsters known as White Spikes, named for the bone-like projectiles they shoot from their limbs. The Spikes don't appear to be particularly intelligent: They don't use tools, and until late in the film, it's not even clear how they arrived on the planet. But they are winning the battle against humanity, and projections show that the species has precious little time to live. So in order to recruit more fighters to keep the war effort going, the humans of the future look to the past, drafting mostly inexperienced present-day folks to fight and die against the spikes.
It's Terminator 2 in reverse, with a little bit of Independence Day's wisecracking ordinary-heroes shtick thrown in for good measure: Our protagonist this time is Dan Forester, played by Chris Pratt—the Goofy Chris—and he's both an ex-soldier turned high school science teacher, and the quintessential Good Dad. You can tell he's a good dad because he does cute science stuff with his daughter and wears a soft-looking shawl-collar sweater in a comfortably appointed middle-class home. Look! All the clothing catalog–ready signifiers of middle-class decency, conveniently shoveled into the first 15 minutes of the script. (There's also a grumpy, government-skeptical father figure played by J.K.
Article from Latest – Reason.com
Comments
comments