FOSTA's Failure: The 2018 Sex Trafficking Law Has Been Worse Than Useless So Far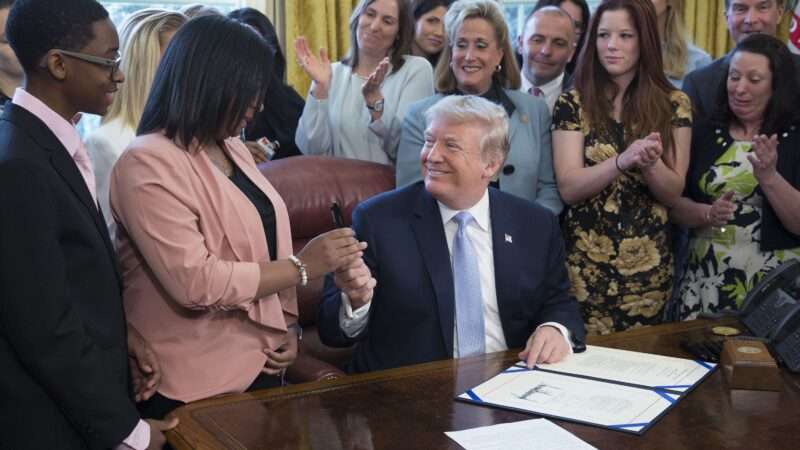 Is FOSTA a failure?
The federal law concerning commercial sex ads was pitched and passed by Congress with extreme urgency, as activists and politicians insisted it was absolutely necessary for stopping sexual violence and exploitation. But FOSTA—short for the Allow States and Victims to Fight Online Sex Trafficking Act—has only factored into one criminal prosecution since its passage in 2018. Meanwhile, it's made finding and fighting sex criminals more difficult.
The law's lack of usage and its unintended consequences are the subject of a new report from the Government Accountability Office (GAO), which looked at cases brought by the U.S. Department of Justice (DOJ) against commercial sex ad platforms from 2014 through March 2021.
The Feds Didn't Need FOSTA
Before and after the passage of FOSTA, the U.S. Department of Justice has preferred to use money laundering and racketeering charges to target adult-advertising platforms for criminal prosecutions.
Since 2014, DOJ has filed at least 11 cases against websites that allowed ads for sex work, leading to the prosecution of 23 people and seven organizations. Only one of these cases—filed in June 2020 against Cityxguide.com—has utilized FOSTA.
The first DOJ case was filed in June 2014 against myredbook.com. The second came in 2015, against rentboy.com. Next up: Backpage.com. (This tally does not count state prosecutions DOJ assisted with but did not prosecute on its own, such as the 2016 takedown of Seattle's The Review Board.)
In spring 2018, the DOJ filed three cases involving Backpage. According to FOSTA advocates, prosecuting Backpage was the main reason FOSTA was needed. But this was never true—as evidenced by the fact that the site was seized and those affiliated with it charged before FOSTA became law.
Nor has the DOJ needed FOSTA to target Backpage descendants. Since FOSTA's passage, the DOJ has initiated six more criminal prosecutions of commercial sex platforms. Five out of these six did not involve FOSTA charges.
DOJ officials told GAO that this may be partly because of the law's newness but also because they've seen so much success using the old statutes. Racketeering, money laundering, and conspiracy statutes have long been used by the federal government to target prostitution and those who enable it.
But FOSTA was also aimed at prostitution broadly—not just sex trafficking, though this more salacious element was the near-exclusive focus of advocates, media, and legislators pushing for the new law.
Prostitution—which is not a federal crime—is often a consensual matter between two adults. By contrast, sex trafficking by definition involves either an adult being forced, coerced, or defrauded into prostitution or someone under age 18 engaging in prostitution (on their own accord or via force, fraud, or coercion). "While prostitution and sex trafficking both involve commercial sex activity, sex trafficking is defined under federal law as inherently exploitative," explains the GAO report.
FOSTA dealt with both prostitution and sex trafficking, creating the new federal crime of owning, managing, or operating "an interactive computer service […] with the intent to promote or facilitate the prostitution of another person." It also carved out an exception to Section 230, the federal communications law that shields websites from some liability for user-generated content. Under FOSTA, Section 230 does not apply in civil lawsuits involving claims of sex trafficking or in state criminal prosecutions involving allegations of sex trafficking or managing a website that promotes prostitution.
States Didn't Need FOSTA 
FOSTA's change to Section 230 was one long pushed for by state attorneys general.
Before FOSTA, it was already a federal crime to
Article from Latest – Reason.com
Comments
comments