Major Anti-Tech Antitrust Package in Congress Moves Forward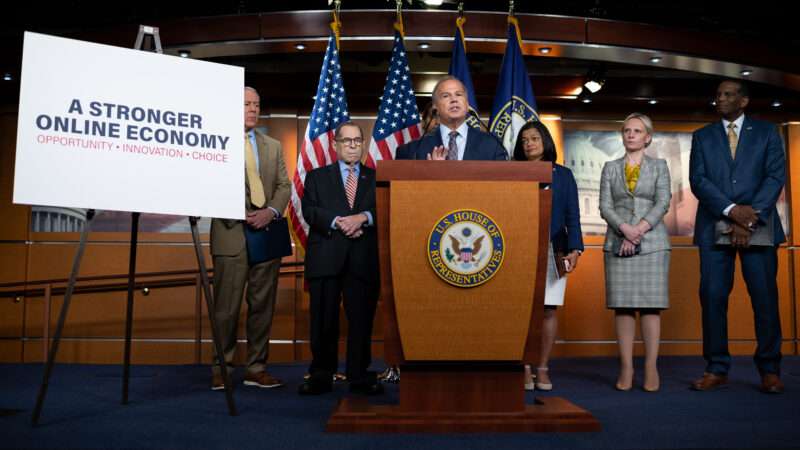 A bundle of new antitrust bills in Congress takes aim at the intersection of free markets and the internet. Taken together, these six measures would have a major impact on the way we shop, chat, entertain ourselves, and otherwise go about our business online.
Say goodbye to Amazon Prime Video, for example. And to low-priced Amazon brand products. And to phones coming pre-loaded with things like weather, calendar, and email apps—even pre-installing phones with an app store app to help users easily acquire these things could be banned. As would Google searches showing Google Shopping or YouTube videos results up top, or Facebook prominently displaying its Marketplace. And forget integration between services now easily linked, like Gmail and Google Calendar, Facebook and Instagram, or LinkedIn and Microsoft Office.
In fact, today's major tech companies would be forced to downplay—or ditch entirely—a lot of their popular (and free) services, since large platforms promoting their own tools or products over those over of competitors would be off-limits, as would controlling any line of business that could be considered a "conflict of interest." The result for consumers would likely be less convenience, fewer options, higher prices, or all of the above.
Meanwhile, expect social media, phone apps, and all sorts of digital services to get less secure and more glitchy, as platforms attempt to comply with mandatory interoperability and openness rules. And expect fewer startup ideas to ever make it to the masses, as the rules around acquisitions are tightened.
Amazingly, U.S. lawmakers are touting these proposals in the name of helping tech users. But their solutions seem more aligned with punishing disfavored companies (or wringing more money from them) than actually promoting consumer interests.
"Congress is unhappy with technology companies, but their frustration is political," said Jake Ward, president of the Connected Commerce Council (3C)—a nonprofit membership association for small businesses—in a statement. "The far wings of both parties believe the other party is weaponizing Big Tech, so their response is to weaponize antitrust law. But antitrust law is not a political tool for Congress to wield on a whim."
Ward is far from alone in seeing these measures—most introduced just a little over two weeks ago, and all approved by the House Judiciary Committee last week—as more concerned with politics than traditional antitrust goals, such as protecting consumer welfare and preventing abusive monopolies.
"This is not traditional antitrust law," former Federal Trade Commission (FTC) chair William E. Kovacic told Politico about the legislation. "This is a broader concept of competition policy that borrows some antitrust concepts, but relies on a broader notion on what behavior for individual firms is inappropriate."
Instead of one set of rules that businesses (regardless of sector or size) must follow, they would create rules that apply solely to large digital platforms, taking aim at the tech giants that are currently culture-war pingpong fodder for politicians. Most of the new rules would apply only to "covered platforms," defined as those with at least 500,000 U.S.-based active monthly users or at least 100,000 U.S.-based active business users, net annual sales or market capitalization greater than $600 billion, and deemed a "critical trade partner for the sale or provision of any product or service offered on or directly related to the online platform." Once deemed a covered platform, the designation would last 10 years.
Article from Latest – Reason.com
Comments
comments