Republicans Urged To 'Lean Into' Critical Race Theory Culture War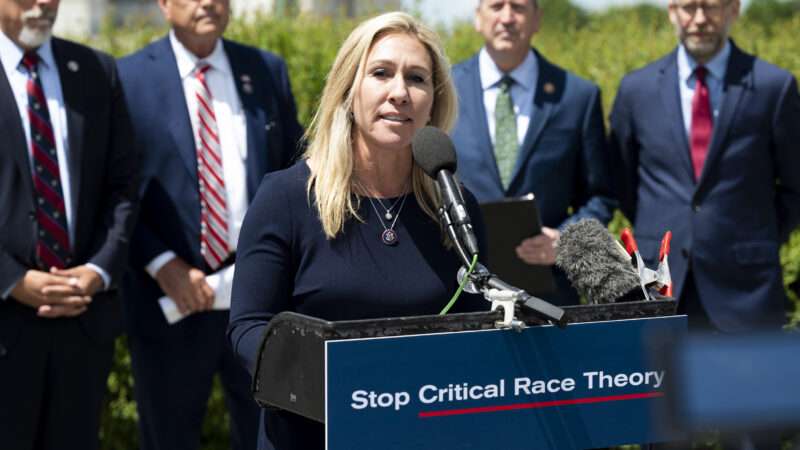 Critical race theory sells. "Lean into the culture war," Rep. Jim Banks (R–Ind.) is urging fellow members of a House conservative caucus. If you thought U.S. political discourse couldn't get any dumber…buckle up!
In a memo sent to the Republican Study Committee on Thursday, Banks told his colleagues that "we are in a culture war. On one side, Republicans are working to renew American patriotism and rebuild our country. On the other, Democrats have embraced and given [sic] platform to a radical element who want to tear America down."
That's pretty standard rhetoric for GOP culture warriors. The new twist is that this time, it's not communism or feminism or gay rights that have induced this hyperbole but a relatively obscure (until recently) legal/academic framework known as "critical race theory" (CRT). Its ideas have somehow escaped from academia and other wonkish circles to become a focal point of a very disingenuous, very stupid, and yet very mainstream culture war.
Yes, some concepts in CRT can be illiberal and out there. But Republicans have begun grafting the label onto any discussions or ideas about race that they don't like, while painting support for CRT's most outlandish concepts as if it's new Democratic dogma.
"The Democrat Party has wholly embraced Critical Race Theory and all its conclusions," writes Banks in his memo, adding that these Democrats think U.S. institutions are so racist they "need to be destroyed from the ground up."
It's the same fantasy-world claptrap that saw Republicans fearmongering during the 2020 election about how perpetual crime warrior Joe Biden and ex-cop Kamala Harris were going to defund the police. Meanwhile, in the real world, most Democrats in power are ho-hum centrists with very standard ideas about race and racism. And most people in the real world have no idea what CRT is really about.
The fact that it's so obscure is, in fact, what makes it a perfect canvas for conservative culture warriors to confirm their base's worst fears about The Radical Left. (Talking about CRT "is how we are going to win" House seats, said Steve Bannon recently).
So, Mexicans and antifa are out; critical race theorists—by which many Republicans mean basically anyone who mentions "privilege" or says racism is still a significant problem in America—are in.
But conservatives aren't the only ones being coy about CRT. A lot of folks on the left—and purportedly neutral media—aren't always honest about it, either.
Take this Politico piece about the Banks memo. "Critical race theory refers to the concept that racism has been systematically ingrained in American society and institutions," the publication says. "It's sparked a Republican revolt over the ideology's presence in schools, arguing that it teaches children to believe that the country is racist."
Politico and many others defending CRT these days give the impression that believing in CRT simply means a belief that systemic racism was or is real, when there's much more to it than that.
It's a perfect example of a phenomenon that leftist writer Freddie deBoer delved into last week in his newsletter:
CRT is now a completely floating signifier thanks to the motivated reasoning of those who defend it. Conventional center-left liberals feel compelled to defend CRT because conservatives attack it, but some aspects of that academic field are sufficiently extreme to make advocacy for them unpalatable, so the definition of CRT simply morphs to fit their boundaries for legitimate opinion. For many or most of the people defending critical race theory today, the tradition is just a vague assertion of the prevalence of racism, dressed up in a little academic jargon—because this conception is far more convenient for them than grappling with what CRT actually is….It has become a cultural and professional imperative that good liberals embrace CRT, so they have embraced it.

But as [Matthew] Yglesias points out here, a big part of CRT involves a skepticism towards, or an out-and-out rejection of, some elementary aspects of liberal society. This is part of a broader academic left tendency
Article from Latest – Reason.com
Comments
comments