NYC Mayoral Frontrunner Eric Adams Talks Conspiratorial Nonsense About 'Voter Suppression'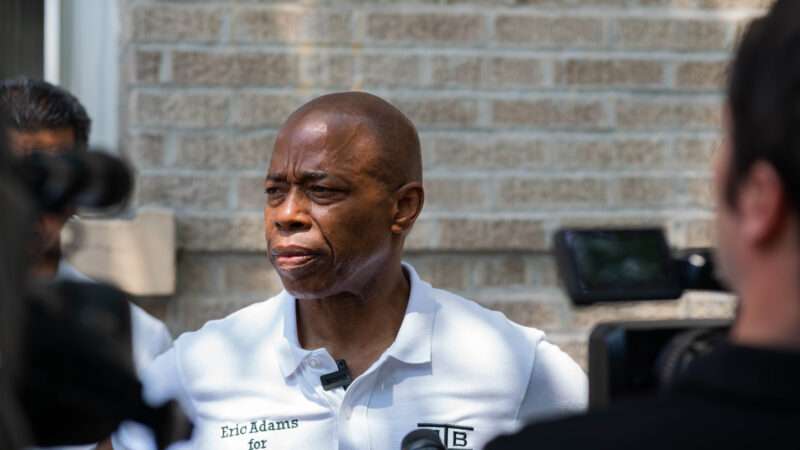 The final hours of hard-fought political campaigns are when politicians reveal much about themselves—and about what they think their electorates want to hear.
Then-President Donald Trump, in advance of a 2018 midterm that Republicans rightly feared might cost them their congressional majority, chose not to frame the votes as a referendum on the booming economy but as the "election of the caravan." Kamala Harris decided, in a way that foreshadowed administration policy, that two days before the 2020 election was the opportune time to make the case for "equity" as opposed to "equality."
So it's of particular concern, for both candidate and polity, that in the waning hours before Tuesday's ranked-choice vote New York Democratic mayoral frontrunner Eric Adams has been emphasizing the startling accusation that rivals Andrew Yang and Kathryn Garcia, by cross-promoting each other's candidacies, were engaged in politics resonant of Jim Crow.
"For them to come together like they are doing in the last three days," Adams, who is black, told The New York Times Saturday, "they're saying we can't trust a person of color to be the mayor of the City of New York when this city is overwhelmingly people of color."
Far from softening those Juneteenth allegations, Adams and his campaign have been sharpening them ever since, releasing an incendiary batch of surrogate conspiracy-mongering ("This is an attempt to bring the disgraceful national campaign of voter suppression to New York," "This is a cynical attempt by Garcia and Yang to disenfranchise Black voters," "[This] could be looked at as voter suppression through the ranked choice lens," etc.) and then digging in his heels during TV interviews Monday morning.
The Garcia/Yang collaboration "feeds into the signals of America," Adams charged on Fox. "We know America's dark past, everything from poll taxes to how we stopped the voting we've seen across the country. Many people felt this was symbolic of that."
Pressed by CNN's John Berman to disavow his surrogates' claims of voter suppression, Adams declined, saying: "I can say this: that African Americans are very clear on voter suppression, they know about a poll tax, we know about the fight that we've had historically, how you had to go through
Article from Latest – Reason.com
Comments
comments