Just 1.3% of NYC COVID Cases Are Coming From Restaurants. Why Has Cuomo Banned Indoor Dining?
I was walking down Greenwich Avenue in New York City's West Village last week when I saw something poignant: dining tables at the curb, set with white linen and electric candles. It was only 5:30 p.m. but already dark, which might have added to the romance, and I guess it did, if you don't mind eating outside when it's 35 degrees out.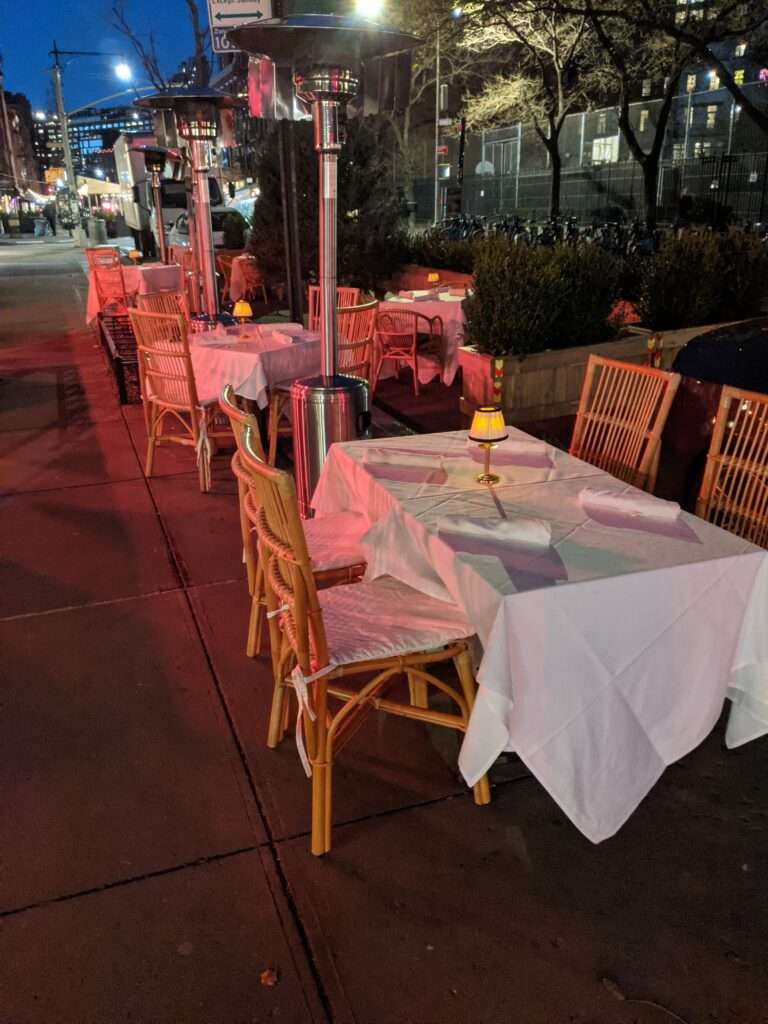 The restaurant was one of nine open along a two-block stretch of Greenwich between Sixth and Seventh Avenues, each trying to navigate Gov. Andrew Cuomo's edict, set in September, requiring New York City restaurants to operate at only 25 percent indoor capacity. Last week he took it even further: As of December 14 and until further notice, there will be no indoor dining permitted whatsoever. His reasoning? With COVID-19 hospitalization rates rising, any potential source of transmission must be eliminated.
This would appear not to be very educated guesswork. The latest transmission data show that 74 percent of new COVID-19 cases come from private in-home gatherings, and only 1.3 percent from bars and restaurants. Seeing as they cannot (yet) prevent individuals from being inside their own homes, officials instead press on with a series of decisions that have battered the restaurant industry since March, when eateries were first ordered to close. At that time, establishments got creative: They pivoted to takeout, they sold cocktails on the street, anything to keep some money coming in until they could reopen. Such tactics were not enough. As reported by Eater NYC, more than 1,000 restaurants permanently closed between March and November.
Restaurateurs' main gambit, however, has been to erect curbside dining structures. While a source of irritation for anyone looking for a parking spot, they've been a welcome sign of normalcy in a not-normal time. They also make the streets look festive, especially at night, all lit up and ready for patrons. And yet, when I started my walk down Greenwich, every table at every restaurant was empty.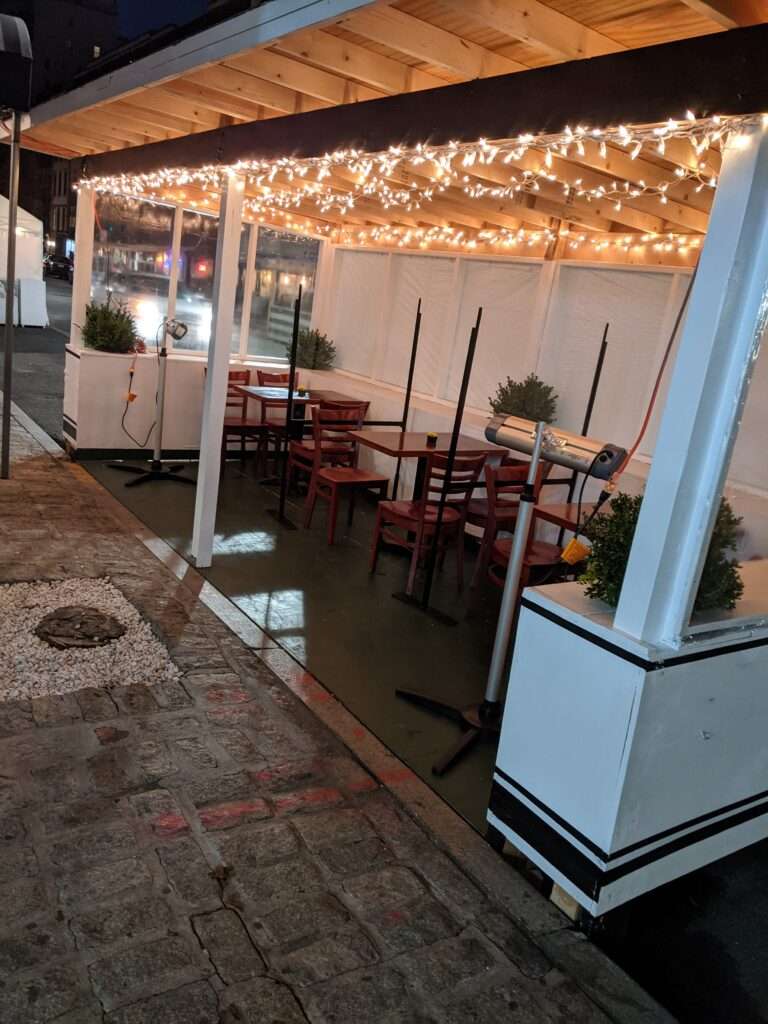 "This has been the biggest challenge that we've ever had, I think," said Rick Salas, manager at Elephant & Castle, which installed curbside dining a few months ago. "We do have heaters out there but of course, when it gets really cold, I don't know how effective it's going to be. I mean, it's amazing that there are brave souls that don't mind the weather."
A mainstay on the New York dining scene––he worked at Keens Steakhouse in midtown Manhattan before coming to Elephant & Castle 28 years ago––Salas showed admirable forbearance at the city's restaurants being used as a test balloon, if not a punching bag. 
"I can understand that this has been a stressful situation, for every agency in the city," he said. "I know that they're lacking in not enough people, so we're trying to be as understanding as possible. It's difficult. We're basically staying open to keep ourselves out there and making money, obviously, and keep as many people employed as possible."
New York state does not appear to share these concerns, instead instituting new requirements that would seem to have little to do with preventing the spread of COVID-19. In July, for instance, state officials required bars to start serving food. This seems both arbitrary and cruel, to require businesses barely hanging on to invest in cooking equipment and learn how to use it. Last month came the order that any "roadside seating" must be tricked out by December 15 with "sandbags, reflector tape, snow sticks, and plastic barriers," which the city would provide free of charge. Thoughtful, except one restau
Article from Latest – Reason.com
Comments
comments