Review of Ilya Shapiro's "Supreme Disorder"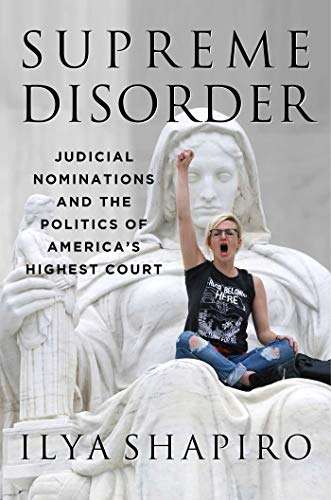 In this post, I review Ilya Shapiro's important new book Supreme Disorder: Judicial Nominations and the Politics of America's Highest Court. Unfortunately, the "other" Ilya and I often get confused with each other. To prevent this review from fostering the growth of the pernicious phenomenon of #IlyaConfusion, I recommend reading my definitive guide to telling the two Ilyas apart. On to the actual review!
It's hard to think of a better-timed book than Ilya Shapiro's Supreme Disorder. The book was officially released in September, just a few days after the passing of Supreme Court Justice Ruth Bader Ginsburg.  That event soon led to Donald Trump's nomination of Amy Coney Barrett to fill the seat in a rushed confirmation process that concluded just before the 2020 presidential election. Democrats understandably cried foul, and pointed out how the GOP's actions contradicted their own insistence, in 2016 (when President Barack Obama nominated Merrick Garland to fill the seat vacated by the death of Justice Antonin Scalia), that Supreme Court nominations should not be taken up in an election year.
The clashes over the Garland and Barrett nominations were just part of a long series of other bitter conflicts over Supreme Court seats, including the bitterly contested nominations of Robert Bork, Clarence Thomas, Brett Kavanaugh, and others. Long gone are the days when SCOTUS nominees were routinely confirmed with little or no controversy.
Ilya Shapiro's book is not only timely, but also invaluable as a guide to the history of political battles over Supreme Court nominations, as well as a thorough discussion of possible reform proposals to improve the confirmation process. He traces the history of those conflicts from the early days of the republic on through the bitter fight over the nomination of Brett Kavanaugh in 2018.
As Shapiro shows, conflict over nominations is not a new thing. In the  early 1800s, the Federalists and Democratic-Republicans each maneuvered in various ways to gain control of the courts. Later, in the 1860s, the Republican Party twice adjusted the size of the Court—each time primarily for the purpose of securing a majority of justices amenable to the party's positions on various key constitutional issues. Franklin D. Roosevelt's 1937 court-packing plan was a less successful effort to achieve a similar result (though some historians still argue that the threat of court packing triggered a "switch in time that saved nine," even as the dominant view among scholars has shifted away from that position).
At the same time, Shapiro describes how, during many periods in American history, Supreme Court nominations attracted little or no controversy. For example, John F. Kennedy's 1962 nomination of Byron White resulted in only a brief, perfunctory Senate hearing, much of which was devoted to discussion of White's earlier career as an professional football player! Such a process is almost unimaginable today.
As Shapiro explains, the key difference between 1962 and the present day is not that politicians were nicer back then or that judicial nominees were better qualified, but that in 1962 there was much less polarization on legal issues between the two major parties. Today, there is a stark difference between Republican and Democratic SCOTUS nominees on both methodology (originalism vs. living constitutionalism) and likely votes on specific issues, such as abortion, gun rights, religious liberties, executive power, campaign finance regulation, and much else. By contrast, such partisan differences between nominees were much more modest in the 1960s—and during other periods when SCOTUS nominations attracted little controversy.
In the part of his book devoted to more recent events, Shapiro traces the gradual increase in conflict ove
Article from Latest – Reason.com
Comments
comments