'I Won the Election' Tweets Trump as Legal Losses Stack Up 
"At what point does this get ridiculous?" asked Judge Andrew P. Gordon of the U.S. District Court for the District of Nevada, who is hearing one of at least 18 cases nationwide challenging some facet of the presidential election results. He's not alone among judges in expressing frustration with lawsuits filed by the Trump 2020 campaign and its allies alleging various forms of voter fraud in battleground states that Trump lost.
"In court hearings and opinions around the country, judges are voicing similar frustrations with the Trump campaign's legal filings to a degree rarely seen in venues where political rhetoric is generally unwelcome," reports ABC News.
When Montgomery County, Pennsylvania, Judge Richard P. Haaz grilled Trump campaign lawyer Jonathan Goldstein at a court hearing last week, he wanted to know the basis for the Trump claims of fraud.

"I am asking you a specific question, and I am looking for a specific answer. Are you claiming that there is any fraud in connection with these 592 disputed ballots?" said Haaz, a Democrat.

"To my knowledge at present, no," Goldstein replied.
Election experts "decidedly contradicted" Republican-submitted "affidavits from election challengers who paint a picture of sinister fraudulent activities occurring both openly in the TCF Center and under the cloak of darkness," wrote Michigan Chief Judge Timothy M. Kenny of the Wayne County Circuit Court. Kenny rejected a request for an independent audit (outside of the official one being undertaken by the county) of some votes.
And here's an update on Pennsylvania ballots from state Lieutenant Governor John Fetterman:
*Two* documented cases of voter fraud out of nearly 7M ballots.

Both cases involved Republicans. ????

And now: "Trump's campaign dropped the allegation that 100's of thousands of mail-in ballots.. that poll watchers weren't allowed."

Because Math. ????https://t.co/67tvNihidu

— John Fetterman (@JohnFetterman) November 16, 2020
The Trump campaign "has dramatically scaled back its federal lawsuit challenging the election results in Pennsylvania," notes Politico, "dropping legal claims stemming from observers who assert they were blocked from viewing vote-counting in counties dominated by Democrats."
Last Wednesday in Nevada, "a state court legal fight to stop the counting of mail ballots in the Las Vegas area has ended after the Nevada Supreme Court dismissed an appeal by the Donald Trump campaign and the state Republican party, at their request."
But while the legal hits keep coming for Trump and his allies, the president and his staunchest supporters have grown more enthusiastic in public, evidence-free assertions of a stolen election.
Over the weekend, thousands of Trump supporters marched in D.C. for the "Million MAGA March."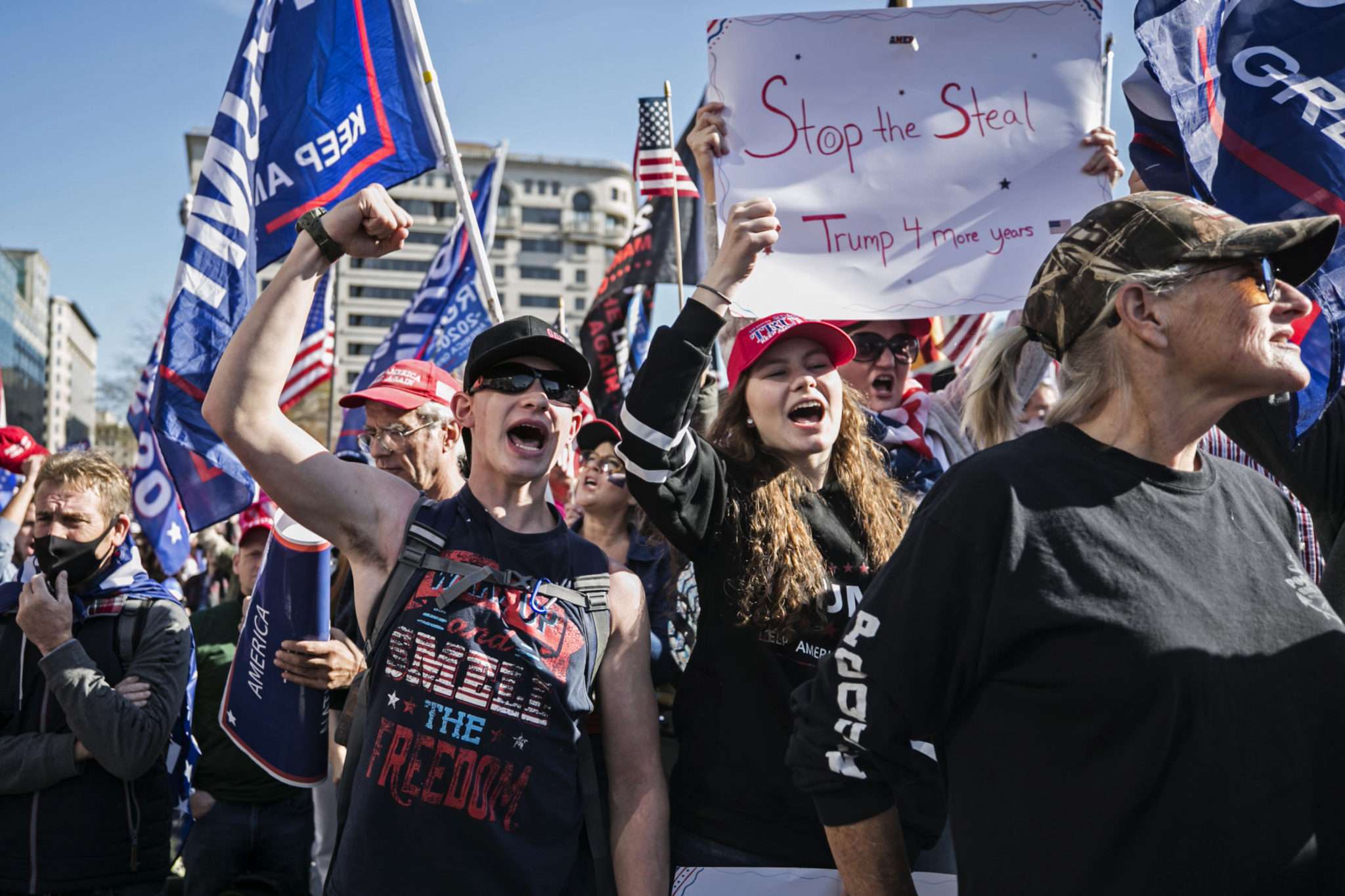 With no evidence of actual election fraud and erstwhile allies in the Republican Party and on Fox News refusing to play along, Trump has been blaming a conspiracy of Democrats, media, and voting machinery. On Sunday evening, he tweeted:
Why does the Fake News Media continuously assume that Joe Biden will ascend to the Presidency, not
Article from Latest – Reason.com
Comments
comments