Why Biden is a Lesser Evil than Trump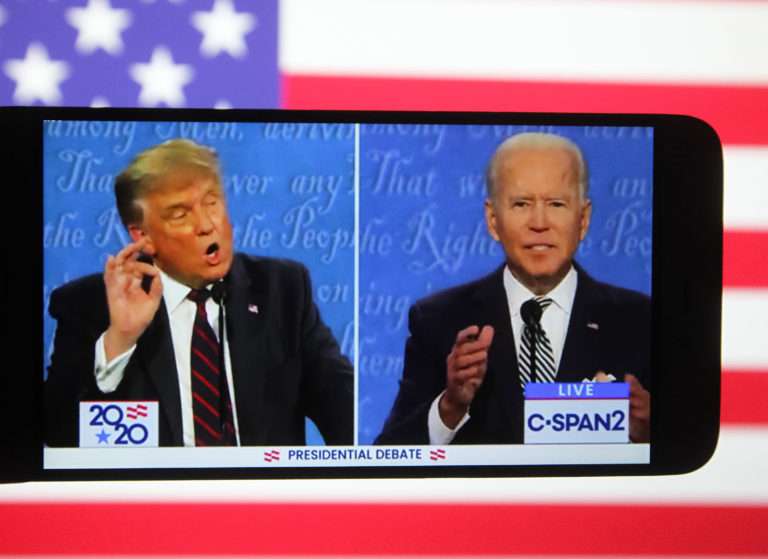 If you're a libertarian like me, elections in the US two-party system often come down to choosing the lesser of two evils. This one is no exception. Both major-party candidates have serious flaws. But Democratic candidate Joe Biden is far preferable to Donald Trump. And that's true based entirely on ideology and policy—without having to consider Trump's corruption, his tweets, or his awful personality. Judged from the standpoint of promoting liberty, justice, property rights, and human welfare, the choice is clear. Trump has the edge on a few issues, but they are greatly outweighed by the ones where he doesn't.
Before delving into the comparison between the two options, I should note I am not claiming  citizens have a moral duty to vote for Biden, or indeed to vote at all. To the contrary, I deny there is any duty to vote, and therefore have no quarrel with anyone chooses not to do so because they prefer to devote their time and effort to other activities, and especially if they choose to abstain because they lack the knowledge to make a well-informed choice.
But those who do choose to vote have an obligation should try to make at least a reasonably informed choice. And, at least in most cases, they should vote for the least-bad alternative among those with a realistic chance to win. I defend the morality and rationality of lesser-evil voting in some detail here.
To briefly summarize, Biden has significant advantages over Trump when it comes to immigration, trade, property rights, government spending, and maintaining relationships with liberal democratic allies. These readily outweigh Trump's edges on judicial appointments and certain types of taxation and regulation. Though I won't cover it here, Trump's undermining of liberal democratic norms is also a menace, even if it hasn't yet led to many concrete policy actions. I explained why in a 2018 post.
This piece admittedly comes late in the election process; I admit I would have done better to write it sooner. But many millions of people still haven't voted. And I suspect that may include a disproportionate percentage of undecided voters. For those who have already voted, I hope this work might still have value in terms of understanding where the two major parties stand from a libertarian perspective.
Where Biden is Better
If there's one area where there's a truly enormous difference between the two candidates, it's on immigration. Trump has exploited the xoronavirus crisis to make the US more closed to immigration than at any other time in our history. His most influential immigration policy adviser, Stephen Miller, has made clear the administration plans to continue these restrictions indefinitely. Moreover, Miller has a stack of still more onerous immigration restrictions he intends to push through if Trump is reelected. Even before the current crisis, Trump massively slashed refugee admissions to a mere 18,000 per year (down from about 110,000 under Barack Obama), imposed cruel and bigoted travel bans, and imposed all sorts of barriers to legal immigration. His administration has even used Kafkaesque bureaucratic tricks like rejecting visa applications if any line is left blank (such as a line for a middle name left empty by a person who doesn't have one).
The costs to human liberty here are enormous. Trump's expanded immigration restrictions forcibly consign hundreds of thousands of people to lives of poverty and oppression, simply because they made the mistake of being born to the wrong parents or in the wrong place. They also impose huge economic costs on both immigrants and natives. Immigrants make major contributions to American economic growth and innovation. The scale of economic harm caused by the administration's immigration restrictions  greatly outweighed any possible benefit from its deregulatory actions elsewhere—even before the former was ratcheted up during the pandemic.
Moreover, immigration restrictions severely constrain the liberty of natives as well as immigrants. Native victims include Americans who seek to hire, work with, and otherwise interact with immigrants, those whom Trump's travel bans and other restrictions have cut off from their families, and even many citizens detained and deported thanks to the paucity of due process protections in the immigration enforcement system.
Nor can these moves be rationalized by analogizing the US government to the owner of a private house who has a right to keep people out for whatever reason he wants. Such analogies are deeply flawed, and—if taken seriously—would justify draconian restrictions on natives' liberty, no less than that of immigrants. No libertarian—or any kind of liberal—should accept the dangerous idea that the state is entitled to such sweeping power.
Biden is far from perfect on immigration issues. But he plans to reverse pretty much all of Trump's new immigration restrictions, plus promote further liberalization, such as increasing the refugee cap to 125,000. The latter move alone will save over 100,000 people per year from poverty, oppression, and sometimes death. Freeing over 100,000 per year from a lifetime of oppression is enough to outweigh a multitude of sins elsewhere.
Moreover, virtually all of Trump's immigration actions are the product of unilateral executive action. Therefore, Biden could reverse them without getting any new legislation through Congress. And, obviously, the odds of immigration liberalization getting through Congress are clearly higher if Biden wins than if Trump is reelected. In the latter case, there would be virtually chance at all.
What is true of immigration is also true of trade. On this quintessential libertarian issue, Trump is the worst president of modern times. In addition to his trade war with China, Trump has also picked trade wars with numerous US allies, including Canada, Mexico, the European Union, and South Korea, among others. The costs include some $57 billion in annual added expenses for American consumers, and massively reduced the value of American businesses, to the tune of hundreds of billions. And, once again, these costs greatly outweigh any plausible estimate of benefits from Trumpian deregulation elsewhere, which even the administration itself estimates at only about $50 billion for Trump's entire term (thus, about $12.5 billion per year).
Biden's trade policies are far from ideal. It is very possible he would continue many of the tariffs on China. and promote wasteful "Buy American" policies for government agencies. But he would likely at least drop the trade wars with US allies. That would be a major gain. Biden might also reverse Trump's decision to drop out of the Trans-Pacific Partnership (TPP) trade agreement, which would greatly liberalize trade between the US and numerous nations in the Asia-Pacific region.
Like his immigration restrictions, Trump's trade wars are almost entirely the result of executive action. Thus, Biden could very easily undo them—though joining TPP would require congressional ratification.
It was in some ways predictable that the Republicans might become an anti-immigration party, and perhaps even that they would turn against free trade. But, a decade ago, I would never have expected them to become worse than the Democrats on property rights. Yet, under Trump, that's exactly what they have done.
Trump's proposed border wall will, if fully built, require using eminent domain to take property from many thousands of people in the border area. It would be the largest government taking of private p
Article from Latest – Reason.com
Comments
comments