Cops Clash with Protesters in America and Around the World
In cities around the world, crackdowns on protesting can't seem to stop people from pouring out into the streets. Here in the U.S., federal agents just had an hourslong standoff with protestors in Portland after people tied star-shaped balloons with messages about immigration (such as "the U.S. locks up people seeking asylum") taped to them to the gate of a U.S. Immigration and Customs Enforcement building.
Department of Homeland Security officers "advanced on demonstrators soon after they arrived Saturday night…setting off an hours-long, back-and-forth struggle between police and protesters," reports The Oregonian:
Federal officers then used smoke and impact munitions to break up the crowd for the next several hours. Protesters threw playground balls or rocks in response. Federal officers detained several people, although the exact number of arrestees remains unclear….

Saturday's demonstration started with a march from Willamette Park in South Portland. A flier for the event described it as a solidarity march against deportation. As marchers walked, they chanted messages such as "Black Lives Matter!" and "What's outrageous? Kids in cages." Many people carried silver and gold balloons shaped like stars. A fact about U.S. immigrations policy was taped to each balloon.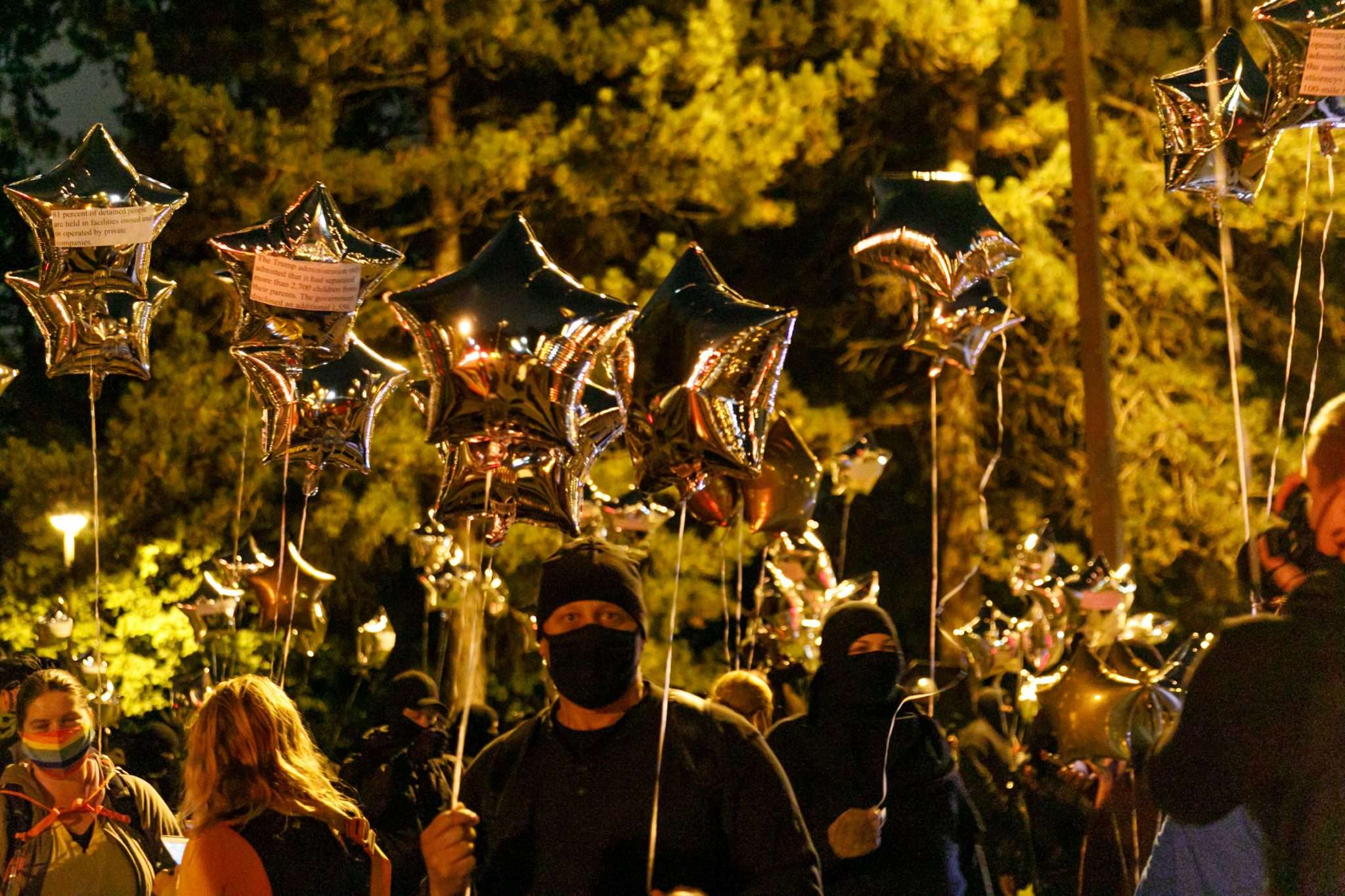 In Phoenix, "nearly every attendee of a Saturday protest against police in downtown Phoenix was arrested after police say the group marched in the road, knocked barricades into the road, and threw smoke bombs at officers," The Arizona Republic reports:
In total, 15 adults and three teens were arrested, according to Phoenix Police Department spokesperson Sgt. Ann Justus. They face charges including aggravated assault on an officer, riot, criminal damage, unlawful assembly, hindering prosecution, resisting arrest and obstructing a road….

"As officers began making arrests, another incendiary device was thrown at them. Due to the ongoing criminal activity and assault, the Phoenix Police deployed less lethal munitions in order to safely make arrests," Justus said.

Protest group The W.E. Rising Project posted on social media that police hit at least one protester in the face with a pepper ball.
In Seattle, police ordered protesters to disperse after someone allegedly set a small fire and some street signs were spray-painted. It does not seem they arrested the fire starter or the vandals, but they did book five demonstrators for "failure to disperse, pedestrian interference, obstruction and resisting arrest."
Meanwhile, across the Pacific Ocean, "Thai authorities shut down parts of Bangkok's commercial center and crippled public rail networks over the weekend in an effort to prevent young demonstrators from continuing their antigovernment protests," The New York Times informs us. "It didn't work."
Tens of thousands of members of the pro-democracy movement, which has been galvanized by a political awakening among social media savvy students, gathered in Thailand's capital and in about 20 provinces on Saturday and Sunday to call for fresh elections, a new Constitution and reforms to the monarchy
Article from Latest – Reason.com
Comments
comments