20,000 Copies Sold of "An Introduction to Constitutional Law": 16,779 Paperbacks and 3,460 E-Books
An Introduction to Constitutional Law: 100 Supreme Court Cases Everyone Should Know was released one year ago. Randy and I launched the book at Georgetown University Law Center on, fittingly, Constitution Day. We are proud to report that we have sold 16,779 paperback copies, 10,431 of which were sold on Amazon. We also sold 3,460 copies of the ebook on Kindle. These numbers are humbling. Truly.
Last summer, our publisher printed a first run of 2,000 copies, which they expected would last for the first year or so. We sold out every copy before the book was even released. Throughout the past year, the book was consistently out of stock on Amazon. At one point, after Randy's appearance on the Mark Levin show, we spiked to #4 on the Amazon best-seller list. We were behind Elmo and ahead of Jessica Simpson.
Over the summer, our book was consistently the second-best-selling constitutional law casebook, right behind Dean Chemerinsky's popular casebook.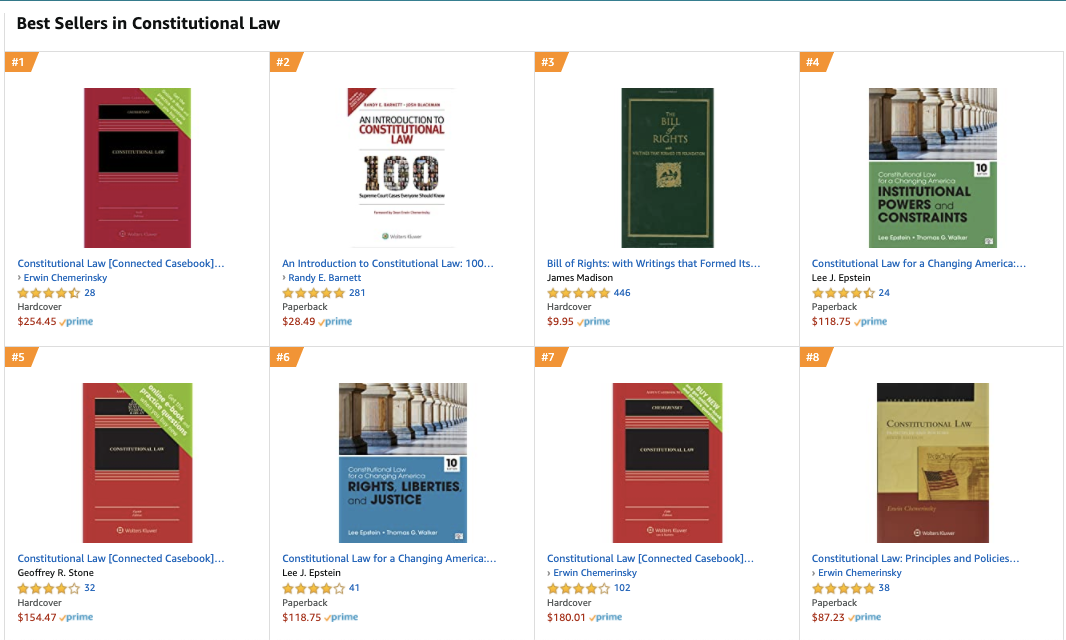 And our book has (as of today) 359 ratings, 84% of which are five-star. (We received a two one-star ratings, which complained about Kindle formatting).
Our book has been adopted at all levels of education: law school, g
Article from Latest – Reason.com
Comments
comments