Republicans, Democrats Debate Whether Next Relief Bill Should Be $1 Trillion or $2 Trillion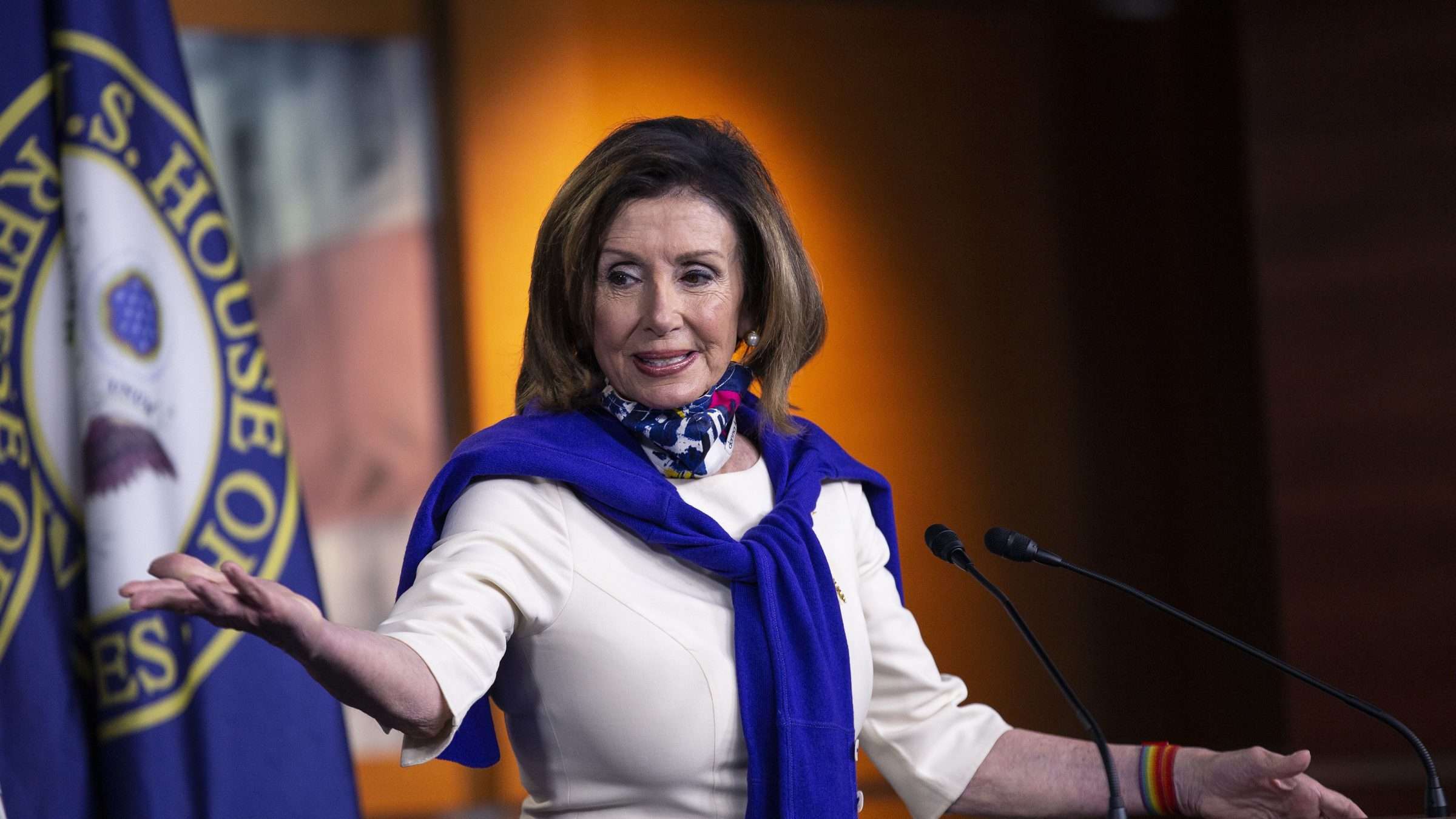 Talks over another coronavirus relief package have stalled following House Speaker Nancy Pelosi's (D–Calif.) insistence that the White House agree to at least $2 trillion in new spending as a precondition of continued negotiations.
Senate Republicans have introduced a $1 trillion relief bill; a not insubstantial sum that is nevertheless short of the $3.5 trillion measure House Democrats passed back in May.
"Democrats have compromised. Repeatedly, we have made clear to the Administration that we are willing to come down $1 trillion if they will come up $1 trillion," Pelosi and Senate Minority Leader Chuck Schumer (D–N.Y.) said in a joint statement released Wednesday evening. "We have again made clear to the Administration that we are willing to resume negotiations once they start to take this process seriously."
U.S. Treasury Secretary Steve Mnuchin issued a statement of his own blaming Pelosi, who he says "made clear that she was unwilling to meet to continue negotiations unless we agreed in advance to her proposal, costing at least $2 trillion," Mnuchin added that "the Administration is willing to move forward with legislation that allows for substantial funds for schools, child care, food, vaccines, hospitals, PPP for small businesses, rental assistance, broadband, airports, state and local government assistance, and liability protection for universities, schools, and businesses."
Helping to hold things up is White House Chief of Staff and former House Freedom Caucus Chairman Mark Meadows, who The Wall Street Journal reports is taking a tougher line on additional spending measures.
Senate Republicans' $1 trillion proposal includes calls for another round of $1,200 stimulus checks, $150 billion in aid to state and local governments, a $200 weekly unemployment benefit, as well as a few pet defense projects.
Democrats' $3 trillion proposal would instead provide a $600 unemployment bonus, plus close to $1 trillion in aid to state and local governments. It also includes $175 billion in assistance to homeowners and renters.
President Donald Trump signed an executive memorandum on Saturday that taps $44 billion of already-appropriated disaster relief funding to create a new $400 unemployment bonus, of which $100 would have to be provided by state governments.
Senate Majority Leader Mitch McConnell (R–Ky.) is reportedly urging Democrats a
Article from Latest – Reason.com
Comments
comments