America Is Going To Vote by Mail. We're Not Ready.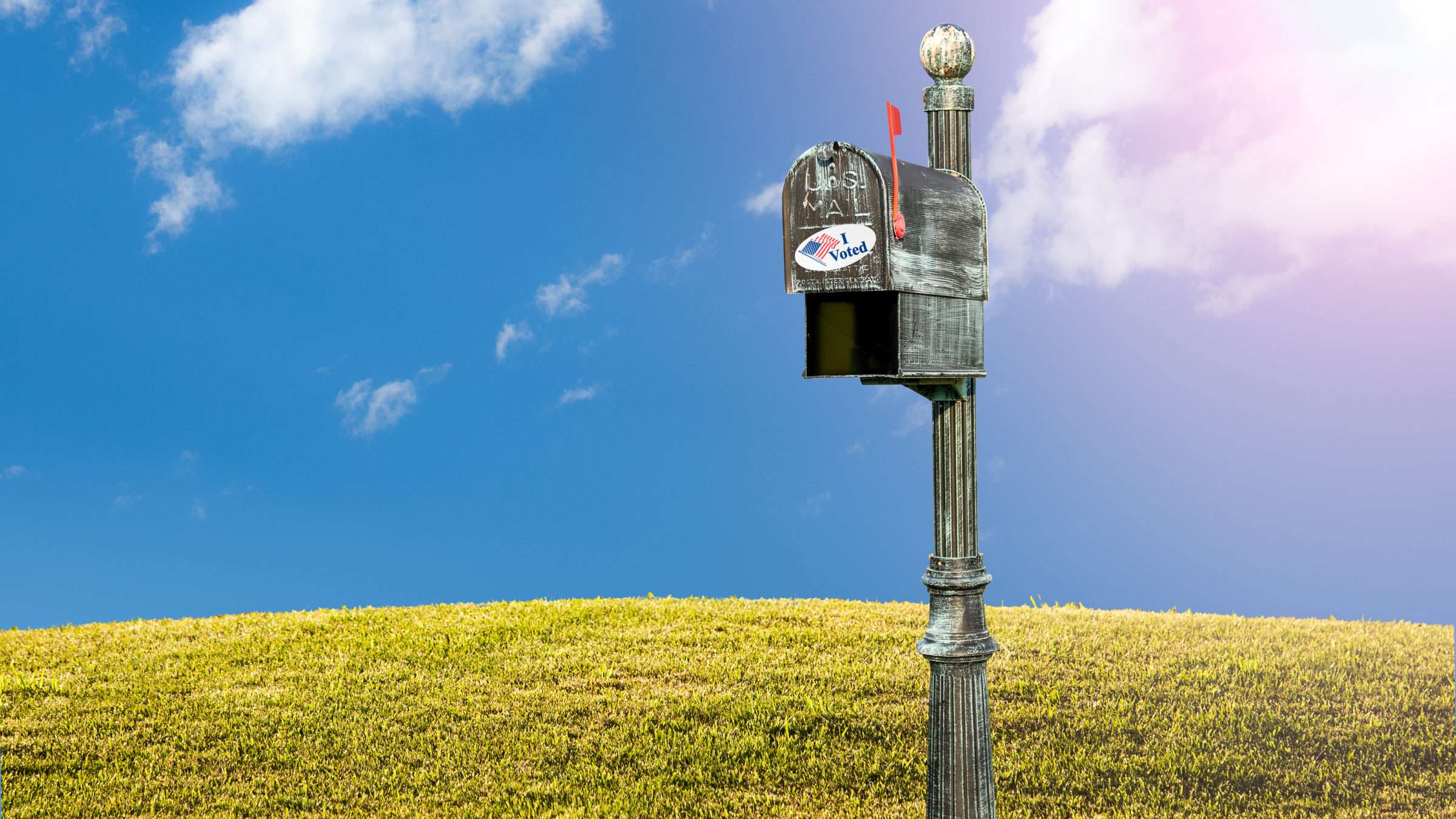 On Tuesday, March 10, voters in five states went to the polls to cast primary election ballots, making former Vice President Joe Biden the Democratic Party's all-but-certain presidential nominee in the process. It was probably the last approximately "normal" election night America will have this year.
That same day, the 1,000th positive test for COVID-19 was recorded in the United States. Over the next few days, professional and college sports leagues abruptly halted their seasons, and governors across the country were ordering schools, bars, and theaters to close, telling people to stay home whenever possible. A week later, on March 17, three other states held primaries in what was now anything but an ordinary environment. The 100th American to die of the disease passed away that night.
But on March 10, in that last moment of seeming normalcy, there was a sixth state which also had its primary votes tallied. In Washington state, more than 1.5 million people voted in the Democratic primary, and Biden squeaked out ahead by about 21,000 votes.
Nearly every vote was cast by mail.
In the middle of March, Washington conducting an election almost entirely by mail made it something of an oddity in American politics. By November, it will probably seem much more normal. The coronavirus has killed tens of thousands of Americans, ended the longest economic expansion in U.S. history, and forced us to reconsider every form of human interaction. Among them is the foundation of democratic society: voting.
Not all votes will be cast by mail or by absentee ballot in November. But the volume of what could be called "socially distanced voting" is going to be far higher than in any previous election. States, voters, media, and the election's combatants may not be prepared for what that means.
As mail-in voting expands, it's going to face political pressure from a president who is adamantly opposed to the practice, and logistical challenges from states attempting to build mail-in voting systems on the fly amid an already challenging environment. When Election Day finally arrives in November, it's going to mean longer waits before all votes are counted—and possibly a longer period of uncertainty about who won—than ever before. Perhaps more worryingly, it could escalate distrust in a political system polarized to its breaking point.
President Donald Trump is already stoking fears about those uncertainties. "With Universal Mail-In Voting (not Absentee Voting, which is good), 2020 will be the most INACCURATE & FRAUDULENT Election in history. It will be a great embarrassment to the USA," he tweeted in July. "Delay the Election until people can properly, securely and safely vote???" Republicans, however, were quick to reject Trump's suggestion of delay. But the underlying issues remain. Like it or not, mail-in voting is coming—and we're not ready.
"We are in times of high polarization, high distrust in elections, and we have a president who is fanning those flames," says Richard Hasen, a professor of law and political science at the University of California, Irvine. "COVID[-19] has put incredible stresses on the election system—and would have even in the best of times, but we are not in the best of times."
Voting by Mail Is Nothing New
The pandemic hasn't really caused mail-in voting to pop up out of nowhere so much as it has accelerated a trend that was already occurring. In much the same way that the pandemic has sped up the already ongoing shift towards more working from home, it is likely to nudge states to encourage more people to vote from home, too.
But voting by mail is "not a newfangled idea," says Wendy Weiser, director of the Democracy Program at the Brennan Center for Justice. "It was already deeply embedded in the American electoral system before the coronavirus hit."
In fact, the practice dates back to at least the Civil War, when soldiers on both sides of the conflict were allowed to vote in their home states, by mail, from wherever they happened to be camped at the time. According to the Massachusetts Institute of Technology's (MIT) Election Data and Science Lab, the first absentee voting laws for civilians were passed in the 1880s to accommodate voters who were incapacitated or away from home on Election Day. It wasn't until the 1980s that states began to pass laws allowing residents to vote by mail without giving an excuse. Think of that approach as a de facto vote-by-mail-if-you-want-to system—a way of simply giving voters a choice about how to cast their ballots.
A lot of voters took that option even before the pandemic came along. In the 27 states and Washington, D.C., that had such laws on the books in 2018, more than a quarter of voters chose to vote by mail, compared to just 9 percent in the states where getting an absentee ballot requires explaining to the government why you need one, according to MIT's data.
In a smaller set of states, the government simply mails a ballot to all residents prior to the election, no request necessary. Oregon pioneered that system, thanks to a ballot measure passed in 1998. Since then, Colorado, Hawaii, Utah, and Washington state have also moved to mail-based elections—that is, all voters receive a ballot in the mail, though they are free to vote in-person if they choose to do so instead. In California, state law allows county election offices to send ballots directly to all voters and have them returned via mail, but not all counties have made the switch. Several other places, including Arizona, Minnesota, and D.C., have policies that allow voters to request absentee ballots for all future elections, effectively letting individual voters opt into a permanent mail-in voting status.
In all, about 250 million votes have been cast by mail since 2000 according to the Vote At Home Institute, a nonprofit that advocates for expanding access to mail-in balloting. Along with the rise of in-person early voting, mail-in voting has contributed to a marked decline in the number of votes cast the traditional way: behind a curtain in your local elementary school on the first Tuesday after the first Monday in November.
"If the actions of public officials are any guide, the truth is that by-mail voting has broad bipartisan support at the state level," writes Edward Perez, global director of technology development for the Open Source Election Technology Institute, a California-based nonprofit that advocates for the use of tech to make America's elections more secure. "The practice is well-established, increasingly popular, reliable, and neutral in its partisan effects."
Still, the few states that did try to hold primary elections after mid-March provided a preview of what could happen in November if most Americans have to go to the polls. In Wisconsin, the Republican-controlled state legislature blocked an attempt by Democratic Gov. Tony Evers to postpone the state's April 7 primary. More than 50 people who voted in person or worked the polls later tested positive for COVID-19. Georgia's June 9 primary election broke turnout records despite the pandemic, but poll workers calling in sick and polling places that had to be relocated at the last minute to accommodate social distancing requirements were blamed for long lines and confusion among voters.
A swift move toward more mail-in voting could alleviate some of those risks. Unfortunately, states aren't only facing practical, logistical, and public health challenges as they prepare for the election; they're up against a big political hurdle, too. And time is running out. 
Trump vs. Mail-in Ballots
"I think a lot of people cheat with mail-in voting," Trump said in early April during one of the White House's short-lived daily coronavirus briefings. He'd been asked about whether he thought Wisconsin should go ahead with its primary election and whether Americans should be prepared to vote by mail in November.
The president was adamant. "It shouldn't be mail-in voting. It should be you go to a booth and you proudly display yourself. You don't send it in the mail where people pick up—all sorts of bad things can happen by the time they sign that, if they sign that, by the time it gets in and is tabulated. No. It shouldn't be mailed in."
In the days and weeks that followed, Trump launched a full assault on the idea that Americans might embrace alternatives to queuing up at the polls on Election Day. More mail-in voting would produce fraud, he wrote in one particularly hyperbolic tweet on May 27, adding that "mail boxes will be robbed, ballots will be forged & even illegally printed out & fraudulently signed."
It also might result in "levels of voting" that were disadvantageous to Republicans, he said during an appearance on Fox & Friends. 
Trump, on expanding voting: "They had levels of voting, that if you ever agreed to it you'd never have a Republican elected in this country again." pic.twitter.com/ly4LYQqmo8

— Jacques Calonne (@JacquesCalonne) March 30, 2020
Since then, the Republican National Committee and the Trump campaign have launched a legal effort aimed at stopping mail-in balloting in states that are trying to expand it. In August, just days after raising the possibility of delaying the election in order to prevent what he argued would be "fraudulent" results, Trump even floated the possibility of an executive order aimed at curbing mail-in voting, though he has so far provided few specifics. 
If mail-in voting is a Democratic plot to undermine Republicans' chances at winning in 2020, that would come as news to many Republicans. When Colorado, for example, switched to providing ballots by mail in 2013, the process was overseen by Secretary of State Wayne Williams—a Republican.  
A Reuters/Ipsos poll in April found that 79 percent of Democrats and 65 percent of Republican voters favored expanding mail-in voting for the general election. But Trump's campaign against the alternative to in-person voting may have already had an impact. A July survey from the Pew Research Center found that 65 percent of Americans believed voters should be allowed to vote by mail without giving an excuse, but Democrats (83 percent) were far more likely than Republicans (44 percent) to say so.
It's true that studies have found an increase in turnout in states that have shifted to vote-by-mail policies, but absentee balloting doesn't seem to favor either party. A Stanford University study released earlier this year that looked at absentee balloting since 1996 in California, Utah, and Washington concluded that "claims that vote by mail fundamentally advantages one party over the other appear overblown." And a Brennan Center analysis of voting patterns in seven swin
Article from Latest – Reason.com
Comments
comments