New York Arrests and Charges First Cop for Breaking a New Ban on Chokeholds
Former New York City Police Department (NYPD) officer David Afanador has been arrested and charged with strangulation and attempted strangulation, after violating the city's brand new ban on police choking suspects. That law—the Eric Garner Anti-Chokehold Act, named after the man killed by police in 2014 for selling black-market cigarettes—was passed by state lawmakers on June 8. It "establishes the crime of aggravated strangulation for police officers or peace officers where such officer commits the crime of criminal obstruction or breathing or blood circulation, or uses a chokehold or similar restraint, and causes serious physical injury or death."
This past Sunday, Afanador used a chokehold on Ricky Bellevue, a 35-year-old black man he was arresting on a Far Rockaway, Queens, boardwalk, after cops were summoned there about someone shouting things in a way that scared someone passing by. Afanador had his arm around Bellevue's neck until Bellevue appeared to pass out.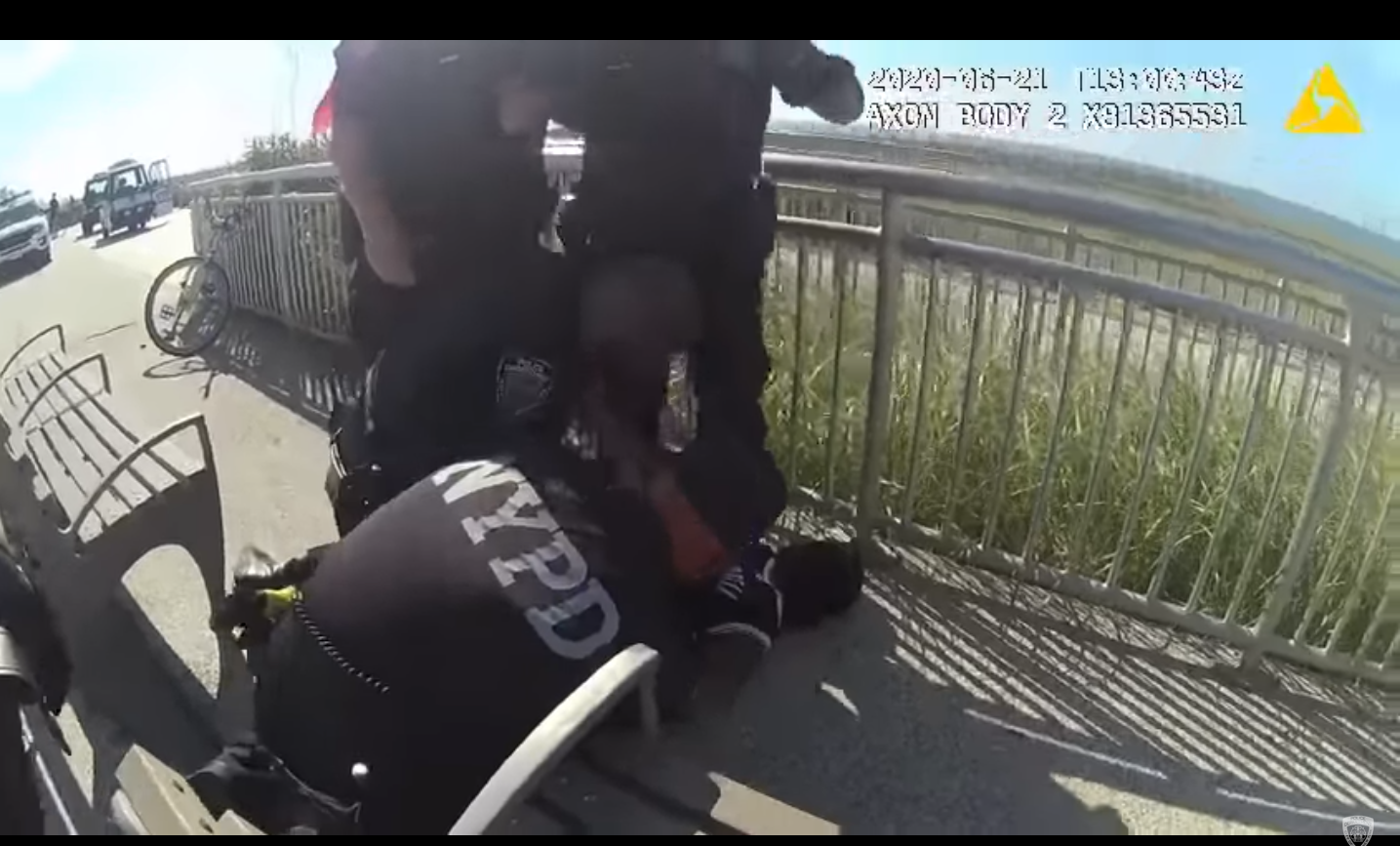 Video of the arrest and illegal restraint was first shared on Facebook, and then the NYPD released body camera footage of the whole encounter. The body-cam video shows Bellevue and two friends walking on a boardwalk, talking with and periodically yelling things at some police officers. An NYPD spokesperson told BuzzFeed that officers were there because someone had called about a man being disorderly.
In the body-cam footage, a friend of Bellevue—who was charged and tackled to the ground after reaching toward a public trash can—can be heard repeatedly shouting "Yo, stop choking him! He's choking him! Let him go!"
The officer eventually stops. After a little bit, cops pull the handcuffed man up and march him toward their vehicle. As he's handcuffed, the man who was choked tells police he is bipolar and asthmatic.
"My whole body hurts," Bellevue tells the police at one point.
On Thursday, the Queens District Attorney's Office announced that Afanador had been "charged with attempted aggravated strangulation and strangulation in the second degree" and faces up to 7 years in prison if convicted. It also said that Afanador was "suspended without pay by the New York City Police Department hours after a video of the incident went viral online."
Here's how the D.A.'s office describes the incident:
Afanador was responding to a call of someone screaming and yelling at people on the Boardwalk shortly after 8 a.m., Sunday, June 21, 2020. Afanador and several other police officers encountered 3 men who proceeded to taunt and heckle the officers as a couple of them simultaneously video recorded the police on their cell phones. At one point, 35-year-old Ricky Bellevue asked the police officers if they were scared and appeared to retrieve a can from a trash receptacle. That's when 4 police officers grabbed Bellevue, including Afanador, who allegedly wrapped his arm around the man's neck as he was pinned to the ground.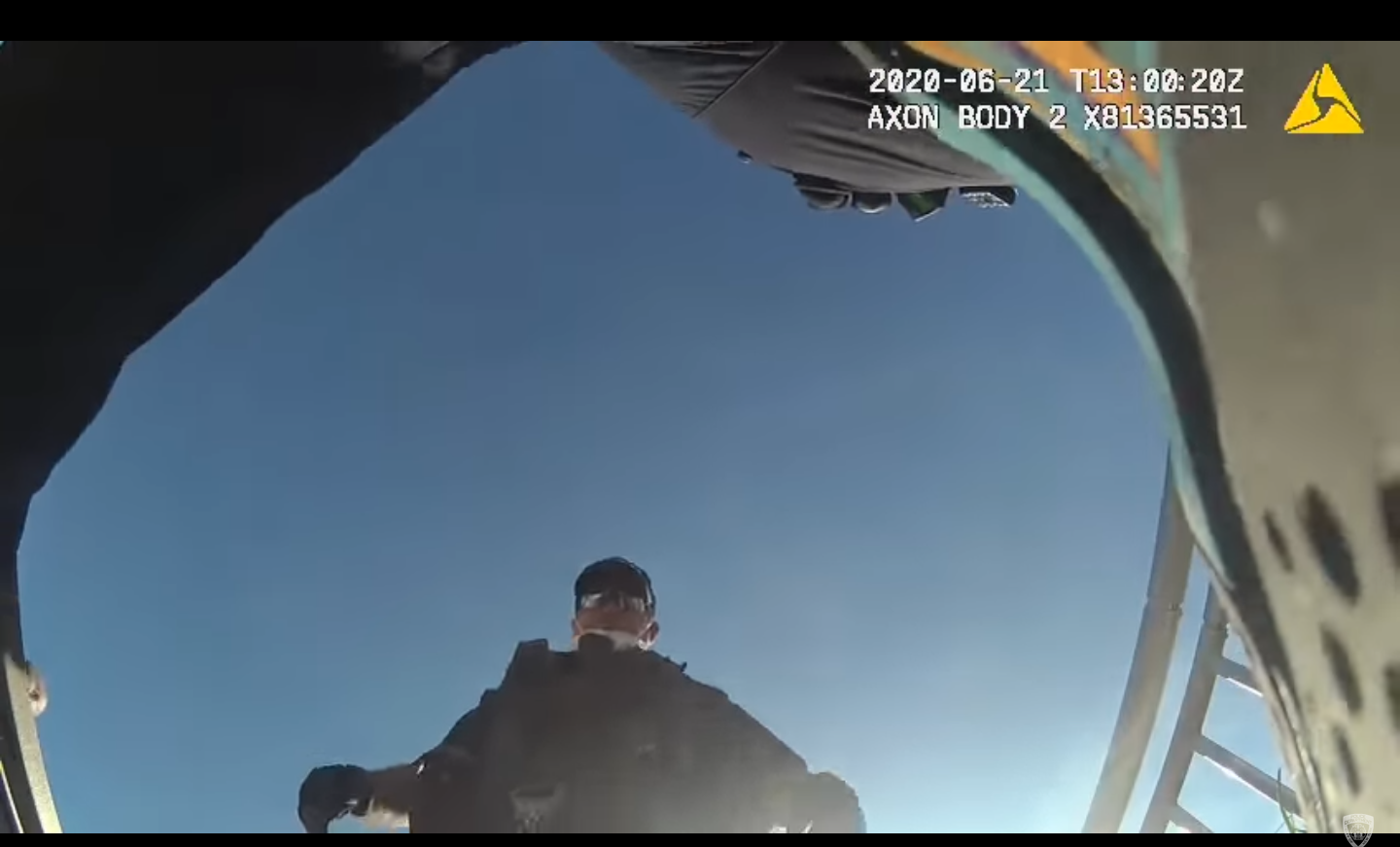 Also on Thursday, police officer Jordy Yanes Martel of Miami Gardens, Florida, was arrested after having knelt on the neck of a pregnant woman and tased her in the stomach multiple times. This abuse, which took place in January—and preceded the woman miscarrying—was caught on video. The video contradicted Martel's claims that the woman was res
Article from Latest – Reason.com
Comments
comments