When It Comes to Climate Change, Wealth Equals Adaptation
"Time Is Running Out to Avert A Harrowing Future, Climate Panel Warns," ran the front page headline in The New York Times earlier this week. The Washington Post's front page similarly read, "Humanity has a 'brief and rapidly closing window' to avoid hotter, deadly future, U.N. climate report says." Both newspapers are citing claims and data from the United Nations Intergovernmental Panel on Climate Change's (IPCC) new report Climate Change 2022: Impact, Adaptation, and Vulnerability. United Nations Secretary-General Antonio Guterres called the report an "atlas of human suffering and a damning indictment of failed climate leadership." He added, "Delay means death."
Is humanity's situation as dire as the headlines suggest?
"The cumulative scientific evidence is unequivocal: Climate change is a threat to human well-being and planetary health," urgently cautions the IPCC Adaptation report, which is nearly 3,700 pages long and is the second part of the IPCC's Sixth Assessment Report (AR6) on climate change and follows that agency's Physical Science Basis report issued last August. (The third part of the AR6 report on the mitigation of climate change will be issued in April.)
Let's be clear: man-made climate change is happening and humanity is already adapting to it and will continue to have to do so. Largely as the result of the rising atmospheric concentration of carbon dioxide from burning fossil fuels, global average temperature has increased by about 1.1°C (about 2°F) since the late 19th century. Consequently, heatwaves on land and in the oceans have become more intense and more common, downpours have become more frequent, and the rise in sea level is accelerating.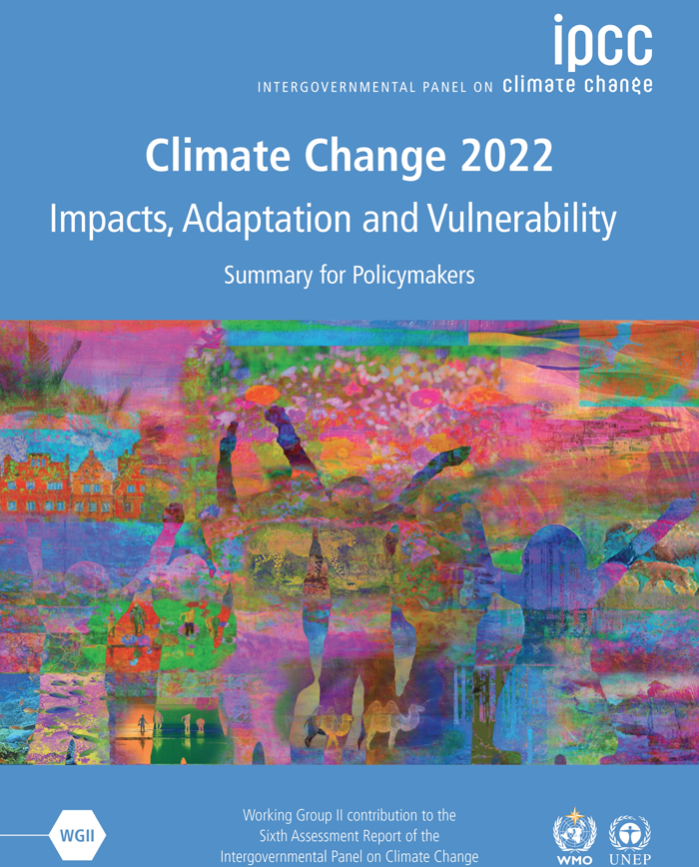 One not too startling finding of the report is that bad and worsening weather poses the biggest risks for poor people ruled over by corrupt kleptocratic elites. "Vulnerability is higher in locations with poverty, governance challenges and limited access to basic services and resources, violent conflict and high levels of climate-sensitive livelihoods (e.g., smallholder farmers, pastoralists, fishing communities)," notes the report's Summary for Policymakers.
As an example of the vulnerability, the Summary observes that between 2010 and 2020 that deaths from flooding, droughts, and storms were 15-times higher in poorer regions than they were in economically developed areas. To get that figure the report specifically compares weather mortality in Mozambique ($450 GDP per capita), Somalia ($310), Nigeria ($2,100), Afghanistan ($509), and Haiti ($1,177) versus the U.K. ($40,284), Australia ($51,812), Canada ($43,241), and Sweden ($51,925). When bad weather meets poverty, it kills people.
However, deep in its text the IPCC report gets around to citing the remarkable 2019 study in Global Environmental Change by two European researchers that found "a clear decreasing trend in both human and economic vulnerability, with global average mortality and economic loss rates that have dropped by 6.5 and nearly 5 times, respectively, from 1980–1989 to 2007–2016." Keep in mind that falling mortality and economic loss rates occurred as world population grew and people built lots more stuff.
The researchers additionally report that mortality and economic losses stemming from bad weather have declined faster in poor countries as they have grown richer. "This has led to a convergence in vulnerability between higher and lower income countries," they note. Despite the fast and steep decline, vulnerability to weather hazards remains higher in poorer regions.
In his 2020 article in Technological Forecasting & Social Change, Copenhagen Consensus Center founder Bjorn Lomborg noted that the "global death risk from extreme weather has declined 99% over 100 years and global costs have declined 26% over the last 28 years." Simply put: People around the world have already been rapidly and successfully adapting to changes in the weather.
Probably the most costly concern stemming from climate change is coastal inundation as sea level rises due to melting glaciers and thermal expansion. A 2018 study calculated that, if no efforts were made to adapt to rising seas, damages from coastal flooding would reach $14 trillion annually by 2100. Of course, people will not blithely let higher tides sweep over them and their property; they will adapt.
Estimates of how much it will cost to fend off rising seas v
Article from Latest
Comments
comments