Delta Is Making Americans Crazy About School Reopening, Again
Over the weekend, parents of two of the four children who participated in my then-kindergartner's learning "pod" during the part-time, COVID-impaired New York City public school year of 2020-21, wearily began the process of organizing yet another backup plan for when the local elementary school building inevitably closes down in response to the delta variant this fall.
What about the two sets of parents that did not? Our kids are attending a brand-new private school, literally across the street. Far from preparing to close, that institution is bracing itself for a possible influx of kids whose families cannot bear a third consecutive school year maimed by adults' inability to plan around risk.
With one-quarter of students nationwide already back in school, and the delta-fueled fourth wave of COVID peaking along the Gulf Coast and Mississippi River Basin, all signs point to another bifurcated K-12 year, in which decision makers in Democratic-run polities advocate precautionary restrictions virtually no countries in Europe have adopted, while private schools everywhere and public schools in most Republican-run areas remain open full-time.
"It's time to accept that school won't be normal in the fall," wrote the gang over at Vox, illustrating one of the functions of "explanatory journalism" during Democratic administrations.
Unlike last school year, when part-time learning and hair-trigger closures were the rule in districts where Democratic-leaning teachers unions hold sway, the default this year—incentivized by the Biden administration's strings-attached disbursement of $41 billion of its overall $122 billion K-12 COVID-relief package—will be physical buildings being open five days a week. But there a half-dozen tripwires set to blow up reopening at any moment.
The first is the delta variant itself, which, along with a huge spike in resurgent respiratory syncytial virus (a disproportionately child-impacting infection for which there is no vaccine) is already leading to more pediatric hospitalizations right now than during the pandemic's peak in January, straining capacity at children's intensive care units in COVID hotspots. Three schools in Lamar County, Mississippi, switched to remote learning this month; several schools in Kentucky and Georgia have also postponed the start of the year.
COVID, despite Americans' incessant attempts to pin its ebbs and flows on politics and comparative non-pharmaceutical interventions, has until now hewed instead toward regional and seasonal patterns, suggesting that the current red-state hospitalization wave will soon be supplanted by surges up north and along the coasts. Even if that spike is lessened by higher blue-state vaccination rates—and keep in mind that the current COVID-hospitalization leader, Florida, has the exact same vaccination rate (50 percent of inhabitants) as the rest of the country—we can expect the more stringent Democratic policies to trigger far more school shutdowns.
You can visualize, at least symbolically, the mostly partisan—as opposed to mostly viral—divide on COVID school policies, by looking at this Burbio map of state-mandated school-masking policies, updated weekly.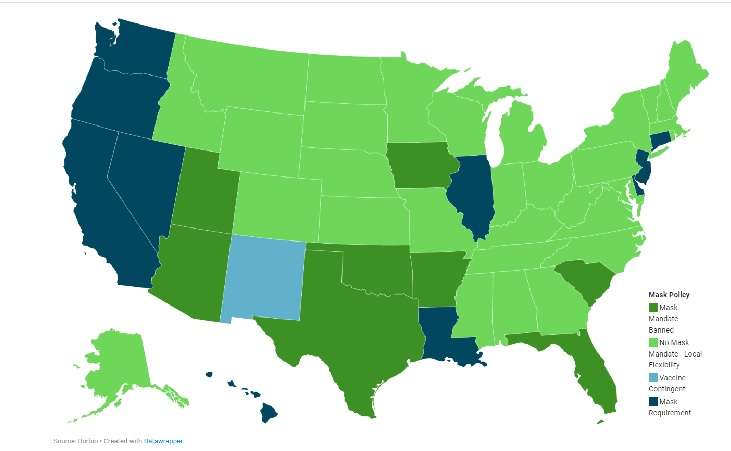 Where masking is stricter, generally speaking, so are rules governing other school-related mitigations: distancing, quarantining, testing, vaccinations, responses to community spread. Those same districts are also likelier to take their cues from the institutionally overcautious Centers for Disease Control and Prevention (CDC).
The CDC on Thursday issued updated guidance urging "universal indo
Article from Latest – Reason.com
Comments
comments