Drug War, Pandemic Likely Reasons for Spike in U.S. Overdose Deaths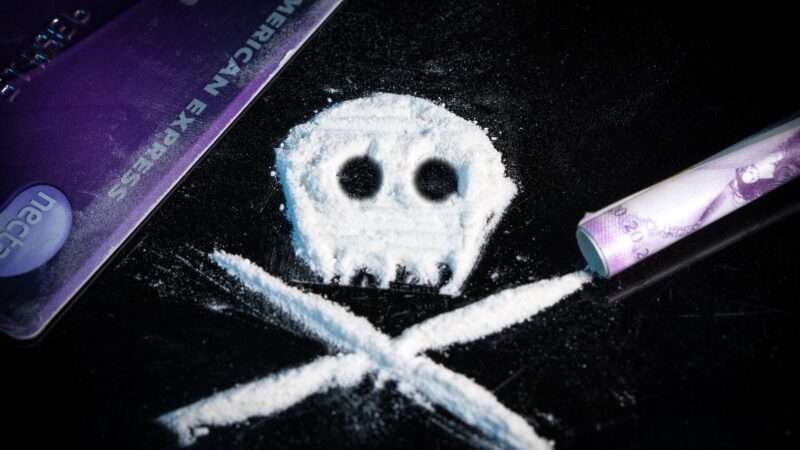 Drug overdose deaths were up significantly in 2020, according to preliminary data from the Centers for Disease Control and Prevention (CDC). More than 92,000 people in the U.S. died of drug overdoses last year ("the largest single-year increase recorded," according to The New York Times).
The data suggest that some of the increase in overdoses was tied to the COVID-19 pandemic and lockdowns. The biggest month-to-month increases occurring in March, April, and June 2020, when coronavirus fear and uncertainty were at their highest and authorities across the U.S. instituted the strictest shutdown orders.
That the highest overdose numbers corresponded to periods when people were most socially isolated, stressed, out of work, cut off from services, and economically precarious is unsurprising. But last year's increase in drug overdose deaths can't be entirely attributed to the pandemic and government responses to it.
"Public health experts said there had been a pre-pandemic pattern of escalating deaths, as fentanyls became more entrenched in the nation's drug supply, replacing heroin in many cities and finding their way into other drugs like meth," the Times points out. "After decades of increases, overdose deaths dipped slightly in 2018. But they resumed their upward course in 2019, and drug deaths were rising in the early months of 2020, even before Covid arrived."
Which is to say: We can also blame the war on drugs, which helped incentivize the flooding of U.S. drug markets with cheaper and deadlier substances like fentanyl and makes safer drug use more difficult.
Things like easy ways to test drugs, supervised consumption sites, widely available overdose remedies, and an end to prohibition and black markets more generally could go a long way in reducing the rising tide of U.S. overdose deaths. But while some cities have made strides at the margins, most politicians have remained resistant to even moderate solutions that could help people know what they're taking and cut drug deaths.
---
FREE MINDS
Missouri and New Hampshire move to extend school choice. Here's the American Federation for Children on what Missouri's change means:
Creates a $25 million Education Savings Account program that provides eligible students $6,350 for educational expenses to attend the public, charter, virtual, private or home school of their choice

Eligible students include any student who attended public school in the previous ye
Article from Latest – Reason.com
Comments
comments