Postal Censorship and Surveillance: A Timeline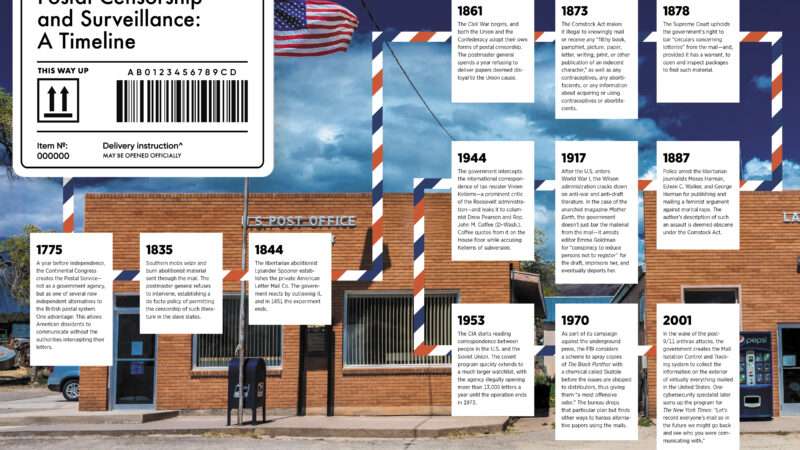 1775
A year before independence, the Continental Congress creates the Postal Service—not as a government agency, but as one of several new independent alternatives to the British postal system. One advantage: This allows American dissidents to communicate without the authorities intercepting their letters.
1835
Southern mobs seize and burn abolitionist material sent through the mail. The postmaster general refuses to intervene, establishing a de facto policy of permitting the censorship of such literature in the slave states.
1844
The libertarian abolitionist Lysander Spooner establishes the private American Letter Mail Co. The government reacts by outlawing it, and in 1851 the experiment ends.
1861
The Civil War begins, and both the Union and the Confederacy adopt their own forms of postal censorship. The postmaster general spends a year refusing to deliver papers deemed disloyal to the Union cause.
1873
The Comstock Act makes it illegal to knowingly mail or receive any "filthy book, pamphlet, picture, paper, letter, writing, print, or other publication of an indecent character," as well as any contraceptives, any abortifacients, or any information about acquiring or using contraceptives or abortifacients.
1878
The Supreme Court
Article from Latest – Reason.com
Comments
comments