Chuck Schumer Says He Wants To Legalize Marijuana. His Bill Suggests Otherwise.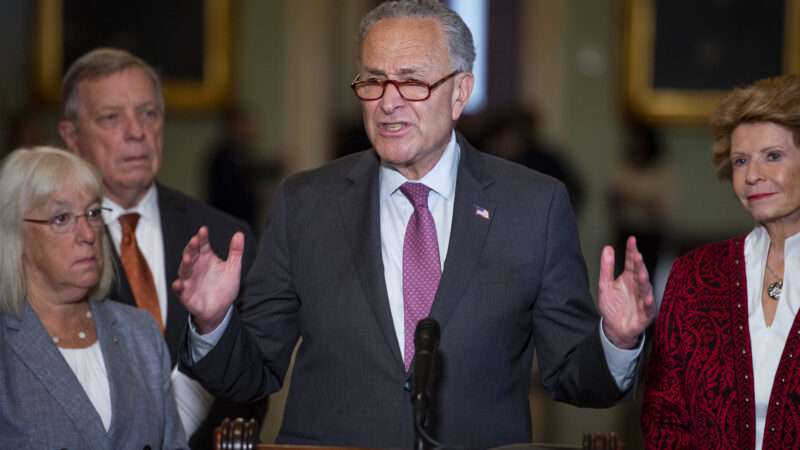 Senate Majority Leader Chuck Schumer (D–N.Y.) reportedly has been working for months to generate bipartisan support in his chamber for repealing the federal ban on marijuana. If so, there is little evidence of that effort in the draft legislation that he unveiled today, which is larded with new taxes, regulations, and spending programs that seem designed to alienate Republicans who might be inclined to support a cleaner bill on federalist grounds.
Schumer is presenting the Cannabis Administration and Opportunity Act, which is also backed by Sens. Cory Booker (D–N.J.) and Ron Wyden (D–Ore.), as a "discussion draft," inviting comments that presumably will shape the legislation as it is officially introduced. But the starting point for this discussion is not promising if the goal is to actually end the federal war on weed.
The first warning sign is the bill's name, which tells you that its sponsors are not content to eliminate the untenable conflict between the Controlled Substances Act (CSA), which prohibits marijuana in every context except federally approved research, and the laws of the 36 states that allow medical or recreational use. The next red flag is the bill's length, which, at 163 pages, is nearly twice as long as the Marijuana Opportunity Reinvestment and Expungement (MORE) Act, which the Democrat-controlled House approved last December with support from just a handful of Republicans.
At 87 pages, the MORE Act was already chock-full of unnecessarily contentious provisions, and the Schumer bill doubles down on that approach. By comparison, the Respect State Marijuana Laws Act, which former Rep. Dana Rohrabacher (R–Calif.) first introduced in 2013, consisted of a single sentence that would have made the federal ban on marijuana inapplicable to people acting in compliance with state law. A bill that simply removed marijuana from the CSA's schedules of controlled substances would likewise be consistent with federalism, and it would be similarly brief, even allowing for conforming amendments.
The good elements of Schumer et al.'s bill include descheduling marijuana, automatic expungement of federal criminal records related to nonviolent marijuana offenses, and eliminating discrimination against cannabis consumers in immigration law and the distribution of federal benefits. The one notable concession to leery Republicans is a "states' rights" provision that prohibits the importation of marijuana into states where it remains illegal. But in many other respects, the bill either overrides state policy or adds another layer of licensing, regulation, and taxation.
Under the Cannabis Administration and Opportunity Act, state-licensed marijuana businesses, which already are regulated by state and local governments, would also be supervised by the Food and Drug Administration, the Treasury Department's Alcohol and Tobacco Tax and Trade Bureau, and the Justice Department's Bureau of Alcohol, Tobacco, Firearms, and Explosives. The bill envisions detailed rules dealing with production, storage, transportation, packaging, labeling, advertising, and sales. It establishes a minimum national purchase age of 21, meaning that states would not be free to set a lowe
Article from Latest – Reason.com
Comments
comments