Are Republicans Who Support New Voting Restrictions Racist or Just Partisan?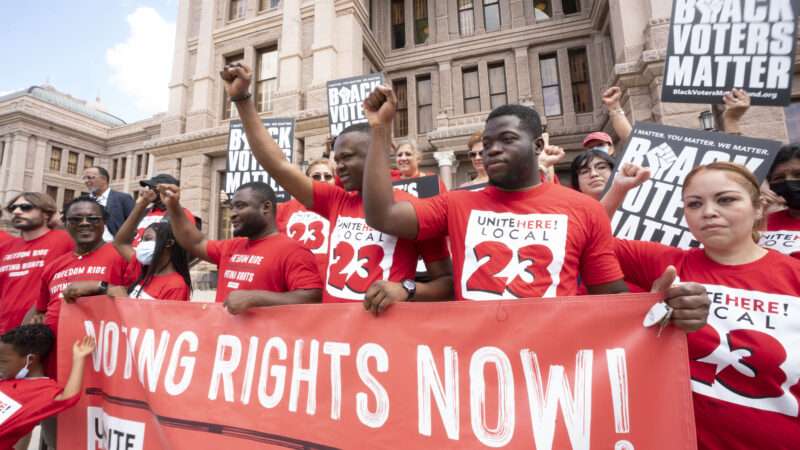 President Joe Biden yesterday condemned a "21st century Jim Crow assault" on voting rights, epitomized by election legislation in states such as Georgia and Texas. Republicans, he warned, have launched a "concerted effort to undermine our elections and the sacred right to vote." The Democratic lawmakers who have fled Texas to deprive the state legislature of a quorum and thereby prevent passage of new restrictions on voting likewise speak in apocalyptic terms about the mortal threat that such measures pose to democracy. Republicans, meanwhile, claim they are actually defending democracy by preventing fraud and ensuring the integrity of the vote.
Both sets of claims should be viewed with skepticism. As usual, the positions staked out by Democrats and Republicans are better explained by partisan interests than any commitment to principle. Political advantage is also a more parsimonious explanation for new voting restrictions than the racist impulses that Biden claims are driving the legislation.
Two of the proposed changes in Texas would put an end to drive-through voting and 24-hour voting, options that Harris County (which includes Houston) offered in response to the COVID-19 pandemic. Republican Gov. Greg Abbott, who opposes those policies, says the legislature needs to assert state control over election procedures, consistent with the Constitution.
What's wrong with drive-through voting? In an interview with Fox News Sunday host Chris Wallace this week, Abbott offered two objections. He said drive-through voting violates "the sanctity of the ballot box" because "other people in the car" might "have some coercive effect on the way that you would cast your ballot." He added that "the bumper sticker [on] the car right in front of you" could violate state "prohibitions on electioneering close to where people cast their votes."
What about 24-hour voting? "We need to have poll watchers and monitors," Abbott said, and "it's hard even for a county to get people to be watching the polls 24 hours a day."
Since I am neither a Democrat nor a Republican, I have no dog in this fight. But these seem like pretty weak excuses to me.
Does that make Abbott racist? Wallace suggested as much. He noted that "there was no allegation of any fraud" in connection with drive-through or 24-hour voting and that most of the voters who used those options in Harris County last fall "were people of color." While "you say you want to make it easier to vote," Wallace told Abbott, banning these options is "going to make it harder to vote." Those observations preceded the que
Article from Latest – Reason.com
Comments
comments