'If You Take to the Sea, You Will Not Come to the United States,' Cuban Refugee DHS Secretary Alejandro Mayorkas Tells Other Cuban Refugees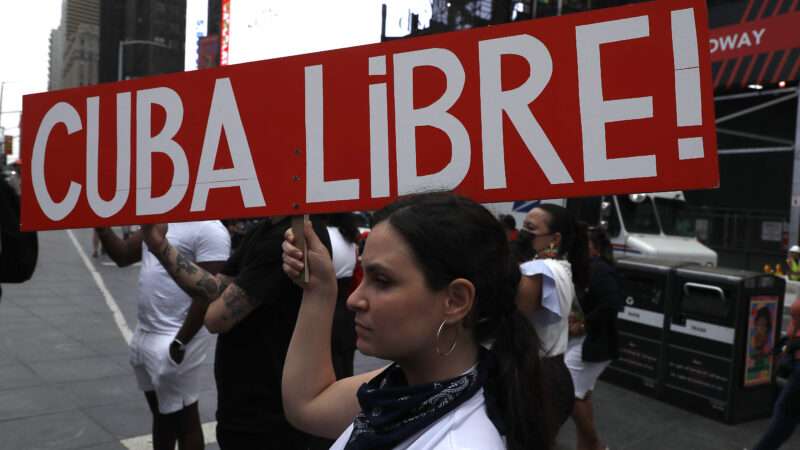 Department of Homeland (DHS) Security Secretary Alejandro Mayorkas said yesterday that the agency is working to support Cuba and Haiti, with the former seeing widespread political protests amid the communist government's failure to provide basic supplies, and the latter in upheaval after the assassination of Haitian President Jovenel Moise.
That help will not include asylum—at least, if not sought in the "right" way. "Allow me to be clear: If you take to the sea, you will not come to the United States," Mayorkas said in a press conference. Those who do attempt to come to the U.S. by boat will be intercepted by the U.S. Coast Guard and sent back, while anyone lucky enough to finagle an asylum interview will be resettled elsewhere.
Mayorkas emphasized the deadly nature of that journey, perhaps hoping to deter a mass influx of people who would not survive it. But the message still strayed far from the spirit of President Joe Biden's campaign, which put immigration front and center as he repeatedly pledged to restore the sort of humanity he said was missing from former President Donald Trump's immigration program.
"If individuals…establish a well-founded fear of persecution or torture, they are referred to third countries for resettlement," said Mayorkas. "They will not enter the United States." As CBS News notes, that's not a change in U.S. policy, which has for decades sent migrants back when they are found at sea. Cuban migrants who attempt to cross at the U.S.-Mexico border have had better luck.
But Biden promised to be a changemaker, not only when it came to Trump's agenda, but also that of his former boss, President Barack Obama, who derisively became known as the "deporter-in-chief" for his mass expulsions. Having Mayorkas deliver the message is perhaps the most ironic aspect of all, as the DHS secretary came to the U.S. from Cuba as a refugee with his family in 1960.
The Biden administration
Article from Latest – Reason.com
Comments
comments