A Federal Judge Considering Sanctions Against Pro-Trump Lawyers Says They Made 'Fantastical' Election Fraud Claims Without Even 'Minimal Vetting'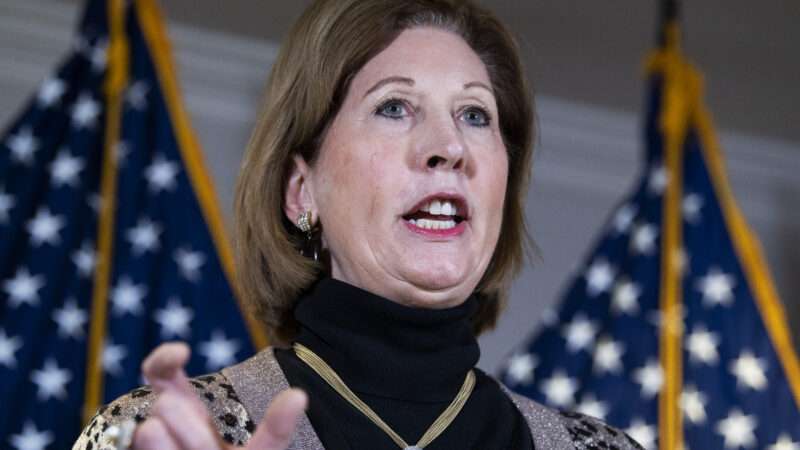 Last November, former Trump campaign lawyer Sidney Powell filed a federal lawsuit in Michigan that described "a massive election fraud" aimed at "illegally and fraudulently manipulating the vote count to manufacture an election of Joe Biden as President of the United States." Powell's evidence included an affidavit in which Russell Ramsland, a cybersecurity analyst and former Republican congressional candidate, claimed that voter turnout in Detroit was an impossible 139 percent and that turnout in North Muskegon was an even more improbable 782 percent, which he presented as clear signs of fraud. The actual figures were 51 percent and 78 percent, respectively.
Were Ramsland's statements "lies," as David Fink, an attorney representing the city of Detroit, described them during a hearing yesterday? Were they understandable errors that Powell and her colleagues presented in good faith? Or were the misrepresentations so egregious and readily refuted that they show the attorneys who relied on them failed to exercise common sense, let alone due diligence? These are the sort of questions that U.S. District Judge Linda Parker is confronting as she mulls sanctions against Powell and other pro-Trump lawyers who were involved in the Michigan case.
Detroit is asking Parker, the same judge who last December rejected Powell's attempt to decertify Michigan's presidential election results, to impose monetary penalties on her and her collaborators, order them to pay "all costs and attorney fees" incurred by the defendants, ban them from practicing law in the Eastern District of Michigan, refer them to the chief judge of the district "for initiation of disbarment proceedings," and refer them for professional discipline in Michigan and their home states. In addition to arguing that Powell et al.'s lawsuit was "frivolous and legally deficient," the city says the attorneys presented factual claims they either knew or should have known were false.
"In a case of this magnitude, intended to upend the election of the President of the United States, the Plaintiffs owed this Court the highest degree of due diligence before filing suit," the city says in its motion for sanctions. "Instead, there are only two possibilities—these six Plaintiffs did not read the Complaint and the expert reports supporting it; or, they did read the Complaint and the faulty expert reports and did not care that false representations were being made to this Court. Either way, this case cries out for sanctions to deter this behavior in the future."
Yesterday Parker seemed inclined to agree. "The court is concerned that these affidavits were submitted in bad faith," she said. "The question is: Is there anything there on the face of these submissions that would give counsel pause?" The short answer: Yes, there is, including basic geographical errors, rumors passed off as fact, misunderstandings of election procedures, unverifiable reports of irregularities, and wild, easily debunked claims like Ramsland's.
Even before yesterday's hearing, we knew that Parker did not think much of the evidence that Powell had likened to a "Krak
Article from Latest – Reason.com
Comments
comments