Barely Legal Teens Can Legally Buy Guns, Appeals Court Says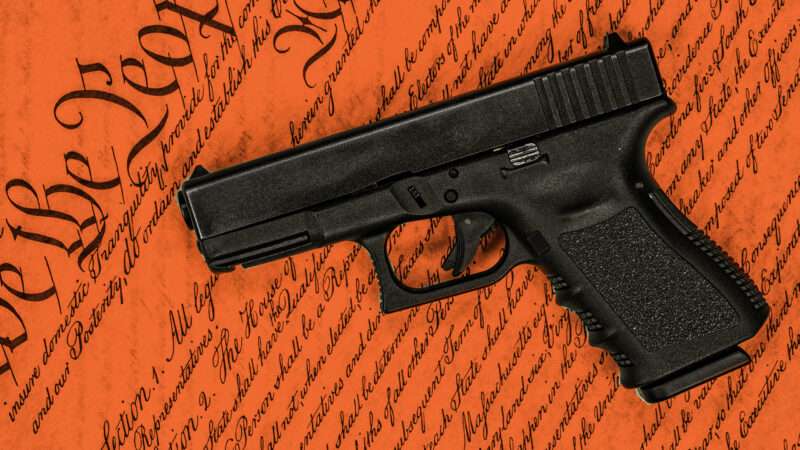 The constitutional right to bear arms enshrined in the Second Amendment should apply to those between the ages of 18–20, declared the U.S. Court of Appeals for the 4th Circuit today in Hirschfeld v. Bureau of Alcohol Tobacco, Firearms and Explosives.
Tanner Hirschfeld and Natalia Marshall challenged the constitutionality of federal laws that ban federally licensed firearm dealers from selling handguns and handgun ammunition to 18–20 year olds. Those federal restrictions have been on the books since 1968.
Hirschfeld is now over 21 but Marshall is not. She felt she had convincing reasons to be able to legally buy a gun from a licensed dealer, including an active protective order against an abusive ex who had himself been arrested for unlawful possession of a gun. Her job as a horse trainer also has her often in faraway rural areas dealing with strangers. She wants, and thinks she should be able to easily and legally get from a licensed dealer, a handgun for her protection.
The three-judge panel of the 4th Circuit, in a 2-1 decision written by Judge Julius N. Richardson, saw no particular reason why that age group of adults should lack the same Second Amendment rights possessed by those aged 21 and over. "Our nation's most cherished constitutional rights vest no later than 18," the ruling said. "And the Second Amendment's right to keep and bear arms is no different." Individuals over the age of 18 "enjoy almost every other constitutional right, and they were required at the time of the Founding to serve in the militia and furnish their own weapons."
The lower court that first heard the case did not think the laws should fall under the Second Amendment, leading to this appeal. As the 4th Circuit explained, the lower court
held that the laws were facially valid because they "are among the 'longstanding prohibitions' and 'conditions and qualifications on the commercial sale of arms,' which the Supreme Court in Heller did not 'cast doubt' on." ….

The court also found that the laws fell outside the scope of the Second Amendment because similar regulations were historically common among the states….In the alternative, the court relied on th
Article from Latest – Reason.com
Comments
comments