Billionaires Spending Their Own Money To Go to Space Has Progressives Howling For a Wealth Tax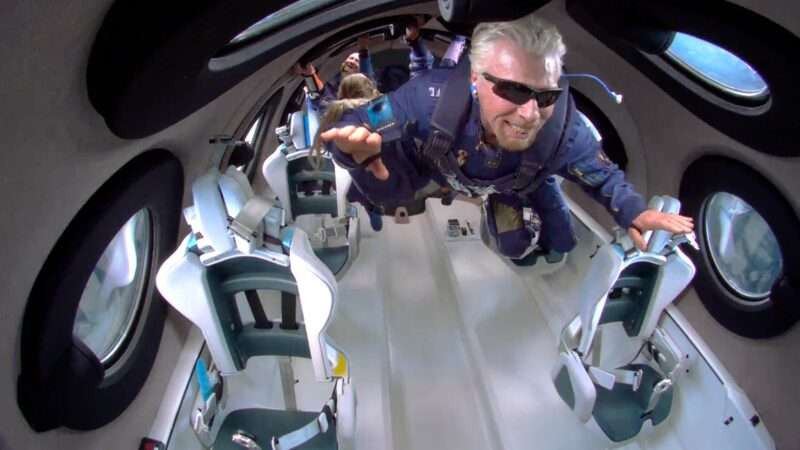 The idea of billionaires launching themselves into space on their own rockets has provoked apoplexy from some progressives, who view the spectacle as an ostentatious display of economic inequality that must be fixed with a wealth tax.
Witness the response to Virgin Galactic founder Richard Branson's successful journey to the edge of space yesterday on his company's Unity spaceship.
The flight—which carried Branson and five other crew members more than 50 miles above the Earth's surface—represents an important milestone for the nascent private space tourism industry. But several commentators were only concerned with what the British billionaire's money could have funded instead.
On Twitter, Mother Jones' Clara Jeffery declared it an "advertisement for a wealth tax":
Billionaires is space is one giant advertisement for a wealth tax pic.twitter.com/yHt1In4EEF

— Clara Jeffery (@ClaraJeffery) July 11, 2021
Journalist Teddy Schleifer said on CNN that the press should cool its jets when covering billionaires' space travels, saying that "it's impossible to talk about the billionaire's success without talking about the system that creates this in the first place."
Sen. Bernie Sanders (D–Vt.) struck a familiar dyspeptic note:
Here on Earth, in the richest country on the planet, half our people live paycheck to paycheck, people are struggling to feed themselves, struggling to see a doctor — but hey, the richest guys in the world are off in outer space!

Yes. It's time to tax the billionaires.

— Bernie Sanders (@BernieSanders) July 11, 2021
Rep. Ro Khanna (D–Calif.) asked, a few days before Branson's launch, whether that money could be spent on health care and education rather than "space travel fantasies."
Should billionaires play out their space travel fantasies, or should we invest in schooling, provide healthcare, and create prosperity for everyone?

We need a wealth tax.https://t.co/PrpnWgxoev

— Ro Khanna (@RoKhanna) July 7, 2021
Khanna doesn't see such a stark trade-off with the government's own resources, given his c
Article from Latest – Reason.com
Comments
comments