Government To Blame for Texas Church Shooting That Left 26 Dead, Says Court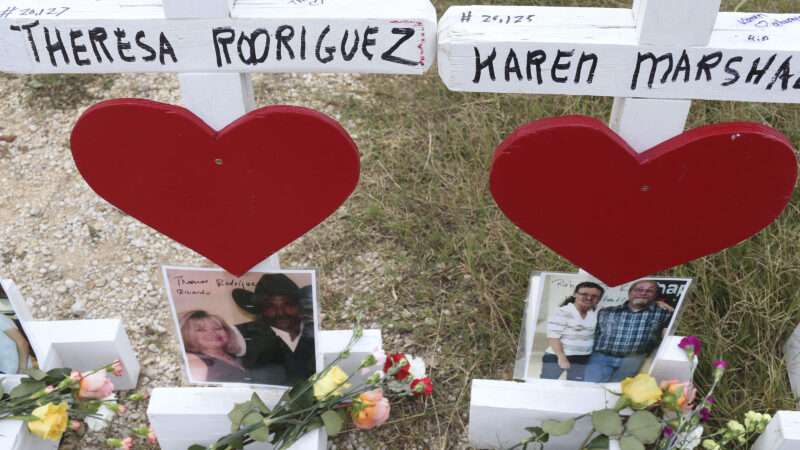 The U.S. government bears responsibility for the mass shooting that took place at a Texas church in 2017, a federal court says. The shooting—one of the deadliest in recent history—left 26 people at the Sutherland Springs First Baptist Church dead. A federal judge ruled on Tuesday that the U.S. Air Force is 60 percent to blame.
The shooter, Devin Patrick Kelley, had been in the Air Force before getting court-martialed on suspicion of assaulting his wife and stepson. He pled guilty to aggravated assault against the stepson and assault against his wife, was sentenced to 12 months confinement, and got a bad conduct discharge.
But the Air Force failed to alert the FBI to his domestic violence charge. Had it done so, Kelley would've been put in a federal database that prohibited him from legally purchasing guns. Instead, he went on to legally purchase an AR-556 rifle that he used in the shooting, along with several other firearms.
"Had the Government done its job and properly reported Kelley's information into the background check system—it is more likely than not that Kelley would have been deterred from carrying out the Church shooting," wrote Judge Xavier Rodriguez of the U.S. District Court for the Western District of Texas in his opinion.
The judge seems to be making the assumption beloved by advocates for stricter gun laws: that if the shooter were barred from legally purchasing or owning guns, he would have been deterred from committing violence. That's a big if.
"The decision follows a lawsuit brought by the families of the victims against the government," notes CNBC. "Rodriguez also ordered a later trial within 15 days to assess monetary damages owed to survivors and victims' families."
The families also sued the store that sold Kelley the rifle he used in the shooting. The Texas Supreme Court dismissed the suit last month, noting that the store had done nothing wrong since Kelley passed his background check.
---
FREE MINDS
Trump is suing Facebook, Twitter, and YouTube. The former president filed class-action lawsuits against the social media sites on Wednesday, saying they violated his First Amendment rights. "Defendants' callous disregard of its Users' constitutional rights is no better exemplified than in the matter currently before the Court," the suits state.
As Reason's Robby Soave wrote yesterday, former President Donald Trump's case is "completely absurd and will be laughed out of court." Only the government—not private companies—can violate the First Amendment.
Facebook, Twitter, and YouTube are not state actors. It was Trump filling the role of state actor at the time of the social media bans. The First Amendment does not compel private entities to hand the government a megap
Article from Latest – Reason.com
Comments
comments