Andrew Cuomo Declares a Gun Violence 'Disaster Emergency' and Signs a Bill That Invites Lawsuits Against Firearm Suppliers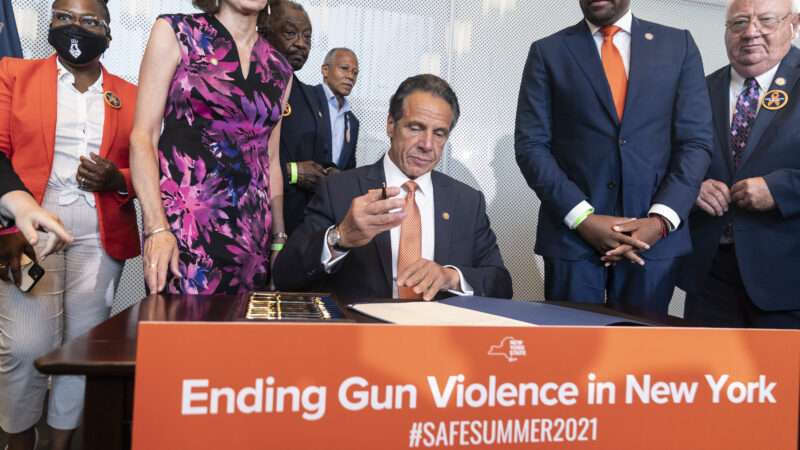 Early in the COVID-19 pandemic last year, New York's legislature authorized Gov. Andrew Cuomo to issue "any directive" he deemed "necessary to cope with the disaster." Second Amendment supporters should be thankful that the legislature rescinded that authority a year later, since the Democratic governor yesterday declared that gun violence in New York qualifies as a "disaster emergency."
Under current law, that executive order, which Cuomo proudly described as "the first-in-the-nation gun violence disaster emergency," still allows him to "temporarily suspend" laws and regulations "if compliance with such provisions would prevent, hinder, or delay action necessary to cope with the disaster." Cuomo is using that authority to suspend statutory restrictions on "contracts, leases, licenses, permits or any other written agreements that may be entered into for purposes of mitigating" the emergency he declared. He also is relying on that statute to require that the state's Division of Criminal Justice Services collect data on "shooting incidents, shooting victims and individuals killed by gun violence" from police departments in certain cities and counties every week rather than every month.
Cuomo says "the disaster emergency allows the State to expedite money and resources to communities so they can begin targeting gun violence immediately." Although Cuomo yesterday signed a bill that aims to facilitate lawsuits against firearm manufacturers and dealers, his order says nothing about unilateral gun control measures.
Maybe that's because Cuomo no longer has the statutory power to issue "any directive" he thinks is appropriate to deal with an emergency he declares. Or maybe it's because New York already has some of the strictest gun laws in the country. Among other things, the state requires a permit to purchase a handgun; mandates background checks for all firearm transfers except those involving immediate family members; bans the open carrying of firearms; prohibits concealed carry for all but a select few residents; bans the manufacture, transportation, or possession of "assault weapons"; prohibits magazines holding more than seven rounds; and authorizes court orders barring people from possessing firearms when they are deemed a threat to themselves or others.
These laws obviously did not prevent the surge in shootings to which Cuomo is responding. In New York City, police counted more than 1,500 shootings last year, nearly twice as many as in 2019. The New York Times notes that "some 886 people have been shot in 765 incidents this year through July 4." And although "the violence appeared to ease in June," it remains "well above 2019 levels." New York City homicides rose 45 percent in 2020 and climbed further in the first five months of this year. Other New York cities, including Buffalo and
Article from Latest – Reason.com
Comments
comments