Want to Reduce the Danger of Illegal Fireworks? Legalize Them.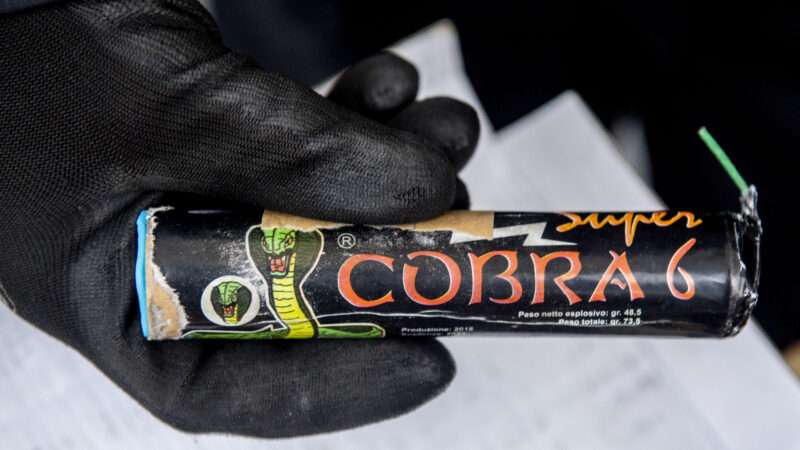 A good rule of thumb is that there's no activity so dangerous that authorities can't make it worse by restricting it and driving it underground. Last week, the Los Angeles Police Department demonstrated that point when it stole tons of illegal fireworks from a black market vendor, set aside a small proportion for on-site detonation, and promptly blew up the neighborhood and injured 17 people. As the cherry on top, the guy who had (precariously) stored the fireworks without incident until police showed up and fumbled the job is the one facing federal charges from the embarrassed authorities.
"What was supposed to be a safe operation to destroy a cache of illegal fireworks turned into a 'total, catastrophic failure' of a Los Angeles police bomb squad vehicle that resulted in a massive explosion in South L.A., rocking a neighborhood and injuring 17 people, including 10 law enforcement officers," KABC reported of the June 30 incident.
The explosion occurred after police arrived at the home of Arturo Ceja III in response to a complaint that he had illegal fireworks—initially reported as 5,000 pounds, but later revised upwards to 32,000 pounds—stored in his backyard. The fireworks, "including aerial displays and large homemade fireworks containing explosive materials" according to the United States Attorney's Office for the Central District of California, were reportedly purchased in Nevada for resale in California.
It's possible—even likely—that neighbors dropped a dime on Ceja out of concern that tons of homemade fireworks stacked on his back patio threatened a spectacular but extremely unfortunate Independence Day display. Instead, dangerous consequences had to await the arrival of the authorities. Things didn't go as planned when the LAPD decided to detonate "improvised explosive devices"—some of the homemade fireworks described by the U.S. Attorney's office.
"Following established protocols, they then transferred that material into a total containment vehicle," LAPD Chief Michael Moore described in a June 30 press conference. "This is a semitruck, multi-ton, commercial-grade transport. Within it is an iron chamber that is meant to house explosive material that can be safely detonated and its pressure vented in a manner that renders that material safe… this vessel sh
Article from Latest – Reason.com
Comments
comments