The U.S. Quietly Departs Its Largest Military Base in Afghanistan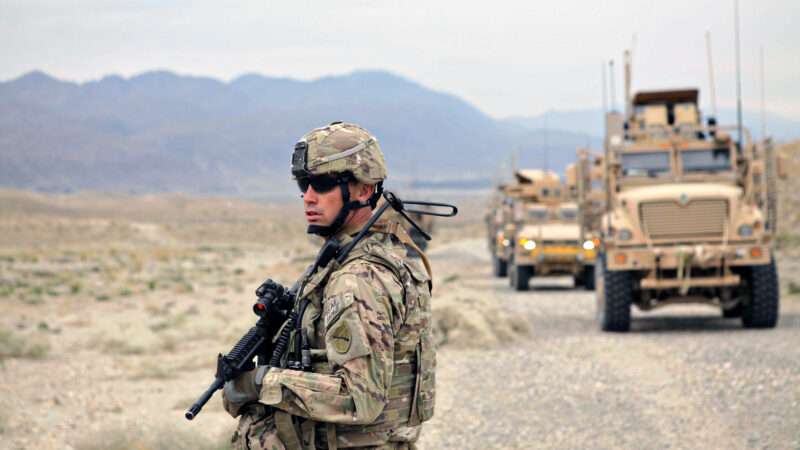 The U.S. military fully departed its largest base in Afghanistan last night, giving the surest sign yet that all American forces could be out of the country by September 11. On Thursday night, American forces stationed at Bagram Airfield quietly left the massive facility, the Associated Press reports.
U.S. troops pulled out of the base without any formal ceremony, or even an attempt to coordinate with local Afghan officials, who are now responsible for Bagram. The hasty withdrawal resulted in a wave of looters rushing the unsecured base and ransacking several buildings before Afghan security forces were able to regain control.
Bagram, first built by the Soviets in the 1950s, served as the center of the U.S. war effort in Afghanistan. At the height of the American presence there, over 100,000 troops were passing through the base each year. It was infamously home to a detention center, where prisoners captured during the war were held and, on a number of occasions, tortured.
There are currently somewhere between 2,500 and 3,500 U.S. troops still in Afghanistan, although precise numbers are hard to come by given the inconsistent ways that the military tallies up troops in the country. The Biden administration has committed to pulling all these troops out of the country by September 11, save for a couple hundred to guard the U.S. embassy in the capital Kabul. Most troops should be gone by July 4.
That's an extension of the May 1 withdrawal date that the previous Trump administration had committed to.
Most of the 7,000 European troops stationed in Afghanistan as part of the NATO mission there have been withdrawn over the past month, according to the A.P.
Even with most military personnel gone, there's still a distinct possibility that the U.S. will continue smaller-scale, covert operations in the country in order to target Al Qaeda and other terrorist groups.
The American military troop withdrawal has increased the urgency of addressing the huge backlog of visa applications of Afghans who'd worked with the U.S. military as interpreters, and whose lives are now in danger from a resurgent Taliban.
The Taliban has doubled the amount of Afghanistan it controls over the past several months, NBC News reported last week. The Afghan government's security forces that the U.S. has spent billions of dollars and two decades training have proven ineffective at stopping the group's advance.
---
FREE MINDS
U.S. sprinter Sha'Carri Richardson might miss the Tokyo Olympics after testing positive for marijuana. Cincinnati En
Article from Latest – Reason.com
Comments
comments