The Deeply Flawed Studies Behind the Eviction Moratoriums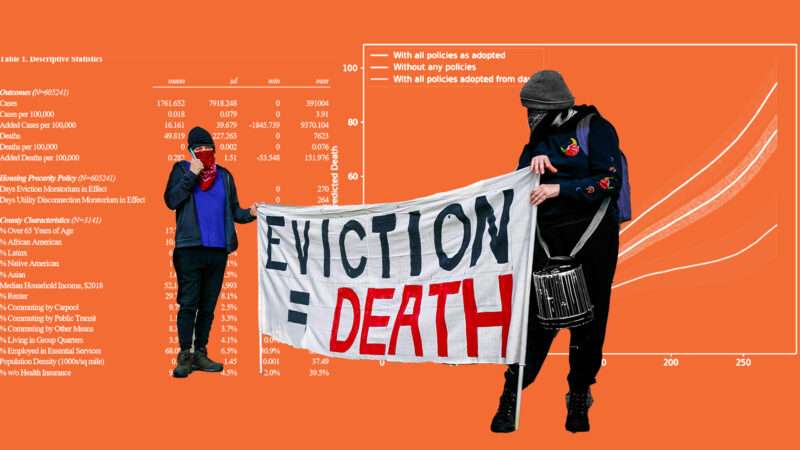 On September 4, 2020, the Centers for Disease Control and Prevention (CDC) halted residential evictions in the United States for nonpayment of rent due to the COVID-19 pandemic. Many states and municipalities got there first, imposing at least partial eviction moratoriums starting in March and April of 2020. The theory behind these emergency orders was that if Americans were forced to leave their homes and move into more crowded settings, it would increase transmission of COVID-19.
The federal ban was supposed to expire at the end of 2020. Then it was extended a month, then two more months, then through the end of June, and then last week, the CDC extended it again until the end of July. Many states and cities have also extended their moratoriums—in some cases through the end of September, even as COVID-19 infection and death rates are plummeting.
Were the eviction bans necessary to protect public health during the pandemic? Two studies that got widespread media attention, and that have been cited by the federal government to support its policies, claim to show that the moratoriums saved thousands of lives. 
"Researchers estimated that the lifting of moratoriums could have resulted in between 365,200 and 502,200 excess coronavirus cases and between 8,900 and 12,500 excess deaths," noted NPR, in an interview with postdoctoral researcher Kathryn Leifheit of UCLA's Fielding School of Public Health.
Leifheit was the lead author of "Expiring Eviction Moratoriums and COVID-19 Incidence and Mortality," a study cited by the CDC in its order extending the federal moratorium. (Leifheit didn't respond to our interview request, which mentioned that Reason was working with a statistician to review her results.)
The second study, which also makes dramatic claims about the eviction moratoriums, was authored by a team of researchers at Duke University. It got widespread media attention and was cited twice by the Consumer Financial Protection Bureau (CFPB) in the federal register as justification for its rulemaking. 
These studies are deeply flawed. Their underlying data are incomplete and inconsistent. Their results are implausible. The size of the effect is wildly disproportionate to other public health interventions. The researchers also claim an absurd amount of certainty in their results despite the large uncertainties in the data they use, and they assert a causal effect based solely on correlation.
If the authors were correct, they would have arrived at one of the greatest public health discoveries in history. It took over a year and perhaps $100 billion to reduce COVID-19 rates by 40 percent with vaccinations; the Duke researchers claim that if a universal eviction moratorium had been implemented six months earlier, it could have reduced death rates by over 40 percent. Researchers have struggled to demonstrate the benefits of masks, social distancing, and lockdowns with high levels of certainty. Yet these eviction moratorium researchers find high confidence for a gigantic immediate effect from a legal change affecting a tiny subset of the population.
Finally, the authors of the Duke study declined to share their dataset with Reason for scrutiny on the grounds that it hasn't yet been published in a peer-reviewed journal, which not only raises additional red flags but is a violation of basic research ethics—particularly in the case of a study that's been widely reported on in the media and is cited by a government agency as justification for federal policies.
Plausible Assumptions
Before delving into the statistical problems with these two studies, it will be helpful to map out plausible assumptions about the impact of the temporary eviction bans. The first step in any study, before building detailed models and making complex calculations, is to take a simple look at the aggregate picture and apply common sense. If your later rigorous analysis confirms the simple picture, you have more confidence in it. If it contradicts the simple picture, then you drill down to explain why.
In March 2020, Congress ordered a nationwide ban on evictions in federally subsidized housing for nonpayment of rent, and many states and localities added their own moratoriums that were often broader than the federal rules. That temporary federal ban expired in late July 2020, but the CDC imposed a new nationwide ban for all residential properties at the beginning of September.
There are major data challenges in assessing the effects of these rules. There is no useful aggregated reporting on evictions. We have some data on eviction filings, but one-third of jurisdictions don't report, and reporting for the other two-thirds is often erratic. Even the hundreds of local COVID-19 temporary eviction bans are difficult to classify because they take different approaches with different terms and restrictions.
It's nevertheless a useful exercise to throw together the data that we do have. The chart below, which is derived from data provided by the Eviction Lab at Princeton University and includes 28 locations in 17 states, shows eviction filings in 2020 and 2021 as a percentage of average filings for the same calendar week for the same jurisdiction over previous years. The blue line ("always") is for places that had eviction moratoriums in place for the entire period and the orange line ("never") is for places that had no local moratoriums (although, of course, the federal moratorium did apply to these localities).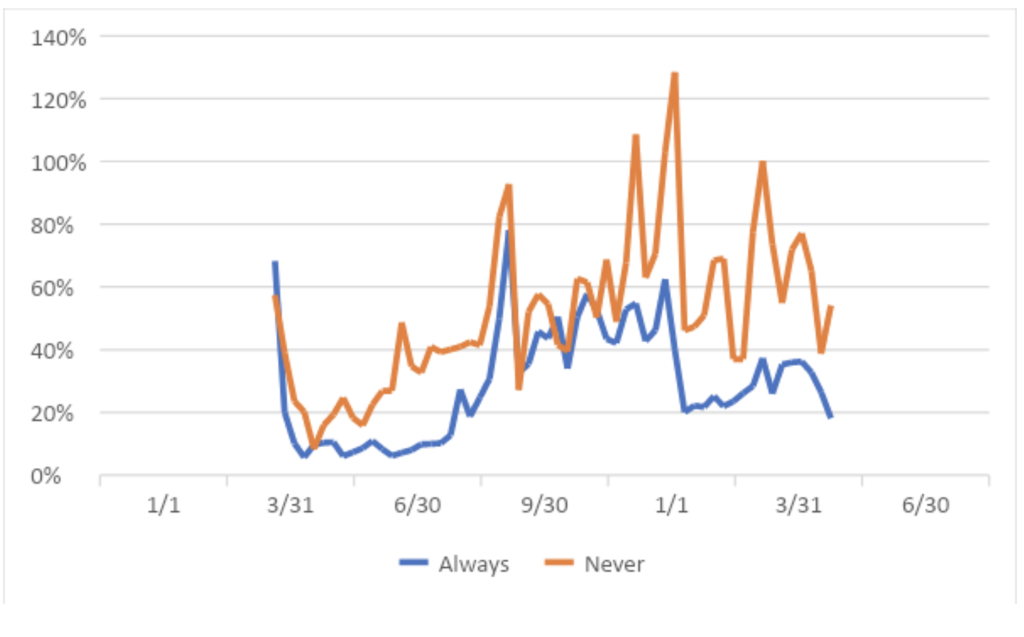 The data show eviction filings plunging to near-zero levels in March and April of 2020. But starting in late April, places without statewide temporary bans gradually increased filings to about 40 percent of previous levels. Places with moratoriums also saw filings increase, but with roughly a two-month lag. In both types of places, there was a spike just before the CDC's emergency order went into effect.
For the first two months of the federal moratorium, both types of places ran eviction filings at about half the level of previous years. Late in 2020, we saw places that did not have moratoriums in place over the summer increase filings to something like 70 percent of previous levels, while places that had summer moratoriums dropped to around 30 percent.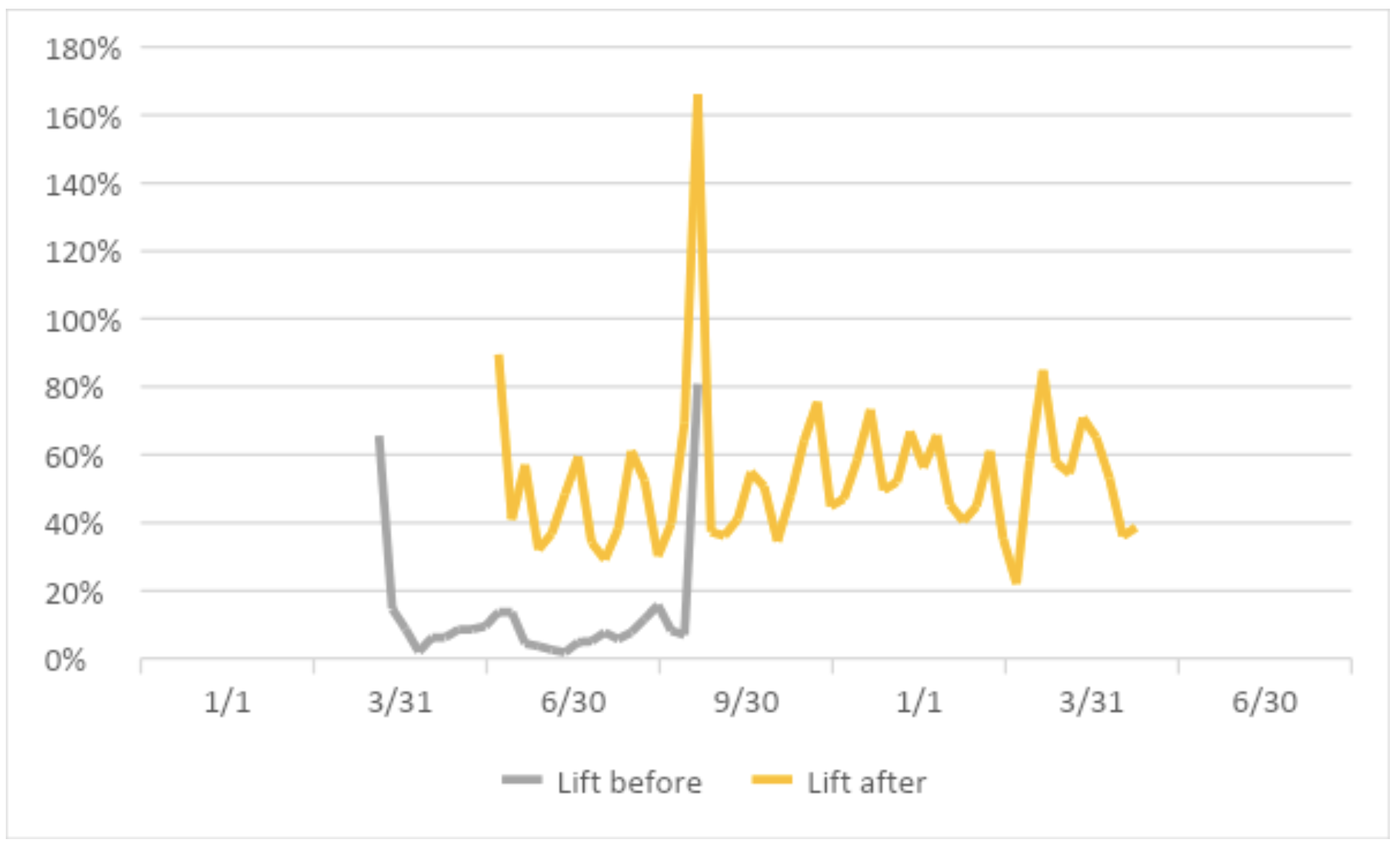 We get a simpler picture by looking at places included in the Eviction Lab's data that put emergency bans in place in March or April, then lifted them before the CDC order went into effect. The gray line above shows places that had moratoriums in place; they move to the yellow line after they lifted them. At the beginning, in March of 2020, all places are included in the gray line since we are only counting places that had state or local moratoriums. By September 2020, all places are in the yellow line, since we are only counting places that lifted their moratoriums before the CDC's order went into effect.
Like all places tracked by the Eviction Lab, filings dropped to almost zero in April. But unlike the places that maintained their moratoriums until September, places that lifted them stayed near zero. When they were lifted, these places snapped back to running at a rate of about half the filings of previous years. Except for the spike just before the federal moratorium, they remained at about 50 percent.
Overall, the data suggest state and local eviction bans reduced filings for a few months before the effective ones were lifted and the less effective ones eroded away. We see no obvious effect from the federal ban ordered by Congress, either when it was imposed in March or when it expired in July. The only obvious effect of the CDC moratorium was to encourage a spike in filings right before it was enacted. Afterward, places appeared to continue whatever trends they were on before adoption.
Due to the poor quality of the data, the best we can say is that these are suggestions, but they do accord with common sense. If we accept them, we can try to get a ballpark estimate of the number of eviction filings prevented by these emergency measures during the spring and summer of 2020. From March to early September, when the CDC issued its emergency order, places without state or local moratoriums had 39 percent of the eviction filings expected based on previous years. Places with these temporary bans in effect the entire time had 23 percent. Places that lifted them had 23 percent beforehand and 46 percent afterward.
If we assume in the absence of state and local moratoriums all places would have run at 39 percent of previous years' filings—the same as places that did not have these temporary measures in place—that comes to 37,623 eviction filings prevented by these emergency orders over the six months.
Of course, an eviction filing often doesn't lead to an actual eviction, so translating this estimate into the number of evictions that were prevented requires considerable speculation. And we're missing data for eviction filings in many parts of the country that don't publicly report their data, do so in an erratic manner, or do so in a way that's hard to access electronically. Therefore, for each reported filing there are perhaps three times that number. In normal times, evictions may have amounted to about 25 percent of filings, but a survey by The Post and Courier, a South Carolina newspaper, from the summer of 2020 found that the ratio of filings to orders to vacate was under 10 percent during the pandemic. Given the data, state and local eviction bans plausibly might have prevented 10,000 evictions. With all the uncertainties, numbers between zero and 25,000 are plausible, but anyone claiming a far more significant effect has major hurdles explaining that case with the data that we do have, and would need much better data than anyone has produced to date to defend that position.
How many COVID-19 deaths could an eviction plausibly cause? Any single eviction could, in theory, set off a chain causing thousands of deaths. But we know that's not likely for the average of a large group, since the average number of additional infections caused by an infected person was below two during this period in the U.S., and has dropped below one in 2021. Moreover, bans on eviction for nonpa
Article from Latest – Reason.com
Comments
comments