He Died After He Was Shot in the Back by a Cop. Will Anyone Be Held Accountable?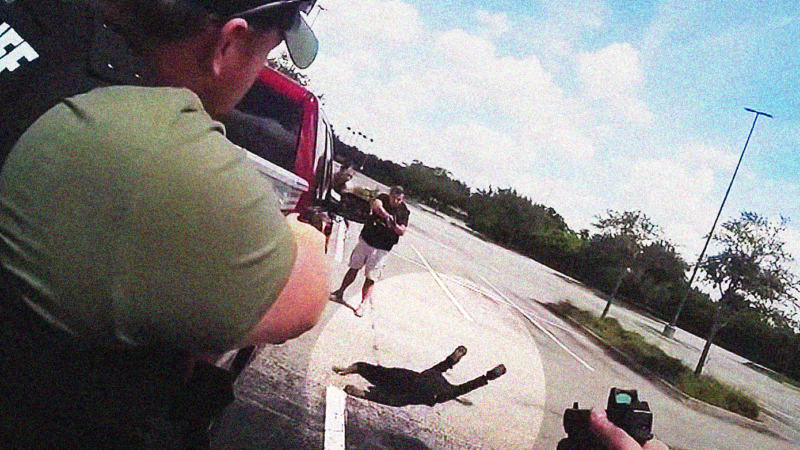 The family of a man who was shot in the back by a Florida police officer filed a civil suit in federal court Wednesday, alleging that Salaythis Melvin's constitutional rights were violated when a plainclothes cop killed him in a parking lot as he ran away.
The lawsuit, filed by Michelin D. McKee, a representative for Melvin's estate, seeks damages from Orange County Sheriff's Office Deputy James Montiel, the shooter; four deputies who declined to immediately give aid to Melvin as he was dying; and Sheriff John Mina, for fostering what the suit says is a reckless culture where plainclothes units can "be mistaken for criminals."
On August 7 of last year, officers with the Orange County Sheriff's Office zeroed in on a group standing outside the Florida Mall. One of the men had a warrant out for his arrest.
That man wasn't Melvin, who officers did not ID until after he'd been shot. The warrant was instead for Vanshawn Sands, who police sought to detain for possession of a firearm by a convicted felon.
"Mr. Sands possessed and used that firearm to defend himself when he was a victim of a drive by shooting in which the police cleared him of the shooting because they concluded that Mr. Sands use of the gun was in self-defense," the suit claims. That case was dropped on June 14 of this year. "Because Mr. Sands had recently been the victim of a drive by shooting, Mr. Sands, Mr. Melvin, and the other individuals in the group immediately took off running for their lives thinking they were about to be attacked and shot at as retaliation for what happen with Mr. Sands."
The cops were dressed in street clothes and body vests and were driving unmarked cars. One officer's body camera footage shows Melvin falling to the ground after Deputy James Montiel shoots him in the back. A little more than a minute goes by before anyone renders him support.
"Keep your fucking hands down," one officer yells as Melvin lies on the ground. More time passes, and he begins to writhe. "Get your hand down or you gonna get
Article from Latest – Reason.com
Comments
comments