In an Unprecedented Heat Wave, Portland's Lingering COVID Restrictions Hurt Bars and Restaurants Again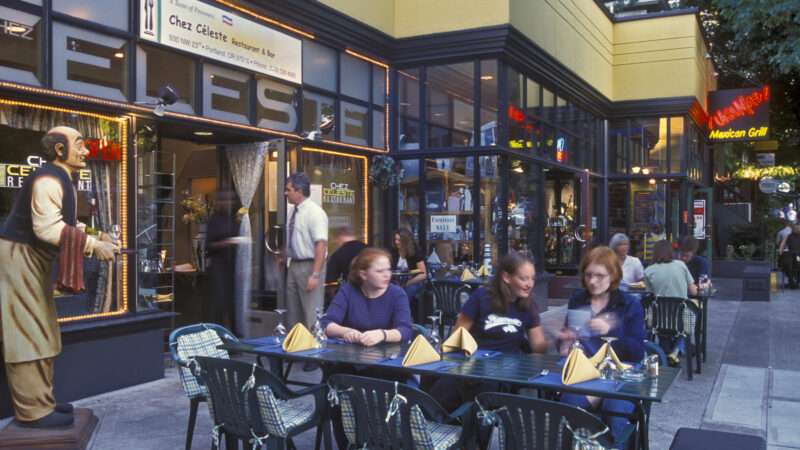 Staying cool in Portland, Oregon, for the past few days would have been challenging even in normal circumstances. Gloriously temperate summers are supposed to be the payoff here for slogging through the rainy gray winters, but on Monday, a record-shattering heatwave culminated with temperatures rising all the way up to 116 degrees Fahrenheit.
That's hotter than has ever been recorded in Atlanta or Houston, cities where buildings are designed for that kind of heat. The handful of Portland bars and restaurants with air conditioning up to the task would have been rewarded with booming business on these days if not for one thing: the state's COVID restrictions, due to expire today, were still limiting their indoor spaces to half capacity. Few industries have been as hard hit by rigid and often-nonsensical pandemic policies over the last year as the service sector. This week's failure to adjust at a time when it might have helped both businesses and patrons is just one more blow to the state's struggling bar and restaurant scene.
The heat drove many hospitality businesses, particularly food carts, to shut down preemptively. Others made a go of it but threw in the towel when refrigerators failed, doughs over-proofed, or kitchens got too damn hot. "Eighty percent of places we're associated with had to close either because it was so hot that it was unsafe to have people inside or because the equipment got so overwhelmed that we couldn't keep food at temperature," says Kurt Huffman, owner of ChefStable, a group that partners on operations with some of the city's most well-known restaurants.
Businesses in newer buildings with efficient air conditioners, such as ChefStable's beer bar Loyal Legion, were able to stay open. "We had employees that were asking us to stay open during the heatwave because it was so much cooler than their homes," Huffman says. Loyal Legion could have provided a beery oasis for more than 200 Portlanders, but state restrictions cut its capacity in half. (Exceptions are available for restaurants that screen guests by vaccination status, a step many have been reluctant to take.)
The intense heat reversed pandemic business trends, rendering outdoor dining setups worthless and putting cool indoor spaces at a premium. "This weekend was bonkers," says Israel Morales of Russian restaurant Kachka, a success he credits to having really good air conditioning and a slushie machine. "We were at max capacity from open to close." The catch? Maximum capacity was just 30 people. With half of his d
Article from Latest – Reason.com
Comments
comments