San Jose Wants to Force Gun Owners to Carry Insurance and Pay Fees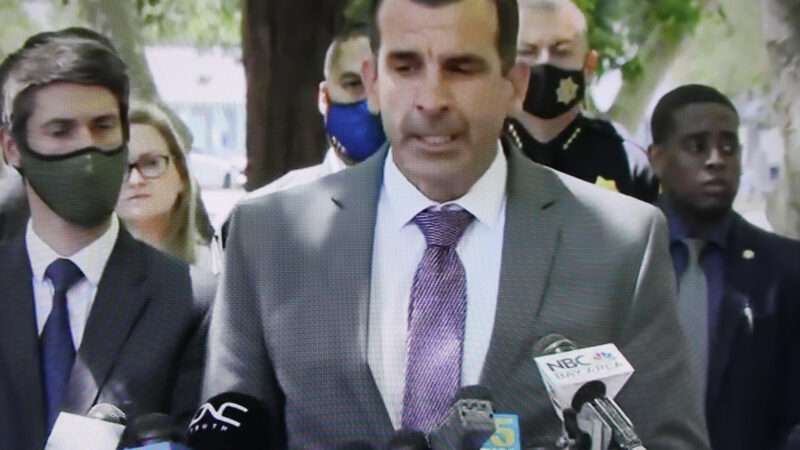 On Tuesday, the San Jose City Council unanimously advanced a number of novel gun control proposals, including requirements that gun owners carry liability insurance and that they pay a fee to cover the public costs of gun violence.
"While the Second Amendment protects the right to bear arms, it does not require taxpayers to subsidize gun ownership," said San Jose Mayor Sam Liccardo in a Tuesday press release. "We won't magically end gun violence, but we will stop paying for it."
These proposals come a month after a workplace shooting at a light rail facility in San Jose left 10 people dead, including the shooter.
The mayor describes San Jose's insurance mandate as a "first-of-its-kind" policy, although the idea has been floating around for a while. Following the 2012 Sandy Hook shooting, a flurry of state lawmakers from Connecticut to California introduced bills mandating gun owners carry insurance. None of those proposals become law.
A House bill introduced this year by Rep. Sheila Jackson Lee (D–Texas) would create a federal insurance mandate in addition to requirements that gun owners get a license, pay an $800 licensing fee, and register their individual firearms.
Most of the details of San Jose's proposed gun laws have yet to be fleshed out, including the fee structure for gun ownership and how much insurance gun owners might be required to purchase.
The city is asking the Pacific Institute for Research Evaluation (PIRE), a nonprofit research group, to prepare a report on the costs to San Jose taxpayers of gun violence, which will then be used to calculate appropriate fees.
A preliminary report prepared by PIRE ahead of Tuesday's vote put the annual costs to federal, state, and local governments from gun violence in San Jose at $39.7 million. That figure includes all the costs stemming from murders and assaults as well
Article from Latest – Reason.com
Comments
comments