Greg Abbott's Border Wall Plan Is Doomed To Fail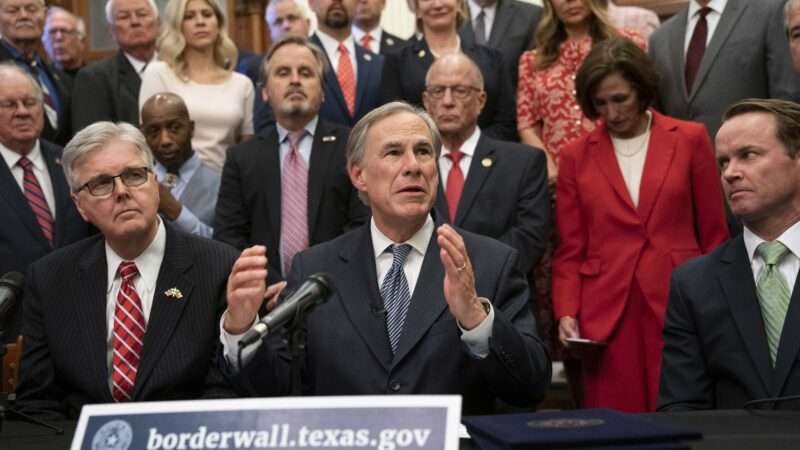 With former President Donald Trump out of the White House, Texas Gov. Greg Abbott (R) has taken up the mantle of border hardliner. He recently announced his intent to build a wall along his state's border with Mexico in response to what he calls an inadequate response from the Biden administration to increased migration rates in the Southwest.
"While securing the border is the federal government's responsibility, Texas will not sit idly by as this crisis grows," Abbott said on June 10.
That tension—between federal and state authority when it comes to border security and immigration enforcement practices—apparently hasn't given Abbott pause, though he recognizes that it exists. Despite his plan's dubious legal, moral, and financial grounds, he's pushing forward in the name of securing the border.
Abbott has so far provided little information about how he will finance the project, which will undoubtedly carry a hefty price tag. In Texas, one section of Trump's border wall came out to be $27 million a mile. Abbott intends to provide $250 million in state revenues as a "down payment." Those funds will come from a disaster account, a transfer made possible because he issued a disaster declaration in order to take a number of executive actions against migration. Abbott also expects that crowdfunding will help supplement state funds. So far, that effort has collected roughly $450,000.
David Donatti, an attorney with the American Civil Liberties Union of Texas who specializes in border issues, has concerns about Abbott's financial approach.
"He has declared a disaster, and by that authority, he's moving $250 million into an account that allows him to" build a border wall, says Donatti. "For a state like Texas," $250 million "is a lot of money…that could be used for hurricane recovery, toward recovery from something like the freeze that we experienced." Donatti calls it "an absurd abuse of power if nothing else," even though the result of that abuse would provide "an ineffective solution to people coming to the United States."
According to the governor, construction would also hinge on voluntary land concessions from borderlands residents. In Texas, most land along the border with Mexico is privately owned. That gives Abbott two options: either entice landowners to donate their property or seize it from the unwilling. To build his wall, Trump chose to initiate land grabs in the borderlands through eminent domain, which is a legal doctrine that allows the government to seize private property for public use. Affected landowners nominally must receive just compensation, though practically the process is rife with abuse.
Abbott has not yet sought the approval of Texas lawmakers to begin eminent domain proceedings, according to Donatti and Ilya Somin, an eminent domain expert who teaches law at George Mason University. "[Abbott] would need to get the Texas state legislature to pass a law
Article from Latest – Reason.com
Comments
comments