This Suicidal, Gasoline-Drenched Man Burned to Death After Cops Tased Him. A Federal Court Says That's Reasonable Force.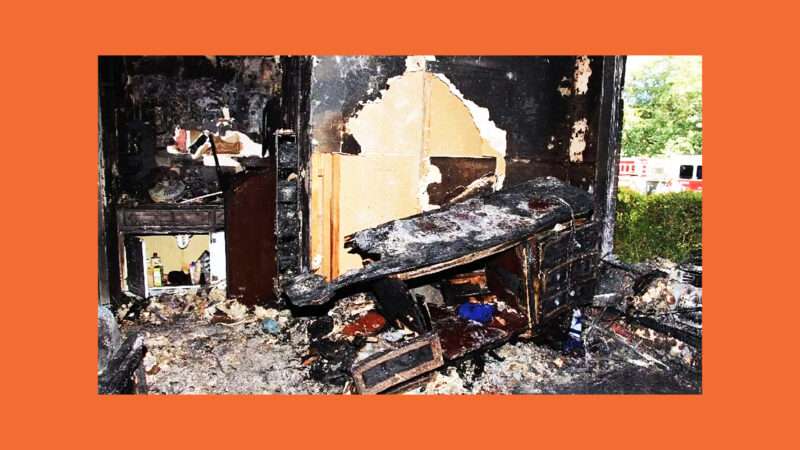 Gabriel Olivas burned to death in his Arlington, Texas, home. His house burned down along with him.
The U.S. Court of Appeals for the 5th Circuit last February ruled that the cops who tased the suicidal, gasoline-drenched Olivas—after they had been warned that such conduct would result in him bursting into flames—exercised a reasonable use of force. On Friday, the same court upheld that decision, declining Olivas' family's petition for a rehearing and thus preventing them from suing.
On July 10, 2017, Olivas was experiencing a mental health crisis when his son called the police for help. Upon arrival, Officers Jeremias Guadarrama, Ebony Jefferson, and Caleb Elliott of the Arlington Police Department found Olivas in his bedroom with a "red gas can." Guadarrama admits to smelling gasoline when he entered the residence.
Elliott pepper-sprayed Olivas, leaving him temporarily blind. It was around the same time that Olivas poured the gas onto his body. "If we tase him, he is going to light on fire!" Elliott yelled. The officers had been trained on Taser safety and the ill effects of using the weapon when paired with gasoline.
Guadarrama and Jefferson tased him anyway, engulfing Olivas' body in flames that eventually metastasized throughout the home, burning it to the ground. (As Reason's Jacob Sullum mentions, Jefferson initially denied that before owning up to the facts.) Olivas' wife and son, who were standing nearby, and who had to evacuate as he died, note in their suit that the only person Olivas posed a threat to was himself.
Yet the 5th Circuit employed a perverse logic in determining that the officers acted reasonably. It was for the family's own good, they said—a line of thought that Circuit Judge James C. Ho re-upped as he defended the majority's choice not to revisit the case.
"The fact that Olivas appeared to have the capability of setting himself on fire in an instant and, indeed, was threatening to do so, meant that the officers had no apparent options to avoid calamity," wrote the panel in February. "If, reviewing the facts in hindsight, it is still not apparent what might have been done differently to achieve a better outcome under these circumstances, then, certainly, we, who are separated from the moment by more than three years, cannot conclude that [officers] Guadarrama or Jefferson, in the exigencies of the moment, acted unreasonably."
There's one problem with that argument: The cops' actions caused the very mayhem they allegedly sought to avoid. Olivas could have set himself on fire, the court notes, endangering others and setting the home ablaze. That happened because the cops tased Olivas—not in spite of it.
That irony was apparently lost on Ho, who wrote that "there was no reasonable alternative course of action that the officers could h
Article from Latest – Reason.com
Comments
comments