New York Appeals Court Catalogs Rudy Giuliani's Election Lies As It Suspends His License to Practice Law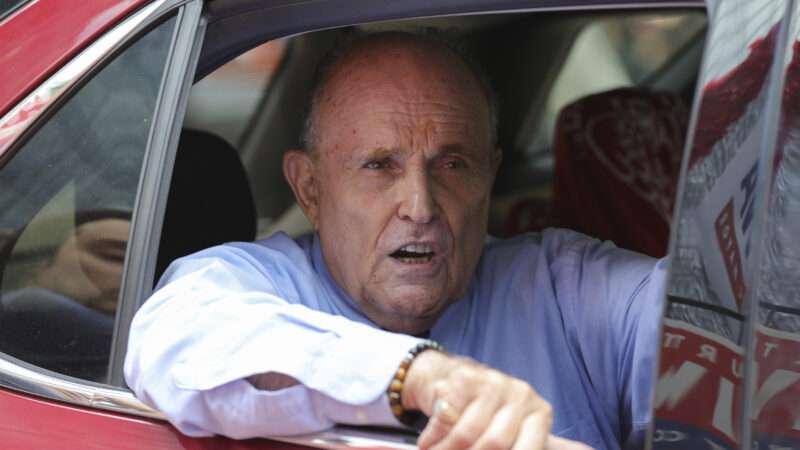 After the 2020 presidential election, Rudy Giuliani's work as Donald Trump's personal lawyer followed a predictable pattern. Giuliani, a former U.S. attorney, New York mayor, and Republican presidential candidate, would make wildly implausible, completely unsubstantiated claims about election fraud, always promising that he was about the reveal heretofore unseen proof of the criminal conspiracy that supposedly denied Trump his rightful victory. But Giuliani never produced that evidence, which helps explain why the scores of post-election lawsuits filed by Trump and his supporters were almost uniformly unsuccessful.
Giuliani nevertheless hoodwinked many Republicans, most of whom say they believe the election was stolen, and he continued to tell his tall tale for months after Joe Biden took office, notwithstanding the defamation lawsuits and disciplinary proceedings it provoked. Even as a New York appeals court was considering whether to bar Giuliani from practicing law in that state, he kept spouting nonsense about dead, underage, and noncitizen voters.
Last Thursday that court deemed Giuliani's persistent prevarication a grave enough ethical breach to justify an immediate suspension of his law license. It added that Giuliani's "uncontroverted misconduct" will "likely result in substantial permanent sanctions at the conclusion of these disciplinary proceedings." The court's order includes a detailed (though incomplete) list of lies that may (but probably won't) interest Trump supporters who still think Giuliani was telling the truth. At the same time, the decision to discipline Giuliani mainly for out-of-court statements raises some serious questions about how far the government should go in regulating lawyers' speech.
"There is uncontroverted evidence that respondent communicated demonstrably false and misleading statements to courts, lawmakers and the public at large in his capacity as lawyer for former President Donald J. Trump and the Trump campaign in connection with Trump's failed effort at reelection in 2020," the court says. "These false statements were made to improperly bolster respondent's narrative that due to widespread voter fraud, victory in the 2020 United States presidential election was stolen from his client. We conclude that respondent's conduct immediately threatens the public interest and warrants interim suspension from the practice of law, pending further proceedings before the Attorney Grievance Committee."
The committee accused Giuliani of violating New York's Rules of Professional Conduct for attorneys in several ways: by knowingly making "a false statement of fact or law to a tribunal"; by "knowingly mak[ing] a false statement of fact or law to a third person…in the course of representing a client"; and by "engag[ing] in conduct involving dishonesty, fraud, deceit or misrepresentation" or other conduct that "adversely reflects on the lawyer's fitness as a lawyer." The appeals court's catalog of Giuliani's offenses, while by no means exhaustive, is a vivid reminder of why no one should have believed him last year and why no one should ever take him seriously again. Here are some of the misrepresentations cited by the court:
Phony Absentee Ballots in Pennsylvania
Giuliani repeatedly claimed that Pennsylvania reported results from more absentee ballots than it had mailed to voters before the election. Specifically, he asserted that just 1,823,148 absentee ballots had been sent out, making the official count of 2.5 million absentee votes patently fraudulent. In reality, more than 3 million Pennsylvania voters received absentee ballots.
"Respondent does not deny that his factual statement, that only 1.8 million mail-in
ballots were requested, was untrue," the appeals court notes. "His defense is that he did not make this misstatement knowingly. Respondent claims that he relied on some unidentified member of his 'team' who 'inadvertently' took the information from the Pennsylvania website, which had the information mistakenly listed. There is simply no proof to support this explanation. For instance, there is no affidavit from this supposed team member, who is not identified by name or otherwise, nor is there any copy of the web page that purportedly listed the allegedly incorrect data."
False Statements in Federal Court
When Giuliani appeared before a federal judge in November to make the case for overturning Pennsylvania's election results, he repeatedly said the Trump campaign's lawsuit alleged voting fraud before ultimately conceding that it did not. "Respondent had to be aware that there were no fraud claims in t
Article from Latest – Reason.com
Comments
comments