New $1.2 Trillion Bipartisan Infrastructure Plan To Be Partially Funded By Stepped Up IRS Enforcement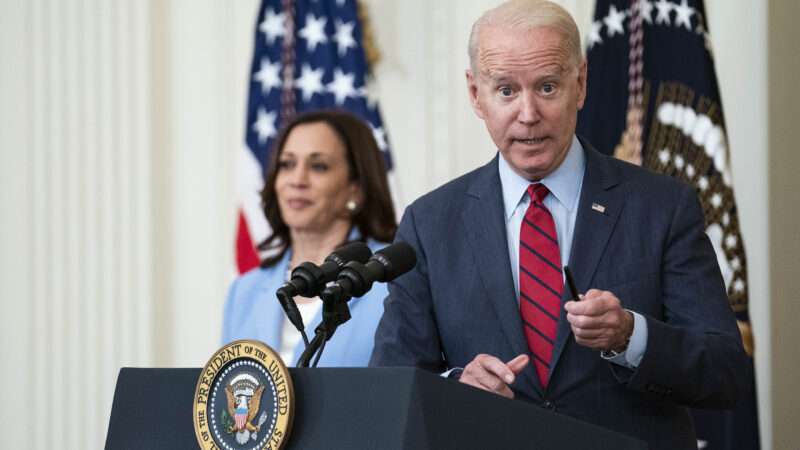 Finally, it's infrastructure week.
President Joe Biden and a bipartisan group of 10 senators today announced that they'd reached an agreement to spend $1.2 trillion, including $579 billion in new funds, over eight years on transportation, waterways, and broadband internet.
"We have a deal," said Biden outside the White House. "None of us got all we wanted."
A White House fact sheet says that $312 billion of the new funding would be spent on transportation, including $109 for bridges and roads, $49 billion on public transit, $66 billion on passenger and freight rail, and $25 billion on airports.
Electric vehicle infrastructure will get another $7.5 billion, as will electric buses and public transit. There's also $20 billion for an "infrastructure financing" program that will, per the White House's fact sheet, "leverage billions of dollars into clean transportation and clean energy."
Sen. Mark Warner (D–Va.) said that the $20 billion will be used to attract $180 billion in private financing for infrastructure, reports The New York Times. That sounds similar to President Donald Trump's plan to use $200 billion in federal funding as seed money to spur $1.3 trillion in infrastructure investments from state and local governments and private infrastructure companies.
Ports and waterways would get $16 billion more under the plan. There would also be another $11 billion in spending on safety projects.
Another $266 billion will go toward "other infrastructure," including $65 billion for broadband, $55 billion for water infrastructure, and $73 billion for electrical grid
Article from Latest – Reason.com
Comments
comments